Robert Griffin III asks fans not to share video of play involving Buffalo Bills' Damar Hamlin
WASHINGTON - Former Washington quarterback Robert Griffin III is asking fans not to share video of the play involving Buffalo Bills safety Damar Hamlin that shows him making a tackle during Monday night's game just before he suffered a cardiac arrest.
"Please don't share the video of the Damar Hamlin play," Griffin III tweeted. Instead, the former player asked fans to share an image of Bills players gathered on the field in prayer. "Share this because we are all Praying for him and his family."
The game between the Bills and the Cincinnati Bengals that was being played in front of a national television audience quickly lost significance in the aftermath of the play.
Hamlin, 24, was administered CPR on the field and was taken away by ambulance.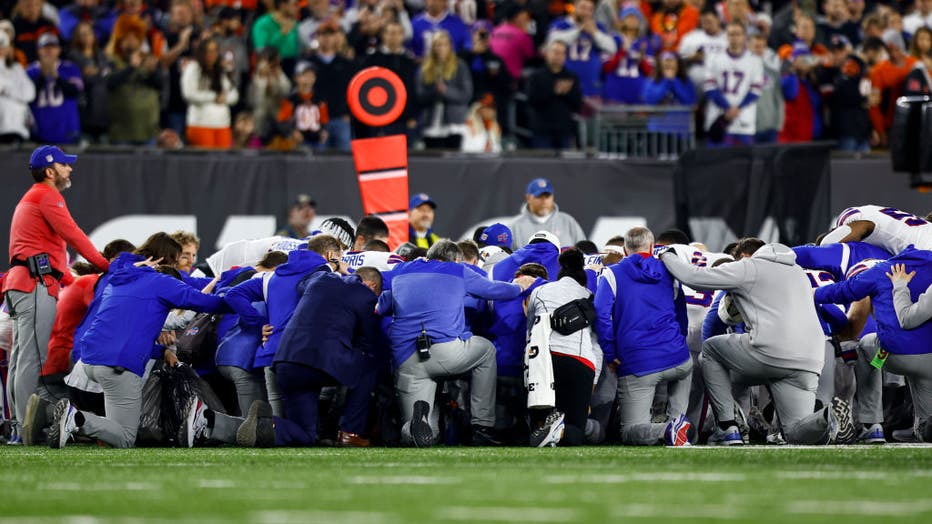 Buffalo Bills players and staff kneel together in solidarity after Damar Hamlin #3 sustained an injury during the first quarter of an NFL football game against the Cincinnati Bengals at Paycor Stadium on Jan. 2, 2023, in Cincinnati, Ohio. (Photo by K
Fans of both teams gathered outside the hospital, holding lit candles and praying.
Hamlin was hurt while tackling Bengals receiver Tee Higgins on a seemingly routine play that didn't appear unusually violent.
Higgins was running with the ball on a 13-yard pass from Joe Burrow when he led with his right shoulder, hitting Hamlin in the chest. Hamlin then wrapped his arms around Higgins' shoulders and helmet to drag him down. Hamlin quickly got to his feet, appeared to adjust his face mask with his right hand, and then fell backward about three seconds later and lay motionless.
Robert Griffin III, nicknamed RG3, was drafted by the Washington football franchise in 2012 and won the NFL's Offensive Rookie of the Year award. He played with the team until 2015. The former player continued to tweet support for Hamlin through the night. He retweeted Buffalo Bills quarterback Josh Allen's tweet that read, "Please pray for our brother."
The Associated Press contributed to this report