Review: Jaybird Bluebuds X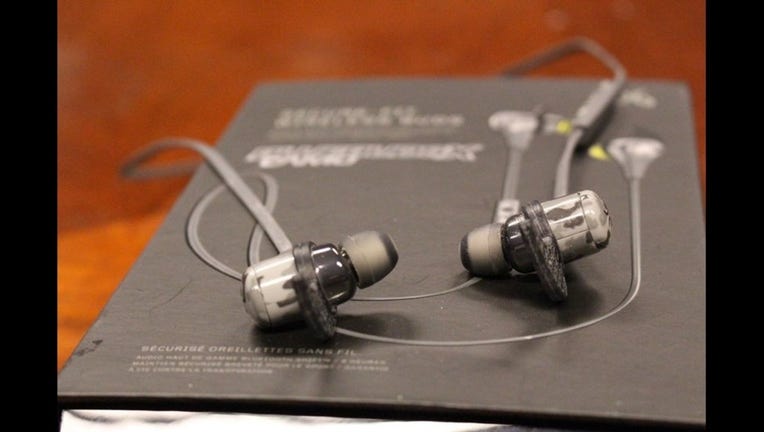 article
If you're looking to workout during the summer months and require music to keep you motivated as you slog through a run or HIIT training, the right headphones may be paramount to conquering that workout. That's why I'm always on the hunt for the perfect workout headphones because, for me, tunes really do make a difference. I've had a few people tell me I should try products from Jaybird so this time around we're taking a look at the Bluebuds X bluetooth headphones in camo.
Now, it's no secret that I hate earbuds. More often than not, my ears get sore. I generally don't like the fit of something shoved in my ear canal and most buds just don't feel secure when I wear them during workouts. So, there you have it. That's my bias. I generally tell vendors this when I go to review a product because I want them to know. Sound quality is a totally different matter though and I judge a product's sonics apart from the fit during a workout, though the fit of earbuds directly affect the sound quality they deliver. I'll get into how I test that in a moment.
When you crack open the box of the Bluebuds, you'll get a very nice hard case to store your buds. It's black with silver trim, accents, Jaybird logo, and definitely has a premium feel to it. Accompanying that premium hard case is 3 pairs of ear tips (S,M,L), 3 pairs of secure fit ear cushions (S,M,L), 2 X-Fit cord management clips, and a microUSB Cable. The whole affair does feel high-end and the Bluebuds themselves have pretty solid specs:
Impedance: 16 Ohm
Speaker sensitivity: 103 +-2dB At 1KHz
Output: 12mW RMS (with level limit)
Total Harmonic Distortion:
Audio Format: 16-bit Stereo
Codec: Shift™ custom SBC implementation
Response Bandwidth: 20-20000Hz
The buds themselves have a cap at one end that flips off and that's where you'll find the microUSB charge port to charge the unit. The cap is connected to a tether which feels substantial enough that it should last you some time. You won't have to plug it in too often since you'll get a pretty good amount of play out of the Bluebuds which are rated for 8 hours play time. In my real world testing, I came pretty close to that as I used them only for my workouts and turned them off once I was done and placed them back into my gym bag. Your mileage may vary based on your own use.
The volume controls for the Bluebuds X are inline and during wear don't actually weigh the earbud down. Jaybird has done a fantastic job of creating controls that are out of the way until you need to access them. When you do need to access the controls, they're pretty straight forward, using timed presses to control functionality rather than single and double clicks. For example, with most inline controls, clicking the volume up button once raises volume while double-clicking skips tracks. With the Bluebuds X, one click does raise volume but in this case, you'll need to hold it down for one second to skip tracks. Same goes for the volume down button and that center button that controls play/pause. Quick clicks, one and four second holds. During my runs, I didn't feel the control jostling or getting heavier as I fatigued. Instead, the left earpiece they're attached to felt just as light at the end of a workout as it did in the beginning.
I always appreciate voice prompts in bluetooth headphones. They're a nice touch! And when you're paying $100 or more, I think it's a feature they should have. If you're not as in love with it as I am, the Bluebuds X do have an LED so that you know when you're charging, how much charge you have left and when they're fully charged. Nice.
My favorite aspect of this particular unit is the look. These come in winter camo and look great! The cord is grey to complete the look and you know what they say? Look good, feel good. And you know what I say? I generally don't like the way earbuds fit and feel. In this case, I was able to enjoy the fit of the earbuds by installing the smallest tips and the smallest secure fit ear cushions. While running, deadlifting, back squatting (had to readjust the cord to the front of my neck instead of behind it) and bench pressing, the Bluebuds X felt secure and didn't move around. Additionally, the part of the ear that the ear cushions push into to give that secure fit didn't feel fatigued either. My only issue with the earbuds would be the in-ear fit. My ear canal still gets fatigued, even with the smallest tip installed and from time-to-time the tip would slip out of optimal position which meant my music volume and sonics would change mid-workout, causing me to have to cram the bud back into my ear canal. To be clear, the secure fit ear cushions kept the earbuds securely ON my ears but the ear tips would slip OUT OF my ear canal from time to time as I worked out. That's the problem with silicone ear tips for me, they don't stay and I've found only one pair of workout earbuds that do, so far.
One possible solution you may try if you really want to go with the Bluebuds X is to pick up a pair of Comply Foam eartips which are made of memory foam and are activated by your body's heat so that they expand in your ear canal for a secure fit, better isolation and more comfort than silicone. I can't speak to them personally, but I know enough people who've used them and highly recommend them that I'm comfortable pointing people in their direction. At some point in the very near future, I'll be buying a pair of Comply Foam eartips and will post my thoughts for those who also find earbuds generally annoying and uncomfortable.
They sound really good when they're properly seated in your ear canal! They present a flatter, more balanced sound than their competitors like the Powerbeats2 Wireless but in a pair of workout headphones, that's going to be a highly preferential thing. If you like driving beats to help drive your workout then these may come across a little flat for you, though not by much. If you like a more balanced, flat sound, or listen more to spoken word content like podcasts, sermons, old radio shows, then you should be right at home with the Bluebuds X in your ears.
One item I found curious was that Jaybird opted to forego the increasingly popular apt-X codec in favor of the more traditional bluetooth SBC codec. During my testing, I could hear a huge difference between devices utilizing apt-X and Jaybird's implementation of SBC which they call SHIFT. To put it plainly, the newer apt-X standard requires that both the headphones and the device the music is streaming from are apt-X enabled whereas SHIFT/SBC requires no special hardware or encoding/decoding from the device the audio is being streamed from. Jaybird and the headphones do all the work for you on their end and the results aren't bad at all. One thing to keep in mind as I give you my take on the sound here is that this review is very contextually driven. For me, these types of buds have a very specific use case and that is exercise and the gym. I expect a different level of sound quality out of gym headphones than I do a good pair of over-ear headphones. But for my use, a good pair of over-ear headphones are generally being utilized in an environment that is quiet and better suited for recreational or active listening as opposed to a noisy gym, run on the street or other physical activity where your environment isn't optimal for engaged listening.
Less expensive than other high-end options but pricier than some lower-end competitors, the Bluebuds X sit right in the middle of the spectrum and are a great option if you don't find yourself generally at odds with the fit and feel of silicon earbuds. All but the most particular of audio snobs should be fine with the sonics of the Bluebuds X for their workouts and look good in the process. They're easy to use, have a great storage pouch and once you get used to sliding them into your ears with the included secure fit ear cushions, they're a joy to use! They're currently available in three colors: Midnight Black, Storm White and Camo. You can find them online for as little as $112, all the way up to $170 for the Camo pair. As always, shop around for the best deal!