Restaurant in Norco reopens for dine-in service, defying state order
NORCO, Calif. - The coronavirus pandemic has been absolutely brutal on the restaurant industry. Now, some businesses are reopening in defiance of health orders currently in place across the state.
The Original Pancake House in Norco began allowing in-restaurant dining on Thursday, defying Governor Gavin Newsom's five-phase reopening plan for the state.
"We thought it was the best decision for our employees, for our community… and we're following all of the guidelines posted by the CDC as well as that were highlighted by the governor on Tuesday," said owner, Megan Kikugawa. "So following all that, we feel like we're making the right decision for everybody and everyone seems to be happy."
Get breaking news alerts in the FOX 11 News app. Download for iOS or Android.
Kikugawa said she felt better about reopening after Riverside County officials made it clear during a recent board of supervisor's meeting that they would not be enforcing the governor's orders or criminalizing business owners. 
"It's time to get back opening up our businesses and letting our people do what our normal business activities are," said Riverside County Sheriff Chad Bianco. "And, you know, you just can't arrest somebody for going out and exercising in public or not wearing a mask. You know, at the same time they are trying to force me to release real criminals from jail. They want me to make criminals out of law-abiding citizens that are, you know, trying to support a family. It doesn't make sense anymore."
RELATED: California sheriff refuses to enforce state's coronavirus stay-at-home orders: 'Doesn't make sense anymore'
Thursday's sales were three to four times higher than with takeout business alone, which Kikugawa says helps them "take care of our employees."
The restaurant has implemented a face-covering requirement for all employees that interact with the public and says they have trained their employees on the new safety procedures they have implemented.
RELATED: Stay up to date on all coronavirus-related information
The restaurant rearranged its in-dining seating to allow a minimum of six feet of space between tables, so guests can maintain proper social distancing from one another.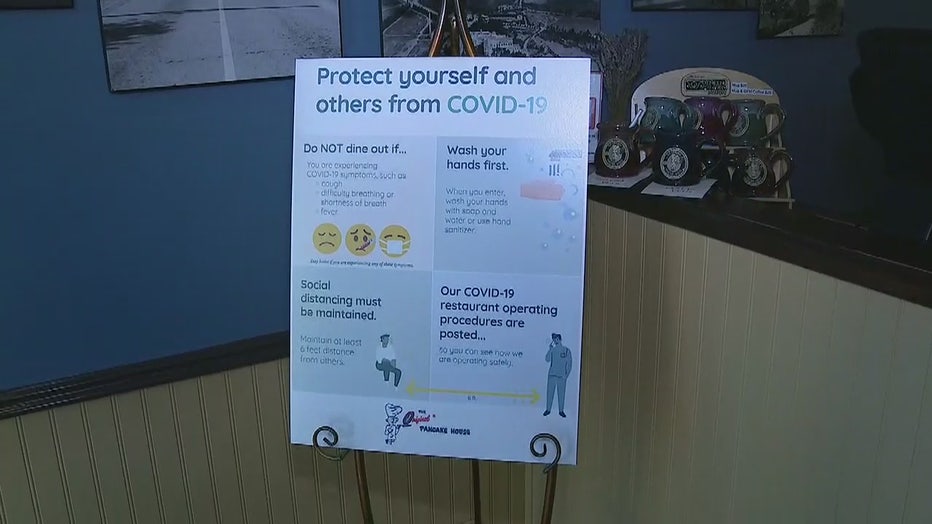 Sign of COVID-19 Restaurant Operating Procedures posted for guests at the Original Pancake House in Norco.
The company's increased sanitation and disinfection measures include:
• Installing hand sanitizer stations for guests and staff use.
• Cleaning and sanitizing all touch surfaces and pens after each use.
• Food condiments will be limited to single-use where possible or disinfected between uses if single-use is not possible.
• Switching to waterproof menus that are disinfected between each use, as well as providing a digital menu on its website
• Ensuring that all utensils and food-ware are properly washed, rinsed and sanitized. 
• Frequent disinfection of high contact touchpoints, such as phones, door handles, credit card terminals, etc.
• Restrooms are disinfected every hour.
• Hands-free restroom arm handles to avoid freshly washed hand contact with restroom door pulls.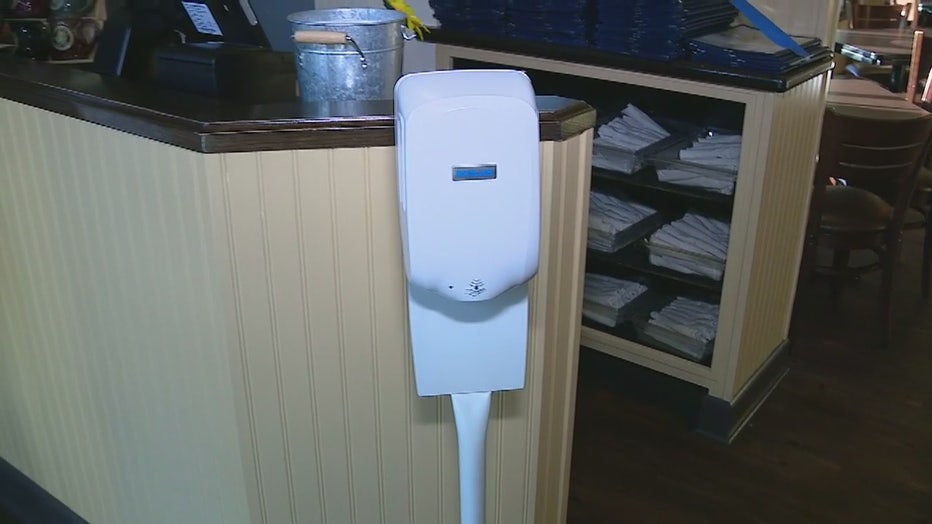 Hand sanitizer stations installed at the Original Pancake House in Norco for guests and staff to use.
They also posted signs reminding guests to maintain social distancing of six wash hands or use sanitizer upon entry into a restaurant, and to stay home if they are ill or have symptoms consistent with COVID-19.
Additional details can be found on the restaurant's website.
FOX 11's Sandra Endo contributed to this report.