Report: No illegal meds in deaths of horses at Santa Anita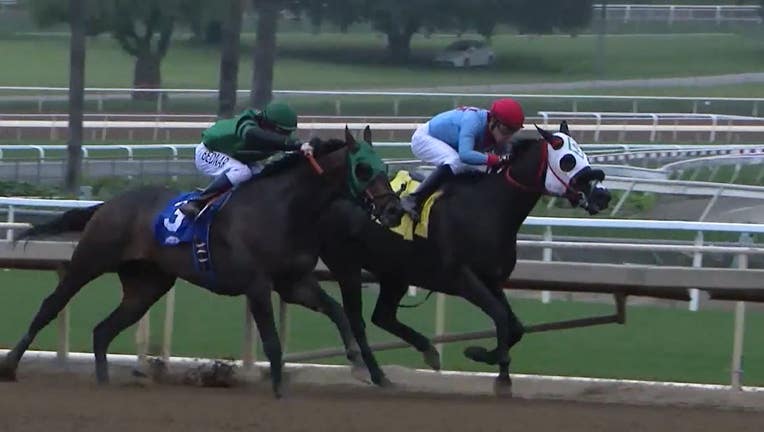 article
LOS ANGELES (AP) - A report released Tuesday by the California Horse Racing Board on a spate of horse deaths at Santa Anita found that no illegal medications were used on the animals and 39% percent of the 23 fatalities occurred on surfaces affected by wet weather.
The long-awaited report focused on 23 deaths as a result of racing or training between Dec. 30, 2018, and March 31, 2019. The fatalities roiled the industry and led track owner The Stronach Group to institute several reforms involving safety and medication.
The report found that 19 of 22 horses' catastrophic musculoskeletal injuries (CMI) included proximal sesamoid bone fractures, which are related to racing and training intensity. Twenty-one of those 22 cases showed "evidence of pre-existing pathology" that is presumed to be associated with high exercise intensity, which predisposes horses with CMI to catastrophic injury.
Click here for related coverage on horse deaths at Santa Anita Park
Other key findings in the report were that several trainers said they felt pressured to run their horses, although "none blamed the track itself for any fatality," and there was no evidence of animal welfare violations.
Seven more fatalities at Santa Anita from April 1 through June 23, 2019, were not included in the report.
Among the recommendations in the 77-page report are to establish strict criteria for canceling racing based on weather; to require continuing education for trainers; and to seek industry support for research into sesamoid bone and fetlock injuries, which caused the majority of the fatalities.
The report details all 23 horses' cases, with notes about their veterinarian history and a list of possible contributing factors. The names of horses, trainers, owners, jockeys and veterinarians were withheld because investigative reports, vet reports and necropsy reports are confidential under California law.
The report said seven complaints will be filed alleging violation of failure to turn in daily vet reports, and three complaints will be filed alleging training without a proper license.
The racing board said it issued more than 70 subpoenas to trainers and vets for documents, while over 100 interviews with trainers, jockeys and vets were conducted.