Rep. Adam Schiff: "I've never met the whistleblower. I don't know who the whistleblower is"
LOS ANGELES - Congressman Adam Schiff will lead the Impeachment Inquiry hearings next week. He's calling diplomats George Kent and William Taylor on Wednesday. On Friday, former Ukraine Ambassador Marie Yavonovich will testify.
"These three witnesses will lay out the broad story...and will chronicle the president's flagrant abuse of his office," Schiff said. 
In this in depth interview with The Issue Is: with Elex Michaelson, Adam Schiff explains why he believes that President Trump pressured Ukraine to help his campaign.
Republicans, including House Minority Leader Kevin McCarthy, claim that Schiff has been coordinating with the "whistelblower" who filed a complaint against President Trump after his call with the Ukranian president.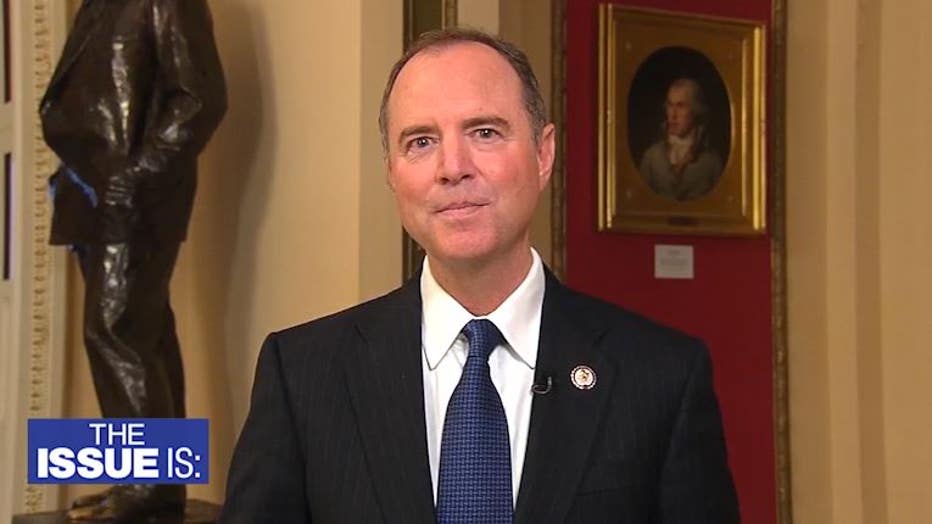 McCarthy said on CBS recently of Schiff: "He is the only person who knows who this whistleblower is. He refers to himself as Ken Starr."
Schiff responded in pretty plain language.
"I've never met the whistleblower. I don't know who the whistleblower is."
He said that McCarthy is simply making this up.
"[Kevin McCarthy] has no independent judgement, he's merely a vessel for the President..." said Schiff.
The House Intelligence Committee Chairman said it is "shameful" that some conservatives, including the President's son Don Jr., are publicly naming the person they believe to be the whistleblower.
"This is an attack on accountability...[the Pres.] believes *he* is the state. That may be true of a monarch but it's not true of the United States," Schiff said.
In recent months, the President has made Schiff one of his prime targets on Twitter. He often refers to him as "shifty Schiff."
"I rest well knowing that when this chapter of history is written, it will reserve it's most damning language for those who defended the actions of this President"
"The Issue Is: with Elex Michaelson" is California's only primetime political show. It airs Fridays at 10:30pm on Fox 11 Los Angeles, Sundays at 5:30am on KTVU Fox 2 & Sundays at 12:30PM on KCOP My 13.