Rep. Adam Schiff: "I was surprised" by Mitt Romney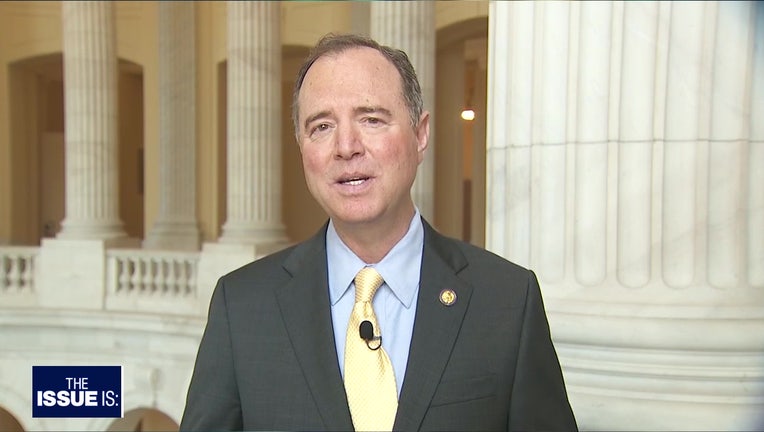 article
LOS ANGELES - On Wednesday, the Senate voted to acquit President Trump on two separate articles of impeachment -- abuse of power and obstruction of Congress.
The acquittal vote was largely along party lines, except in one case.
Utah Republican Mitt Romney broke with Republicans and decided to vote to convict President Trump on the charge of abuse of power -- becoming the first Senator ever to vote to convict an impeached President from their own party.
"What he did was not 'perfect,'" Romney said on the Senate floor prior to the official vote. "No, it was a flagrant assault on our electoral rights, our national security interests, and our fundamental values."
Many Democrats called Romney's action a "profile in courage," many Republicans expressed a desire to expel Romney from the party entirely.
House Intelligence Committee Chair Adam Schiff (D-CA) has spent months leading the charge for impeachment, making the case for President Trump's removal as the lead House Manager in the Senate trial.
In an appearance on "The Issue Is," Schiff expressed to Elex Michaelson his surprise in hearing Romney's decision.
Click here to see more of The Issue Is
"I had said in the preceding week... in my close, 'is there a single one among you who will be David to stand up to Goliath? Because even a single person of courage can change history,'" Schiff said.
"I didn't know if there would be such a person. It turns out that person was Mitt Romney."
Schiff's shock was compounded by the fact Romney's history-making vote was made by someone who just one election cycle earlier had represented the Republican party at the top of the ticket.
"[It] took an extraordinary act of faith and courage," Schiff said. "I talked about at the end of the trial, how the Founders presumed that we would have sufficient virtue for self-governance, and I think that's exactly what Mitt Romney showed, and it gives me a lot of optimism coming out of this trial."
For more from Adam Schiff's appearance on "The Issue Is," including his thoughts on the President's response to his acquittal, the State of the Union, subpoenaing Ambassador John Bolton, and what he plans to do to relax now that the trial is over, listen to the full interview here: https://audioboom.com/posts/7499323-103-the-issue-is-adam-schiff