Remarkable fossil shows dinosaur, mammal forever frozen in epic battle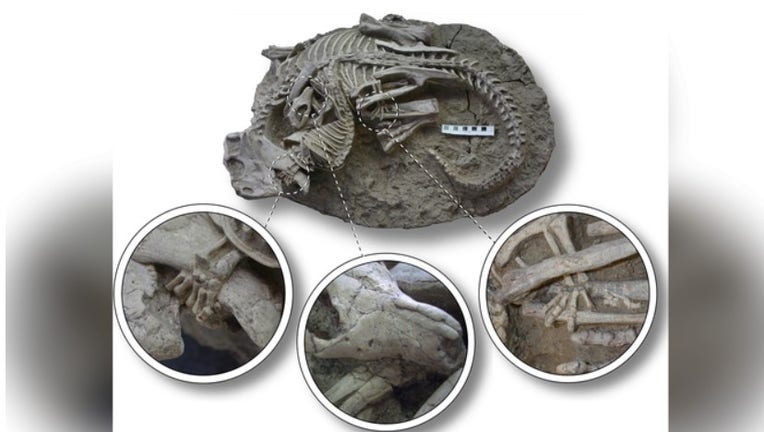 article
Dinosaurs roamed the Earth hundreds of millions of years ago and were among the most feared creatures on the planet. But the discovery of a remarkable fossil in China suggests smaller mammals may have been brave enough to hunt them for dinner – and were successful.
The 125 million-year-old fossil was discovered in the Lujiatun Member of the Lower Cretaceous Yixian formation in China back in 2012 and shows the small mammal Repenomamus robustus engaged in an epic battle with the dinosaur Psittacosaurus lujiatunensis.
JURASSIC JACKPOT: ENTIRE T. REX DINOSAUR SKELETON FOUND IN US AUCTIONS FOR $6.2 MILLION
That attack was frozen in time after the pair were killed when hot volcanic mud covered them both just as the smaller mammal was chomping down on the larger dinosaur for food.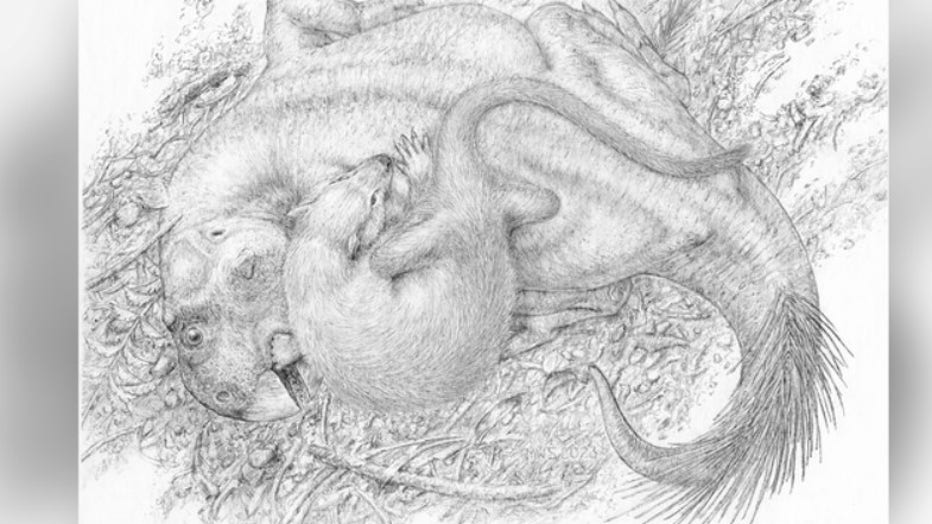 Life restoration showing Repenomamus robustus grappling with Psittacosaurus lujiatunensis. (Michael Skrepnick)
Findings from a study recently published in Scientific Reports now suggest that smaller mammals attacking larger dinosaurs may have occurred more frequently than initially thought. According to the study, the fossil of another Repenomamus robustus was found to have the remains of a young Psittacosaurus lujiatunensis within its stomach.
And while there have been cases of fossil forgeries in the past, the study's authors believe this isn't the case with this discovery because of how the two creatures were intertwined when they met their doom.
PREHISTORIC SABERTOOTH SKULL FOUND IN IOWA LIKELY LAST OF SPECIES TO WALK EARTH, RESEARCHERS SAY
The lack of bite marks on the dinosaur's skeleton, the position of the mammal on top of the dinosaur and the grasping and biting actions of the mammal suggest that it was preying on the weaker dinosaur, which was three times its size, according to the study.
Details of the fossil show the mammal gripping the dinosaur's jaw and leg while biting into its rib cage. That position suggests, according to the study, that the mammal was likely preying on the dinosaur and wasn't scavenging the carcass of one that was already dead before they were both buried for 125 million years.
Read more of this story from FOX Weather.