Rare pink dolphin spotted in Gulf of Mexico could be famous 'Pinky': 'I have never seen anything like it'
CAMERON PARISH, La. - What started out as an ordinary day out on the water for Thurman Gustin ended with an experience of a lifetime. 
Gustin, from Houston, told FOX 35 News he was fishing in the Old River area of Cameron Parish in Louisiana on July 12 when he spotted a pink dolphin swimming just below the surface. 
"I stopped and started recording on my phone," he said. "I have never seen anything like it and just wanted to save the memories." 
He said the sighting happened around 9 a.m.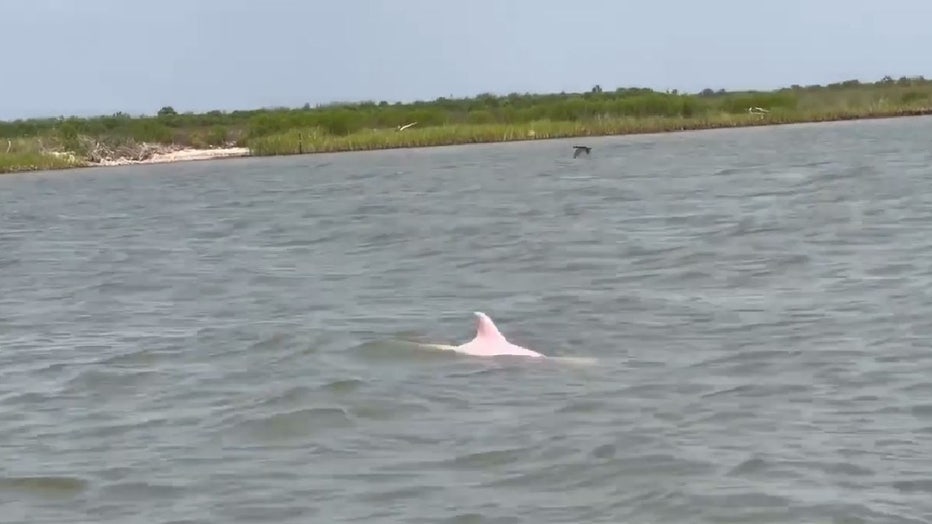 While only one dolphin was seen in the video Gustin shared with FOX 35 News, he said there was a second one, albeit smaller. 
"I didn't want to bother them, so I got my proof and left," he said. "I had no idea what a big deal it was until the video went viral." 
Gustin shared the video in a Galveston Saltwater Fishing Facebook group, which received hundreds and hundreds of shares and reactions. 
Those viewers were split between whether this dolphin was an Amazon river dolphin or an Albino bottlenose dolphin. 
MORE ANIMAL NEWS: 
Amazon river dolphins only live in freshwater and are found in South America, according to the World Wildlife Fund. Albino dolphins, however, are bottlenose dolphins with an "extremely rare" genetic mutation that causes their skin to appear pinkish and white, according to the Blue World Institute. 
People in the comments seem to think the dolphin Gustin spotted could be "Pinky," a local celebrity in the Cameron Parish area. In 2007, "Pinky" and her calf were spotted in the area, according to FOX 5 DC. "Pinky" was spotted again in 2017 and in 2019.