Prosecutor Pledges Fight To Keep 'Suge' Knight Behind Bars During Murder Trial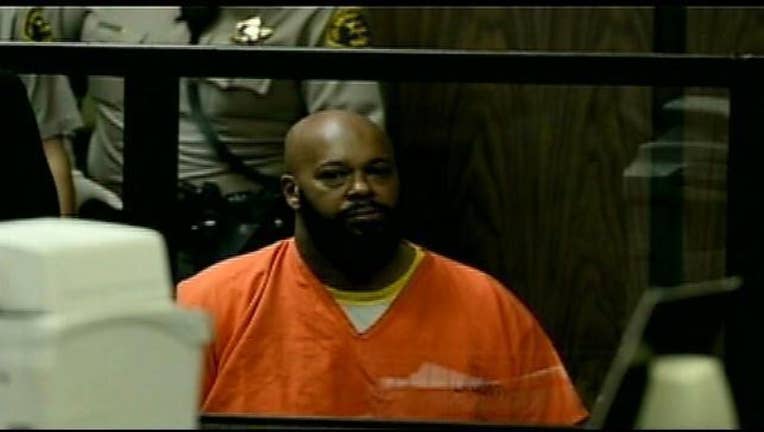 article
RELATED | Ex-Rap Mogul 'Suge' Knight Suffers Chest Pains In Court, Rushed To Hospital
RELATED | Suge Knight Officially Charged With Murder In Compton Hit-And-Run
RELATED | Suge Knight Arrested For Murder In Compton Fatal Hit-And-Run
RELATED | Suge Knight: A History Of Entertainment And Trouble With The Law
RELATED | Suge Knight, 2 Others Shot At Sunset Strip Nightclub
Deputy District Attorney Cynthia Barnes said she has a "very large stack of uncharged crimes that I will be presenting with regard to bail" for Knight, whose bail hearing was postponed to March 20.

The 49-year-old co-founder of Death Row records, who is being held without bail, walked in and out of court under his own power. Following his court appearance last Tuesday, Knight was loaded into an ambulance and taken to a hospital after complaining of chest pains. He was transferred back to county jail the following day.

Knight's attorney, David Kenner, today asked Superior Court Judge Ricardo Ocampo to allow Knight's personal physician to meet with him in jail.

The judge denied the request, saying, "the county has more than competent doctors."

He did sign an order for county medical personnel to meet with Knight to discuss his medical condition, the details of which have been sealed by the court.

Outside court, Kenner said the medical care Knight has received while in custody was "inappropriate."

"Right now, we're at the mercy of what the L.A. County jail says is appropriate," he said.

Kenner indicated that Knight had been treated for a blood clot, a medical condition that is "always potentially life-threatening." The lawyer said Knight should be in a hospital, not in jail.

The judge also sealed the documents involving the uncharged crimes to which the prosecutor referred, and they will not be made available to the public.

Knight was arrested by Los Angeles County sheriff's homicide investigators the morning after the crash and has remained jailed since then.

He was initially held in lieu of $2 million bail, but bail was revoked Feb. 2 because he was deemed a possible flight risk and a three-strikes candidate. According to the Sheriff's Department, "possible witness intimidation issues and a criminal past" were also factors.

Knight allegedly drove his pickup truck backward and forward, killing Terry Carter, 55, and injuring 51-year-old Cle Stone, about 2:55 p.m. Jan. 29 in the parking lot of Tam's Burgers in the 1200 block of West Rosecrans Avenue near Central Avenue.

Lt. John Corina, a sheriff's homicide detective, told reporters that investigators believe Knight intentionally struck the men and that he was not acting out of a reasonable fear.

Corina said Knight had gotten into an argument at a film shoot for a promotional video for "Straight Out of Compton," a biopic of the Compton rap group N.W.A. Knight, and was told to leave. The argument resumed about 20 minutes later at the eatery about three miles away.

Knight's attorney at the time, James Blatt, confirmed Knight was behind the wheel of the pickup that struck the men, but said he acted out of fear in trying to escape from as many as four people who attacked him. Blatt also claimed that Knight had been unaware that he hit two men with the pickup, which was later found in a Westwood parking lot.

The criminal complaint against Knight, who could be incarcerated for life if convicted of the charges he now faces, includes an allegation that he committed a serious and violent felony while out on bail in an unrelated robbery case, as well as use of a deadly weapon and causing great bodily injury allegations.

Knight has prior convictions, making this a third-strike case, according to the complaint.

Copyright 2015 FOX 11 Los Angeles | Download our mobile app for breaking news alerts | Follow us on Facebook, Twitter and YouTube.