President Trump visits Newport Beach for private fundraiser
ORANGE COUNTY, Calif. - President Donald Trump arrived in Orange County to attend a private fundraiser Sunday afternoon at tech mogul Palmer Luckey's Newport Beach estate.
Air Force One landed at John Wayne Airport around 11:30 a.m. As Trump exited the plane he was greeted by a crowd of supporters. Thousands lined the streets as the President's motorcade made it's way to Newport Beach.
"I'm really really proud of him and everything he said he was going to do he is doing so he's all walk and talk together," said Serbian Immigrant turned American Citizen, Jana Nizetich.
"I thought there would be a lot of people you know the patriots the silent majority is waking up and woke... and I knew we'd be here I didn't know would be like this though," said Newport Beach Resident Tim Manno.
The fundraiser was held at the mansion of 28-year-old tech billionaire Palmer Luckey. Tickets ranged from $2,800 for individual admission to $150,000 for a couple to attend and take a photo with the president.
While the president was in town supporters and those who oppose him lined up streets in the area. 
A large Armenian rally was held at Lido Park in Newport Beach, they were calling on the president and his administration to stop the genocide against Christian Armenians, sanction Turkey and Azerbaijan and stop funding Azeri war crimes with US tax dollars. This in response to the ongoing heavy fighting between Armenia and Azerbaijan over the region of Nagorno-Karabakh (also known as Artsakh). 
RELATED: Rally held in OC, Armenian community calling on President Trump to sanction Turkey, Azerbaijan
"President Trump should completely defund and sanction Turkey and Azerbaijan right now," said Los Angeles Resident, Vee Nalbandyan.
But not everyone is excited about the presidential visit. The head of the California Democratic Party sent out this tweet criticizing Trump's response to the pandemic and calling the visit a slap in the face to working families.
"Instead of rubbing elbows with his wealthy, well-connected friends, Trump should focus on getting relief to the California communities suffering under his ineffective, incompetent pandemic response," the tweet read. 
"I think it's fantastic,'' Orange County Republican Party Chairman Fred Whitaker said of the fundraiser. "He understands the critical importance of Orange County in taking back the House seats, and the vote base and donor base in Orange County is still very loyal to the Republican cause.''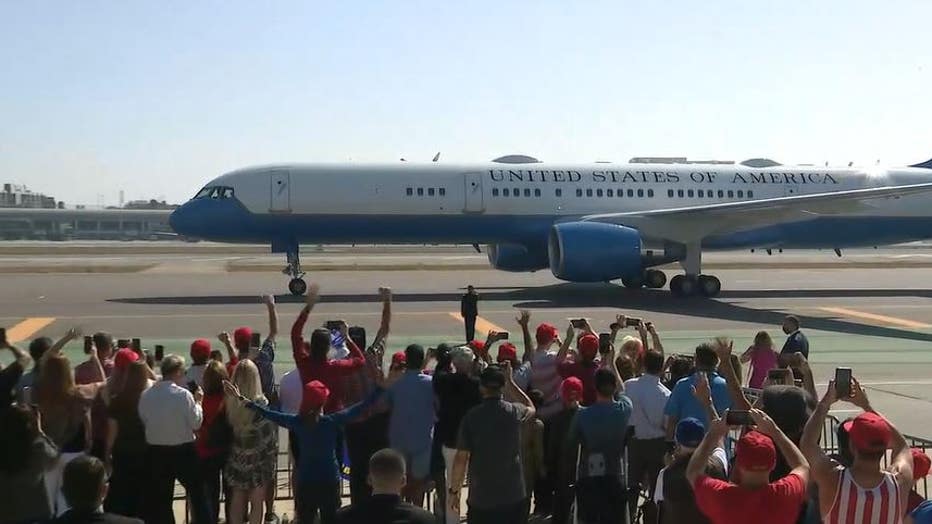 Tempers also flared as a small group of anti-Trump protestors clashed with a Trump supporter.
But overall these Trump supporters, many of whom call themselves the silent majority say nothing will stop the Trump train in 2020.
Trump began his day in Las Vegas, where he attended a church service, before flying to John Wayne Airport. He is scheduled to speak at a rally in Carson City, Nevada later Sunday.
The whirlwind visit is part of a busy campaign weekend for the president. Trump spoke in Michigan and Wisconsin on Saturday. He is set to appear at two Arizona rallies on Monday, one in Prescott and the other in Tucson.
The event in Orange County was originally slated to take place Oct. 6, but postponed after Trump contracted the coronavirus. The president says he no longer feels ill and his doctors have cleared him for public appearances.
RELATED: Biden, Trump go at it — from a distance — in competing town halls
Luckey has donated $405,600 to Trump's campaign this cycle, The Orange County Register reported, citing Federal Election Commission records. And he's donated more than $1.7 million this cycle, with much of the rest of those funds going to Republican committees and candidates, including Michelle Steel and Young Kim, who are both trying to unseat Orange County Democratic members of Congress.
Get your top stories delivered daily! Sign up for FOX 11's Fast 5 newsletter. And, get breaking news alerts in the FOX 11 News app. Download for iOS or Android.