10 Freeway closed after deadly shootout involving police chase suspect, officers in Monterey Park
MONTEREY PARK, CA - The 10 Freeway in Monterey Park was closed for hours Friday as officers investigated a deadly shootout involving a police chase suspect.
According to the Monterey Park Police Department, officers tried to pull over a man initially wanted in connection to a robbery case a little after 10 a.m. Friday. The suspect refused to pull over and a brief police chase ensued on the 10 Freeway.
The suspect's white sedan became disabled near the freeway's center divider, prompting him to flee on foot. He ran across the eastbound lanes of the freeway. During the chase, the suspect opened fire on officers and again as he fled on foot. 
During the foot chase, a shootout took place between the suspect and officers. The suspect was ultimately shot and killed in the exchange of gunfire, according to police. He was identified as 30-year-old Jose Gonzales Morales, according to the Los Angeles County coroner's office.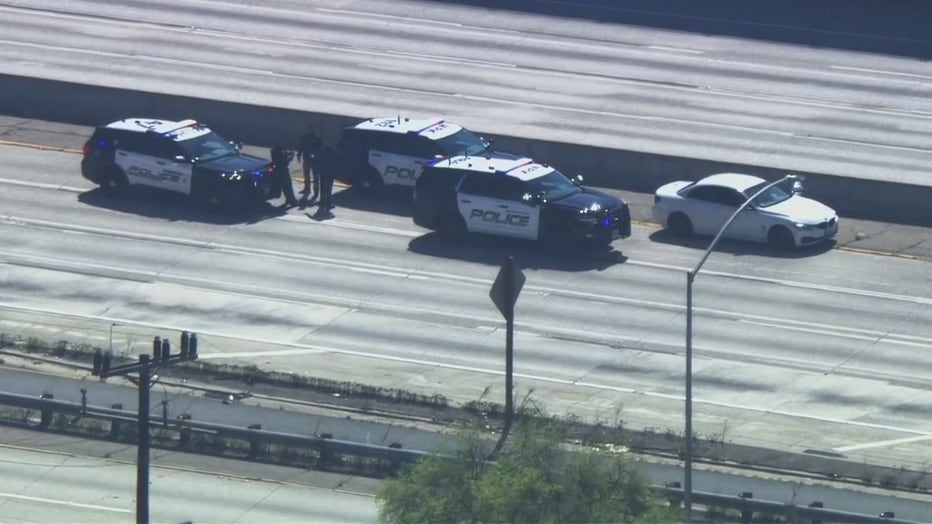 Traffic was closed in both directions for hours; the freeway didn't reopen till late Friday. 
SkyFOX flew over the scene around 11 a.m. and showed traffic at a standstill.