Pineapples and pickles? DiGiorno dishes out new pizza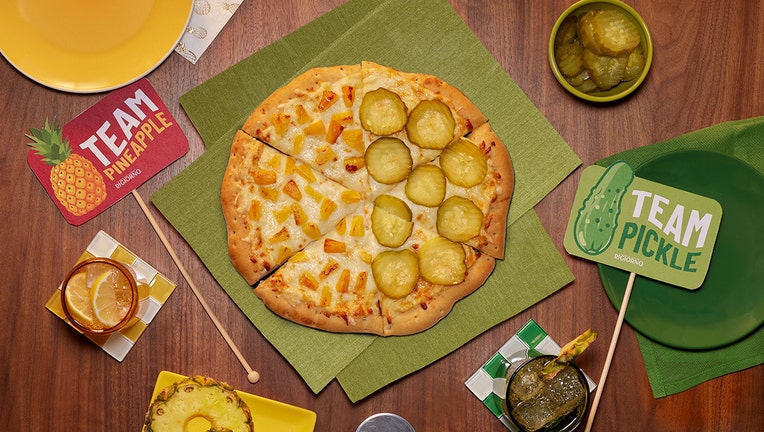 article
CHICAGO - If you thought that pineapple on pizza was divisive, wait until you hear what DiGiorno is dishing up.
The national frozen pizza company recently revealed that it will be giving fans a chance to snag a DiGiorno Pineapple Pickle Pizza for free that features the obvious: pineapples and pickles.
According to the company, the pizza is made with a hand-tossed crust, creamy garlic sauce, and mozzarella cheese. It's also split right down the middle, featuring one-half with sliced dill pickles and one-half with chucks of pineapple.
The DiGiorno pizza will be available starting Sept. 5 exclusively at shopdigiorno.goodnes.com via weekly drops while supplies last. The product is limited to one per person and is only available in the United States.
Pineapple and pickle-themed merchandise, including bucket hats, button-up shirts and pickleball paddles will also be available for purchase.
And, while the combination may sound disgusting, pickles are having a moment. DiGiorno's announcement comes after the viral success of #PicklePizza on TikTok and other social media platforms. 
But this isn't the first time DiGiorno has tested out unique flavors and products.
The Pineapple Pickle Pizza comes on the heels of its DiGiorno Pizza vending machines. DiGiorno is currently trialing two "pizza kiosk" locations at a Walmart in Colorado, as well as at the Nestlé company's Ohio campus. 
In March, Digiorno also revealed its first-ever DiGiorno Cry Pie – an all-onion pizza featuring triple-onion toppings: caramelized yellow, aromatic red and crispy green. 
EARLIER: Heartbroken over NCAA March Madness loss? Win a DiGiorno 'Cry Pie' to ease your pain
"We're always looking to push culinary boundaries while still providing the same high-quality, fresh-baked experience people can expect from DiGiorno," Kimberly Holowiak, senior brand manager for the company said during March Madness. "We've all seen or experienced the heartbreak that comes with a tough loss during the college basketball championship. We hope our Cry Pies offer people a fun way to engage with the tournament and our brand, no matter who they're cheering for!" 
This story was reported from Los Angeles.