Passenger detained at LAX after opening emergency exit door of plane
LOS ANGELES - A passenger on a Delta flight from Los Angeles to Seattle was arrested Saturday morning after officials said he opened the emergency door while the plane was taxiing on the runway at LAX.
This all happened around 10 a.m. Passengers on the plane told FOX 11 that after the plane left its gate, a passenger rushed from the back of the plane toward the front, and asked the flight attendant "what do I do now?" Passengers said the flight attendant asked the man to sit down and started to walk toward him, when he ran to one of the plane's emergency exit doors, turned the latch, opened the door and slid down the deployed emergency slide. 
The plane then stopped, and passengers said the man jumped onto the back of a baggage cart, where luggage workers held him down until LAX Police got there.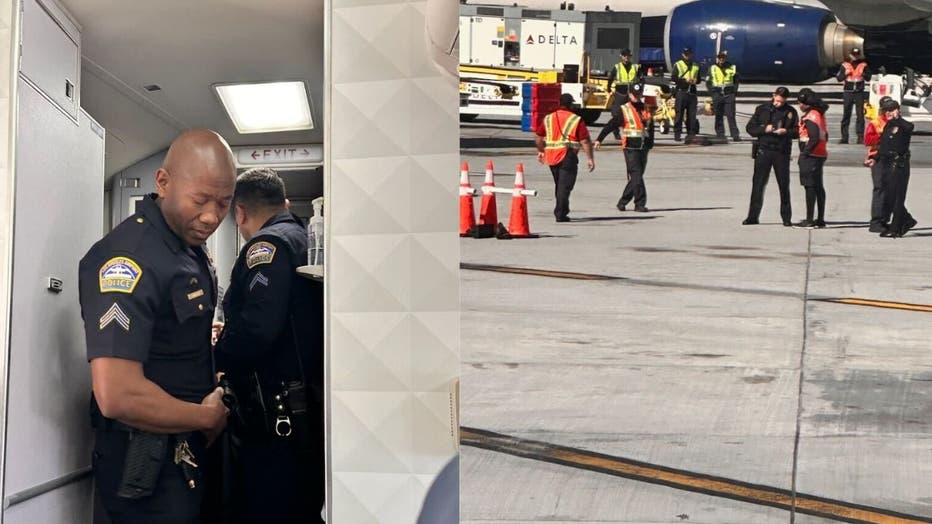 SUGGESTED: Flight attendants on SkyWest airplane reportedly get into fight, delay passengers for over an hour
"He is being taken to a local hospital for a mental evaluation," said Sgt. Devin Feldman. Federal Authorities are now involved in the investigation.
"Delta was great. The flight attendants were amazing," said Gillian Sheldon, who was on the plane. She told FOX 11's Christina Gonzalez that the whole thing happened so fast that no one had any time to react.
"You always tell yourself, when you see these things on TV, that I would have done this or that, but honestly, it was so quick, there was no way to react," she said. "Just glad it didn't happen when we were midair, or it would have been a whole different outcome."
No injuries were reported. In a statement to FOX 11, Delta said that the plane returned to the gate and the man was handed to authorities. All the other passengers on the plane were put on a new plane.