Pasadena pursuit ends in officer-involved shooting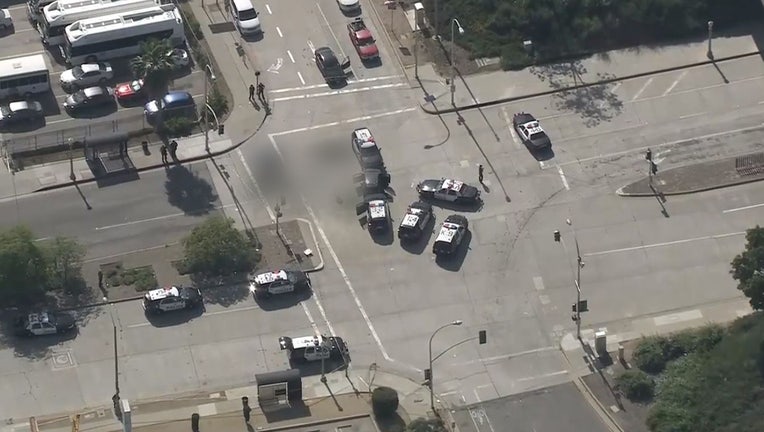 PASADENA, Calif. - An officer-involved shooting following a pursuit is affecting traffic in the area of Corson Street and Allen Avenue in Pasadena.
The incident occurred Friday at about 3:30 p.m. Pasadena police say officers were involved in a slow-moving pursuit with a male suspect when the car was stopped using a PIT maneuver at the intersection of Corson Street and Allen Avenue near the 210 Freeway and an officer-involved shooting occurred.
"Pasadena Police Department personnel were in the area of Walnut Street and Meridith Avenue when they attempted to conduct a traffic stop on a 2015 Mitsubishi Mirage for a vehicle code violation. The male driver and solo occupant of the vehicle failed to yield, and a vehicle pursuit ensued," said the Pasadena Police Department in a statement. "The suspect drove recklessly through city streets, and Officers discontinued their direct pursuit while the Pasadena Police helicopter monitored the suspect from above."
"Even though the suspect was no longer being actively pursued by ground personnel, he continued to drive in a reckless manner. In an effort to protect the public from the dangerous driving behavior of the suspect, ground Officers once again began to actively pursue the suspect," the statement continued.
Police say gunfire erupted between the suspect and officers resulting in one officer being struck in the leg. That officer was taken to a local hospital in serious but stable condition, according to officials.
The suspect was pronounced dead at the scene. His identity has not been released to the public. Three firearms were found inside the suspect's vehicle, police said.
The immediate area was closed off during the investigation.
Anyone with information regarding this ongoing investigation is asked to call the Pasadena Police Department at 626-744-4241. Anyone wishing to remain anonymous can call Crime Stoppers at 800-222-8477.