Ohio firefighters find 118-year-old time capsule buried in fire station: Here's what was inside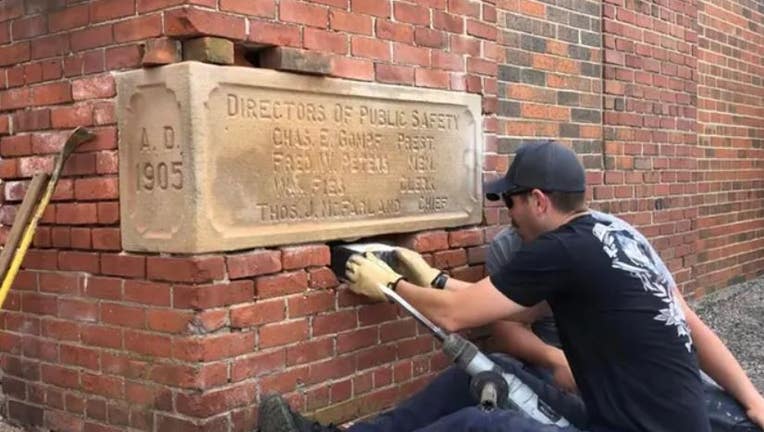 article
A team of firefighters has uncovered treasure hidden in their fire department that's nearly 12 decades old.
Captain Ryan Redmon and a group of six firefighters from the City of Marion Ohio Fire Department were on a mission to retrieve an old department cornerstone from a retired fire station that was about to be demolished, but they ended up finding something truly unexpected.
The Marion Fire Department (MFD) has recently been researching the history of their department, going back to 1848, by digging up some information — both figuratively and literally, Captain Redmon told Fox News Digital.
On May 25, Redmon and the firefighters went down to the old Marion Fire Department Station No. 2, which was built in 1905, to excavate their department's cornerstone for preservation purposes before the building was scheduled to be torn down.
After spending nearly 30 minutes on the excavation, Redmon and his men quickly realized the cornerstone was deeper into the building than anticipated, so they called in professionals to complete the removal.
As Redmon and his team were about to leave, they pulled out one last brick and saw a copper box fall out of the sandstone, Redmon shared.
Redmon and the other firefighters on the scene took it back to the station excited to show everyone their new discovery.
"Obviously, everybody wanted us to open it right away, and we wanted to, trust me. It was killing us to see what was in there," Redmon commented.
The MFD has been working on the written history of their department, but nothing in their prior research led them to believe there would be a time capsule hidden in the 1905 fire station.
"We've done so much history work around the station and I feel like we've got a pretty good grasp on our past and where we've been, and [to] discover something like [this], there's no written record of it," Redmon stated.
"We scoured newspapers, we scoured old records [and] there was never any mention of a time capsule in there, so it was very exciting," he added.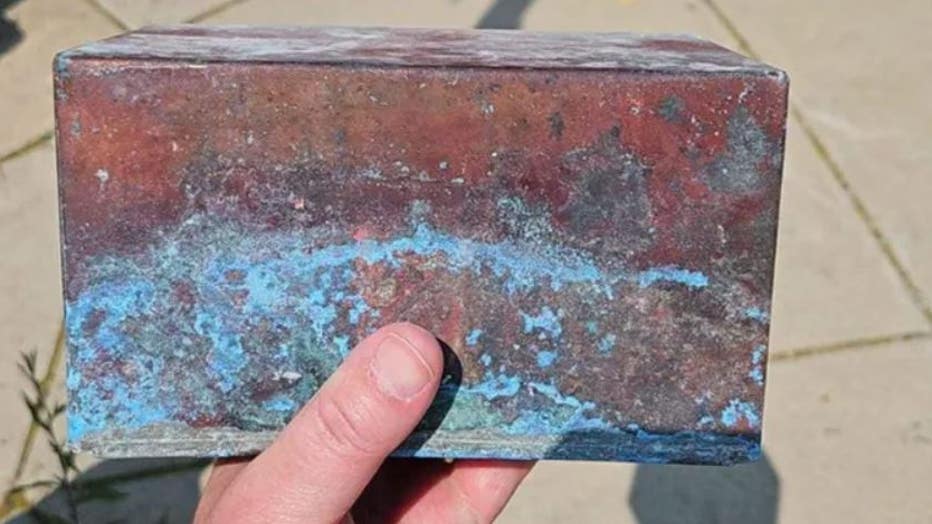 The 118-year-old time capsule was hidden near the cornerstone of the retired fire station building that was set to be demolished. (City of Marion Ohio Fire Department)
The time capsule was placed near the cornerstone of the old MFD station on July 20, 1905, according to a letter found in the capsule written by the fire chief at the time, Redmon added.
"Firemen aren't exactly known for being gentle, delicate creatures with things," Redmon joked. "So we took it to the historical society in town."
The copper box had been soldered shut on the edge and wasn't easy to pry open, according to Redmon.
On May 31, the MFD invited the residents of Marion to be a part of a public opening of the time capsule.
Inside the 118-year-old copper box were dozens of well-preserved memorabilia referencing the department including: nine MFD badges from the "turn of the century," an invitation to the 1878 "Northwestern Ohio Volunteer Fireman's Association Fireman's Games" (which is still held today), four newspapers from July 1905 and so much more, according to the City of Marion Ohio Fire Department Facebook page.
Redmon took note of the differences between the "turn of the century era" badges that had been found in the time capsule, detailing the difference in style and size.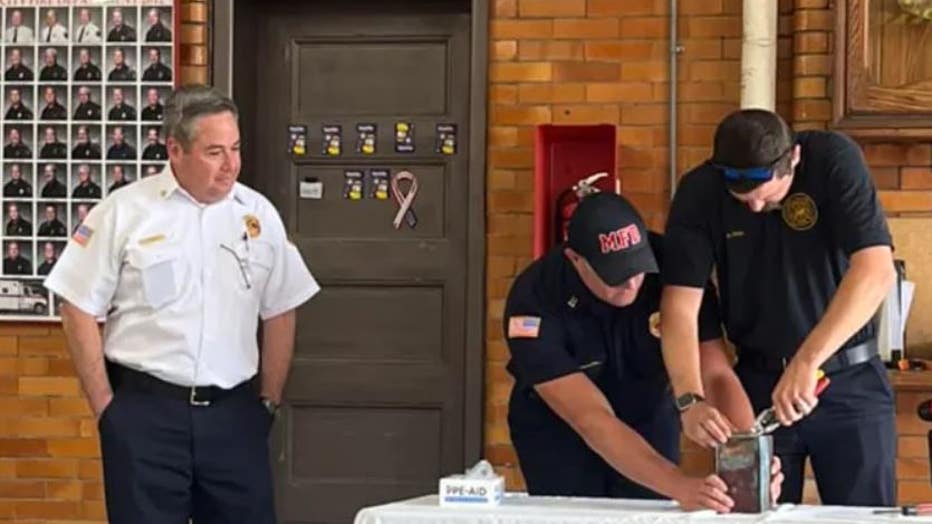 Chief Chuck Deem (left) looks on as Captain Redmon (center) and Andrew Niles (far right) pry open the time capsule during a public ceremony on May 31. (City of Marion Ohio Fire Department)
"There has been talk about trying to back to that style now that we know that's our history and that's kind of where we came from. In the future, maybe we can go back to that," Redmon commented.
One of Redmon's favorite discoveries in the box was the letter from Chief McFarland, the department's fire chief for almost 40 years, he added.
"He has kind of got his touch on everything. To have an actual letter from him was very [exciting]."
Redmon gave a lot of credit to Andrew Niles, a firefighter on his team, who has been heading up the department's historical research and was the one to open the time capsule.
One of the biggest takeaways for Redmon is knowing that he now has a tangible place in the history of the MFD.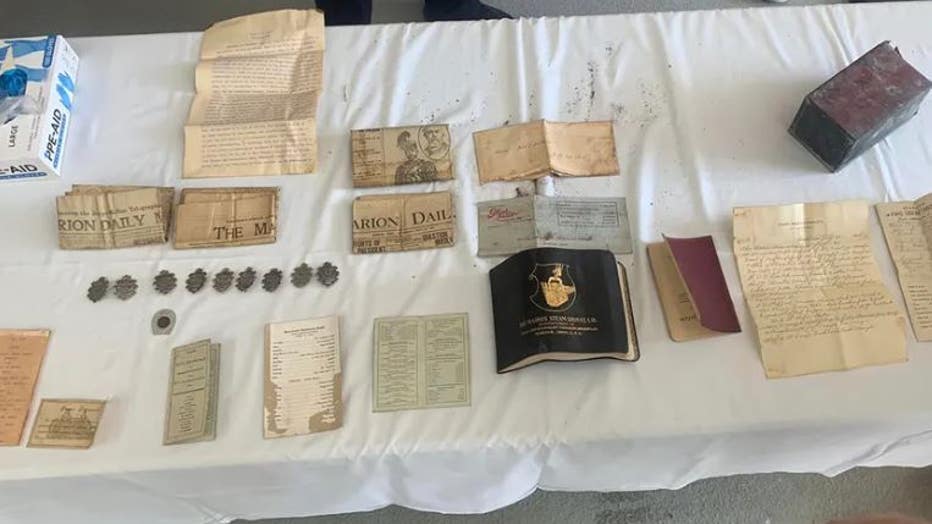 All sorts of historical memorabilia was found inside the time capsule buried in 1905 including badges and newspapers. (City of Marion Ohio Fire Department)
"I was becoming a part of history because I was involved in this opening and this finding," he shared.
The MFD is planning on taking an item from the 1905 time capsule, most likely one of the badges, and placing it in a new time capsule that will be buried in the construction of the new fire station, Redmon added.
The hope is that another 118 years will pass by before the new capsule is opened and someone will be able to discover a 236-year-old badge, paying homage to the history and legacy of the Marion Fire Department, Redmon said.
GET UPDATES ON THIS STORY AT FOXNEWS.COM