OC prosecutors to dismiss charges against Newport Beach surgeon, girlfriend accused of sexual assault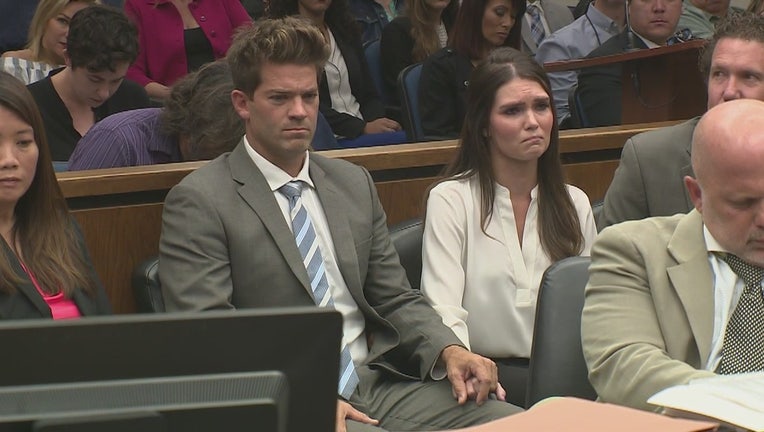 article
NEWPORT BEACH, Calif. - Orange County prosecutors are expected to dismiss charges Friday against a Newport Beach surgeon and his girlfriend, who were accused of drugging and sexually assaulting multiple women.
Orange County District Attorney Todd Spitzer held a news conference Tuesday to announce his decision to drop charges against Dr. Grant Robicheaux and Cerissa Riley, claiming the case was used for political gain by former District Attorney Tony Rackauckas during his re-election campaign.
The move reopened a long-brewing feud between the two politicians, with Rackauckas criticizing Spitzer for turning his back on the accusers in the case.
Rackauckas said he was "very concerned that Todd's latest stunt will deter future sexual assault victims from coming forward."
Rackauckas, who lost his re-election to Spitzer in November 2018, said his successor "stabbed Marsy's Law in the guts," referring to the state law that gives victims more say in criminal proceedings.
"My heart goes out to the women who had the courage to come forward and report a sexual assault and I hope that they are able to heal," Rackauckas said.
Referring to statements Rackauckas made during depositions in a civil suit filed against the defendants, Kimberly Edds, a spokeswoman for the Orange County District Attorney's Office, said Rackauckas "admitted under oath that he had not reviewed any of the evidence in this case before he announced to the world that there were up to 1,000 victims on video, and that he used this case as a vehicle to gain pre-election publicity in an effort to help his 2018 reelection campaign."
Edds added, "The results of a comprehensive three-month de novo review of every single piece of evidence in this case were presented to District Attorney Todd Spitzer, members of his executive team, and a team of prosecutors with a combined 175 years of experience. This review was also presented to the Rackauckas-assigned deputy district attorney and she did not disagree with the conclusion that there is insufficient evidence to prove these charges beyond a reasonable doubt.  The decision of the de novo team to dismiss this case was unanimous."
Rackauckas fired back that the case was filed by prosecutors who believed in the case and it was later supported by all of their supervisors.
Rackauckas noted how the original prosecutors were taken off the case and that an investigator in the office involved in the case has been placed on leave. This has not been confirmed. This week, attorneys involved in the civil suit won a motion to depose the investigator.
Rackauckas accused Spitzer of playing favorites with attorneys who have supported him in this and other cases. One of the attorneys representing a victim in the case, however, criticized the move and Spitzer noted that the attorney was even in his wedding.
"Even though Todd has had all of the information that he announced at his news conference for months, he waited until the day after the Voice of OC printed an expose of him having the taxpayers pay out $150,000 to settle a whisteblower claim alleging corruption and abuse by Todd," Rackauckas said.
Spitzer said he was motivated in part to dump the case because there are no videos or photos in evidence that show what has been alleged.
"There is not a single piece of evidence or video or photo that shows an unconscious or incapacitated woman being sexually assaulted. Not one," Spitzer said.
Spitzer also pointed to comments made by Rackauckas during a recent deposition in a lawsuit stemming from the case, in which the former district attorney conceded that he anticipated getting publicity by announcing the charges during his re-election campaign.
"After the depositions, I was freaked out," Spitzer said. "I was very disturbed. I have the former elected and sworn district attorney of Orange County admitting that this case was used for campaign purposes."
Rackauckas previously told City News Service that while he conceded that the case was expected to generate publicity, he did not approve the filing of charges to boost his re-election campaign.
In a lengthy news conference in which he walked through the origins of the case, Spitzer on Tuesday also accused Rackauckas of making a public "misstatement" that there may be more than 1,000 potential victims, a claim that prompted hundreds of phone calls into the district attorney's office.
A civil suit filed by one of the accusers against the defendants and seeking $22 million in damages is pending.
Spitzer said he is willing to meet personally with all of the alleged victims in the case to discuss his reasoning for dropping the charges.
Robicheaux, 39, and Riley, 32, were charged with drugging and sexually assaulting multiple victims. Robicheaux was charged in connection with seven victims, while Riley was charged with five.