Obama visit, sporting events: Your guide to Saturday traffic in Los Angeles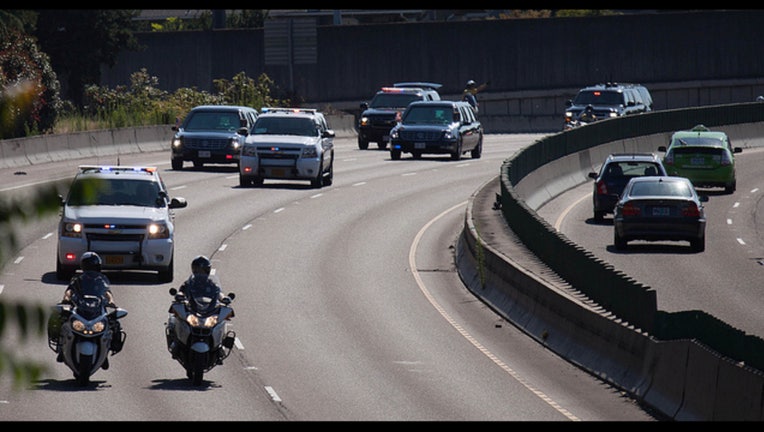 article
LOS ANGELES (CNS) - With President Barack Obama scheduled to visit the Los Angeles area for about 6 1/2 hours Saturday, as well as two major sporting events planned, the Los Angeles Police Department issued a list of areas motorists should try to avoid to prevent being stuck in traffic.

Obama's exact motorcade route is never released to the public.

According to the LAPD, from 12:30 to 2:30 p.m., motorists should avoid the areas around:
Sunset Boulevard between Rivas Canyon Road and Monaco Drive;
Capri Drive between Corsica Drive and Casale Road; and
Casale Road between Capri Drive and San Remo Drive.
From 2:30 to 3:30 p.m., motorists should avoid:
Amalfi Drive between San Remo and Capri drives;
Capri Drive between Amalfi Drive and Sunset; and
Pavia Place between Sunset Boulevard and Amalfi Drive.

From 3:30 to 5:30 p.m., motorists should avoid:
Sunset between Westcove and Minorca drives;
Allenford Avenue/26th Street between Sunset and San Vicente Boulevard;
San Vicente Boulevard between 25th Street and Wilshire Boulevard;
Wilshire between Barry and Devon avenues;
Beverly Glen Avenue between Ashton Avenue and Charing Cross Road;
Mapleton Drive between Club View and Wynton drives.

From 5:30 to 7:30 p.m., motorists should avoid:
Beverly Glen Drive between Wynton Drive and Pico Boulevard;
Pico Boulevard between Patricia Avenue and Avenue of the Stars; and
Motor Avenue between Pico and Monte Mar Drive.

Police said Sepulveda Boulevard will be closed between Lincoln and Century boulevards for a roughly eight-minute period sometime between 12:45 and 1:15 p.m. Will Rogers State Park will be closed from 7 a.m. to 1:30 p.m., while Cheviot Hills Recreation Center and Park will be closed until 7:30 p.m.

San Remo Drive in Pacific Palisades will be closed between Casale Road and Amalfi Drive from about 1:30 to 3 p.m. Amalfi Drive will be closed between 3 and 5 p.m. between Napoli and Minorca drives, and South Mapleton Drive will be closed from 5 to 7 p.m. between Wyton and Club View drives. Club View will be closed between South Beverly Glen Boulevard and Comstock Avenue from 5 to 7 p.m.

Motor Avenue will be closed from Pico to Monte Mar Drive between 6:30 and 7:30 p.m.
In Pasadena, thousands of fans will head to the Rose Bowl to watch the men's soccer match between the United States and Mexico. The CONCACAF Cup begins at 6 p.m.

The Los Angeles Dodgers and New York Mets also play Game 2 for the National League Division Series at Dodger Stadium. Game time is 6:07 p.m.

Copyright 2015 FOX 11 Los Angeles: Download our mobile app for breaking news alerts or to watch FOX 11 News | Follow us on Facebook, Twitter and YouTube.