Newsom announces resources to help Californians manage stress caused by COVID-19 pandemic
SACRAMENTO, Calif. - Governor Gavin Newsom Tuesday announced additional resources available to Californians as they deal with increased stress triggered by the effects of the COVID-19 pandemic.
"Staying home doesn't mean you're alone," he said and wants to make sure Californians know there is emotional support available in times of need.
Newsom recognizes some residents are not taking the time to reflect on their own health, and are ignoring the need to exercise, aren't staying hydrated and other means of self-care.
The state aims to provide "psychological first aid," to residents, such as to support caregivers with peer-to-peer support. Newsom said there is no shame in recognizing one's limitations and that there will be guidelines and guidance in place "to meet challenges head-on."
Some of the guidance includes tips for adults, kids and caregivers to assist with daily routines.
California Surgeon Dr. Nadine Burke said residents must continue to take care of their physical and mental health.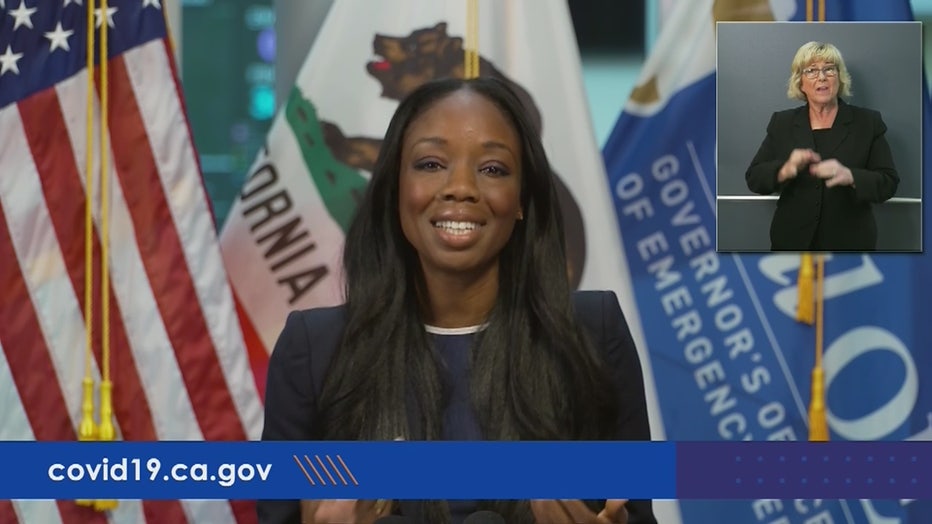 "Actions we're all taking…physical distancing, handwashing, wearing masks and proper disinfecting remain top priority. But while we keep our physical support, our need for emotional and spiritual is important for physical and mental health," she said.
Beyond infection of the virus, stress related to the pandemic by lost wages, employment, financial assets, school closures and the need to sustain physical distancing can trigger one's biological stress response, which impacts a person's overall health and wellbeing, Dr. Burke added.
The "overactivity of stress response," is not always apparent, but according to Dr. Burke, some indicators include mood changes, change in appetite, loss of sleep, and substance abuse.
There are "simple things to do every day to protect your and your family health," such as proper nutrition, regular exercise, and meditation, Dr. Burke said.
Federal, state and local officials have emphasized the importance of social distancing. However, Dr. Burke said residents can continue practicing social distancing while staying connected to their social support in order to decrease stress hormones.
Those experiencing increased stress and anxiety are asked to contact their doctor or a mental health professional.
The state COVID-19 website lists multiple hotlines staffed with mental health professionals to give emotional support for those dealing with fear, stress, anxiety, depression and more.
CRISIS HOTLINES
• Disaster Distress Helpline: Call 1-800-985-5990 (TTY 800-846-8517) or text TalkWithUs to 66746 for 24/7 support.
• Crisis Text Line: Text HOME to 741741 for 24/7 crisis support.
• California Suicide & Crisis Hotlines: Find phone numbers and links to all the suicide and crisis hotlines by county in California.
• California Peer-Run Warm Line: Call 1-855-845-7415 for 24/7 non-emergency support.
YOUTH AND TEENS
• California Youth Crisis Line: Youth ages 12-24 can call or text 1-800-843-5200 for 24/7 crisis support.
• TEEN LINE: Teens can talk to another teen by texting "TEEN" to 839863 from 6pm – 9pm, or call 1-800-852-8336 from 6pm – 10pm.
VETERANS
• Veterans Crisis Line: Call 1-800-273-8255 and Press 1 or text 838255 for 24/7 support.
FIRST RESPONDERS AND LAW ENFORCEMENT
• Fire/EMS helpline: Call 1-888-731-FIRE to get 24/7 help for a variety of behavioral health issues.
• COPLINE: Call 1-800-267-5463 to find support 24/7 for law enforcement officers.
CALIFORNIA SENIORS
• Friendship Line: Call 1-800-971-0016 for 24/7 support if you are 60 years or older, or an adult living with disabilities.  
• Senior Information Line: Call 1-800-510-2020 for help finding local assistance. 
LGBTQ INDIVIDUALS
• Trevor Project: Call 1-866-488-7386 or text START to 678678 for 24/7 information and suicide prevention resources for LGBTQ youth.
• Lesbian, Gay, Bisexual and Transgender National Hotline: Call 1-800-273-8255 from 1pm – 9pm for support, information or help finding resources.
DEAF AND HARD OF HEARING INDIVIDUALS
• National Suicide Prevention Deaf and Hard of Hearing Hotline: Access 24/7 video relay service by dialing 1-800-273-8255 (TTY 1-800-799-4889).
SERVICES FOR SUBSTANCE USE DISORDERS
• SAMHSA National Helpline: Call 1-800-662-HELP for 24/7 information and referrals in English and Spanish. 
• SAMHSA Treatment Locator:  Find drug or alcohol treatment programs. 
• Local county access lines: Find your local number for help seeking substance use disorder services.
For additional resources and hotlines, visit COVID19.CA.GOV.
RELATED: CoronavirusNOW.com, FOX launches national hub for COVID-19 news and updates. 
Newsom also announced the latest coronavirus numbers. As of Tuesday afternoon, there were 15,856 positive COVID-19 cases with 374 deaths. Of those, 2,611 patients were hospitalized, a 4.1% increase from Monday, and 1,108 patients were in ICU, a 2% increase.
"We want to see that number go down, not up," Newsom said.
While there is an increase, Newsom pointed out there isn't a double-digit increase that the state was experiencing just a week ago. 
"The state continues to take advantage of every moment to make sure we're prepared for any surge and for the long haul," Newsom said. 
Newsom said the state's curve is "bending and stretching." While it doesn't suggest the state will see a decline in COVID-19 cases, Newsom will continue to enforce stay-at-home orders and physical distancing.
"We're seeing a slow and steady increase, but it's moderate," which Newsom contributes to actions residents have taken, such as wearing facial coverings and continued physical distancing.
Newsom also said he is sticking by his projection that the state will hit its peak in mid-May and not April like other states based on modeling.
RELATED: Gov. Newsom sticks with mid-May as anticipated COVID-19 peak
On Monday, Newsom announced alternative health sites to transfer COVID-19 patients displaying mild to moderate symptoms.
RELATED: Former St. Vincent Medical Center to be used as surge hospital in COVID-19 fight
Get breaking news alerts in the FOX 11 News app. Download for iOS or Android.