Newport Beach City Council votes to support litigation filed by HB, Dana Point
NEWPORT BEACH, Calif. - The rallies continued, even as cities in Orange County enforced the Governor's orders to close county beaches for the weekend.
The Newport Beach City Council has voted to affirm its support for litigation filed by Huntington Beach, Dana Point, and business owners seeking to reopen Orange County beaches following Gov. Gavin Newsom's Thursday closure directive.
Get breaking news alerts in the FOX 11 News app. Download for iOS or Android.
That injunction targeting Newsom's closure was not granted this weekend since the judge hearing the case wanted more time yo study the issue.
The vote was made Saturday morning during a special meeting. The city of Newport Beach says they will continue to "work diligently and do everything possible to safely reopen the City's beaches".
RELATED: Orange County officials upset after Gov. Newsom announces closure of beaches
Judge rejects bid to reopen Orange County beaches
On Friday a judge rejected bids by Dana Point and Huntington Beach to have Gov. Gavin Newsom's temporary closure order lifted. Therefore Orange County beaches will remain closed.
Both cities are now suing the state of California. 
On Thursday Newsom imposed a temporary hard closure of all Orange County beaches after seeing images of large crowds last weekend. He says the closure is to help slow the spread of COVID-19. 
Newsom said Orange County had been on his radar and was concerned with beaches remaining open considering the number of its confirmed coronavirus cases. 
He credited Orange County officials for how they have handled the coronavirus crisis, saying they're doing a "wonderful job down there," but is committed to his job of keeping Californians safe. 
RELATED: Thousands in Huntington Beach defy Newsom's social distancing order and hold large protest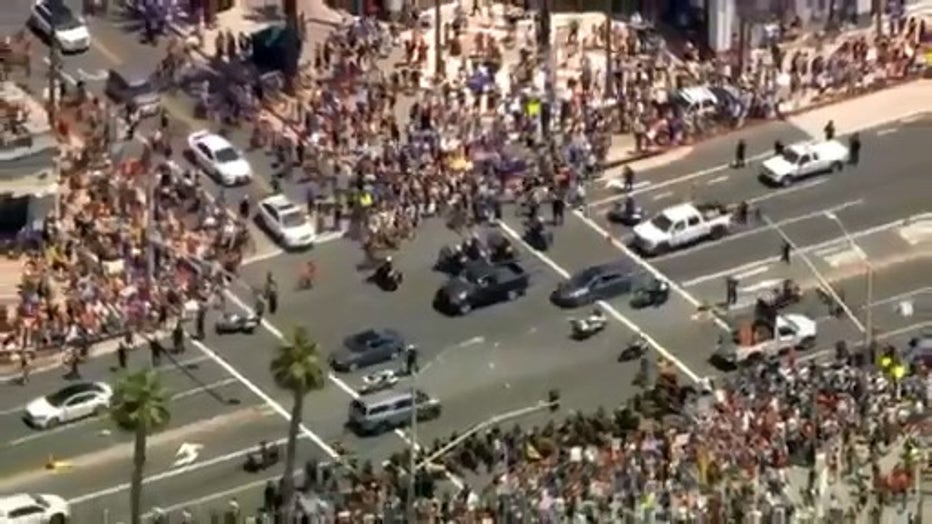 Word of the closure brought out thousands of protesters to Huntington Beach… calling on Newsom to lift his stay-at-home orders and his closure of the county's beaches.
The protest brought out between 2,500 and 3,000 protests of all ages to PCH and Main Friday afternoon. 
It was one of six events organized by the "Fully Reopen CA Now Movement".
FOX 11's Christina Gonzalez contributed to this report.