Thousands in Huntington Beach defy Newsom's social distancing order and hold large protest
HUNTINGTON BEACH, Calif. - Thousands of protesters gathered in Huntington Beach on Friday to call on Gov. Gavin Newsom to lift his stay-at-home orders and his closure of the county's beaches.
The protest brought out between 2,500 and 3,000 protests of all ages to PCH and Main. 
It was one of six events organized by the "Fully Reopen CA Now Movement", whose leaders spoke to us before the event.
To them it's always been a constitutional issue. 
RELATED: 
• Crowd fails to social distance while protesting in Huntington Beach over pandemic restrictions
• Huntington Beach, Dana Point to challenge Newsom's Orange County beach closure order
• Orange County officials upset after Gov. Newsom announces closure of beaches
"The suspended rights, freedom of speech, freedom of assembly, religion and it seems that the government reach was extending indefinitely in the suspension of people's right," said Vivienne Reiten with Fully Reopen CA Now.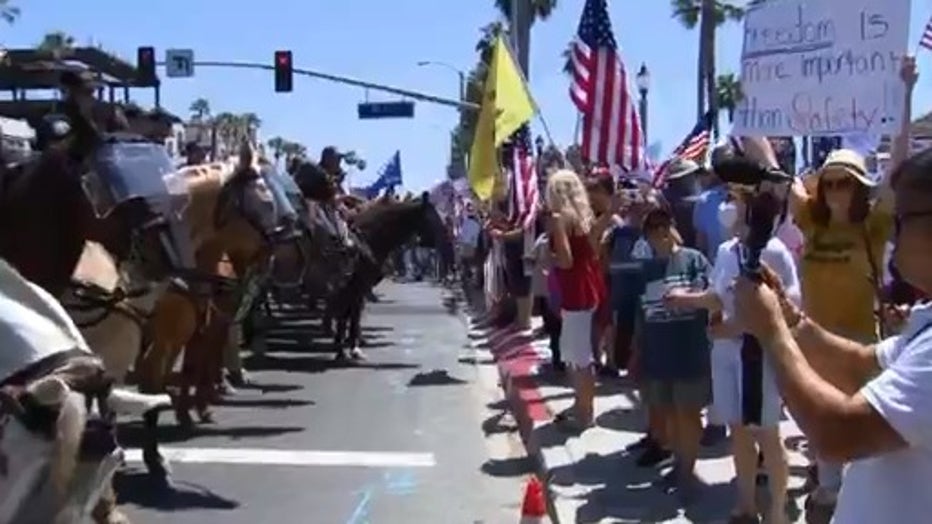 "We cannot survive two, three months on his timeline with this amount of businesses shut down and quite frankly the data at this point doesn't support it," she added.
Protesters told us they expect a large number of infections in the population, but to them they say it doesn't mean they are all going to get sick or die. 
"I think we should do the herd immunity thing, so like if people still have it when we get released, people are  just going to get sick again instead of building immunity to it," said protester Chloe Kehn. 
Despite the large crowd Huntington Beach Police say they wrote no citations nor was anyone arrested. 
 
Get breaking news alerts in the FOX 11 News app. Download for iOS or Android.