Neighbor of local veteran honors him with special funeral
BURBANK, Calif. - The pandemic has affected many aspects of our lives… including funerals. 
Large gatherings, even honor guards for veterans are still limited.
But when a local veteran passed away his Burbank neighborhood and even some police officers came together in an unexpected way. 
COVID-19 didn't kill 89-year-old David Lee Holland, but he was recuperating from a surgery when pandemic safety guidelines made it impossible for him to leave the rehabilitation residential facility he was in.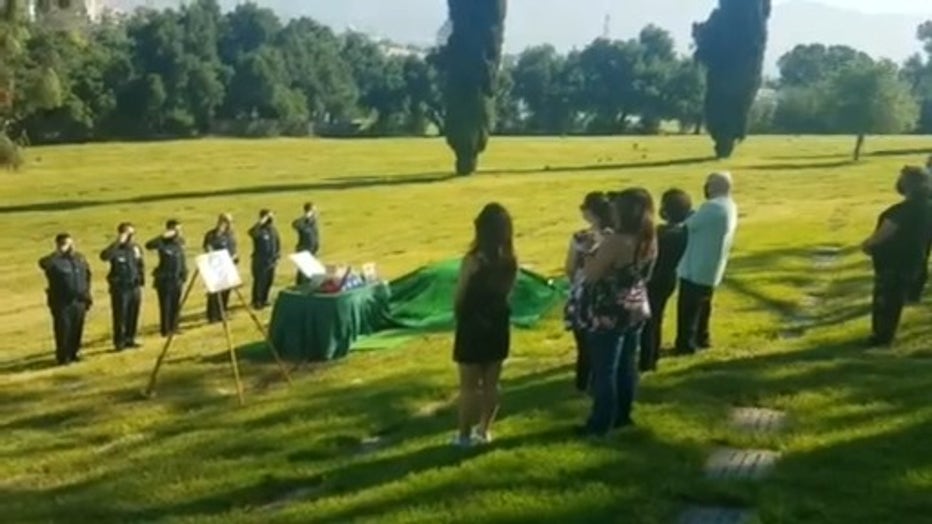 So, he didn't pass away at home, surrounded by family, like he wanted.
As if that wasn't enough, the honor guard that the proud marine was entitled to, was undoable. 
Veteran Affairs cancelled all ceremonies in March, to stop the spread of the disease.
That's when a neighbor, who is also an LAPD Sergeant, decided to step in.
He quickly found out just how many military people are in the police ranks, and the true meaning behind that saying, Marines never leave a Marine behind.
Sgt. Mike Goldberg with the Los Angeles Police Department reached out friends at the department. 
"I just said 'hey would you go to a marine's funeral'? He's a former marine who passed and no guard is coming out".
Six officers came out and paid their respects to Holland.
"They did the set up, they did it. Trying to thank them is next to impossible, because they looked and they said 'this is what we do. And we are honored to be here and do this for him, and for our country and for our family', wow," stated Holland's son-in-law Chris Abrahms.