Mother of Long Beach Mayor Robert Garcia dies from COVID-19, stepfather remains on ventilator
LONG BEACH, Calif. - The mother of Long Beach Mayor Robert Garcia passed away from complications related to COVID-19 and his stepfather, who also fell ill with the virus, remained on a ventilator Monday, Garcia said.
"It is with deep sadness that I share that my mother, Gaby O'Donnell, has passed away due to complications from COVID-19," Garcia wrote on Twitter. "My brother and I are heartbroken. Our mother was the kindest and most compassionate person we've ever known."
She was 61.
Garcia remembered his mother as a woman who loved to help people. He said she lived a happy and joyous life.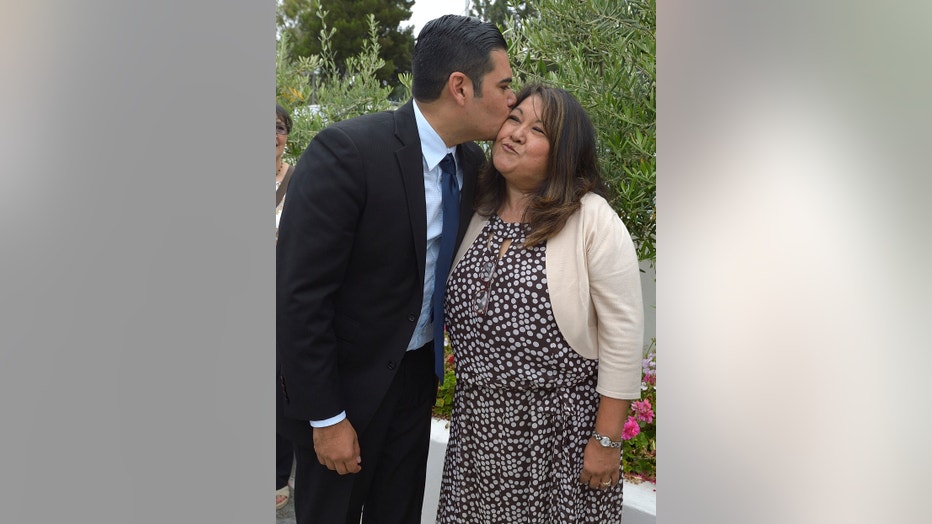 LONG BEACH, CA - JULY 15: Newly elected Long Beach mayor Robert Garcia with his mom,Gaby O'Donnell after the Inaugural Interfaith Prayer Service at Assumption Greek Orthodox Church on Tuesday, July 15, 2014. (Photo by Jeff Gritchen/Digital First Medi (Getty Images)
"She immigrated from Peru to the United States in search of the American Dream—and she found it. She became a healthcare worker, caring for thousands of patients over her career and assisting nurses and doctors who she loved dearly," he wrote. "She will always be our guiding light and the center of our lives."
RELATED: Long Beach mayor opens up about parents' coronavirus hospitalizations
The mayor thanked "the incredible team at Long Beach Memorial" for taking care of his mother during her last days.
Los Angeles County Supervisor Janice Hahn expressed her condolences to Garcia on Twitter as she recalled O'Donnell.
"Gaby worked in the same healthcare clinic for 25 years. She touched so many lives and put her own life on the line to save others when the pandemic hit. May she rest in peace," Hahn said.
Garcia's mother and stepfather were hospitalized with the virus in early July, both of them were required to get placed on ventilators.
His stepfather, Greg O'Donnell, is still in the hospital and on a ventilator.
"We pray and hope for a full recovery," Garcia said about his stepfather.
Garcia previously said he was tested for the virus and tested negative. He said he was unable to see his mother or stepfather after they were hospitalized due to social-distancing requirements.
On Friday, Garcia wrote on Twitter that he was "thinking about all the families who have loved ones in hospitals fighting COVID-19." He said, "I'm praying for you, our families, and those caring for them."
Additional details were not immediately available.