More younger people are receiving cancer diagnoses, study finds — especially this type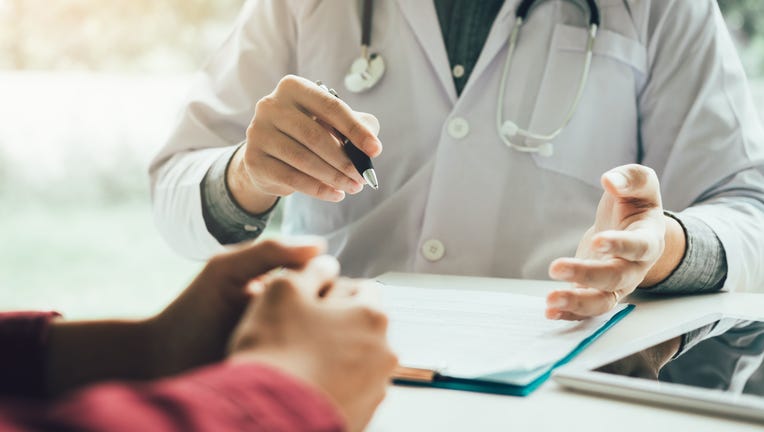 article
Diagnoses of early-onset cancers — those affecting people 50 and younger — spiked between 2010 and 2019, according to a study published in JAMA Network Open this week.
The fastest-growing type was gastrointestinal cancer, which rose 14.80%, followed by cancer of the endocrine system (8.69%) and breast cancer (7.7%).
Gastrointestinal cancer originates anywhere along the digestive tract, including the esophagus, small intestine, stomach, pancreas, colon, bile duct, gall bladder, liver, anus and rectum.
KIM KARDASHIAN SAYS FULL-BODY MRI SCANS CAN BE 'LIFE-SAVING,' YET MANY EXPERTS REMAIN SKEPTICAL
Despite gastrointestinal cancer's sharp increase, breast cancer still had the highest total number of cases among those 50 and under in 2019.
A team of researchers led by the National University of Singapore analyzed data from 17 national cancer registries from Jan. 1, 2010, to Dec. 31, 2019, according to the journal article discussing the study.
The researchers found that in the study period, the overall incidence of early-onset cancers increased — while it decreased for those over 50.
"The increase in early-onset cancers is likely associated with the increasing incidence of obesity as well as changes in environmental exposures, such as smoke and gasoline, sleep patterns, physical activity, microbiota and transient exposure to carcinogenic compounds," the study authors wrote in the journal.
5 HEALTHY HABITS MAY BE THE SECRET TO LIVING LONGER, FLORIDA NEUROSURGEON REVEALS
"Early-onset cancer is associated with substantial mortality and morbidity," the authors added.
Findings confirm 'disturbing trend,' says expert
Dr. Monique Gary, medical director of the Grand View Health/Penn Cancer Network in Pennsylvania, where she also serves as director of the breast program, was not involved in the study but reviewed the findings.
"The study is further evidence of a disturbing trend that physicians have more than anecdotally known to be true, which is that cancer rates are increasing in younger individuals," she told Fox News Digital.
"It is not surprising that the risk factors associated with increased cancer incidence are largely preventable," she added.
These risk factors — obesity, tobacco and alcohol intake, sedentary lifestyles, and decreased quality and lack of adequate rest — were all exacerbated during the pandemic, the doctor noted.
"Future studies will be very telling with respect to the impact that COVID-19 has had upon these preventable risk factors in younger populations," she added.
Among all the risk factors cited, the impacts of stress and a sedentary lifestyle have been most underestimated, the doctor said.
"While we are becoming more adept at understanding lifestyle factors that influence cancer risk, a lot of work still needs to be done to understand the biological mechanisms," she said.
'MAJOR STEP FORWARD' FOR ADULT PATIENTS AS NEW BLOOD CANCER DRUG RECEIVES FDA APPROVAL
"Every day, we are uncovering new information regarding the complexities of cancer, and we are at a crossroads now, where we should challenge our understanding of cancer as a disease of aging."
Know the ways to keep cancer at bay
While there are underlying genetic factors and biomarkers of the disease, Dr. Gary emphasized the need to find ways to reduce chronic and preventable illness to "reverse the trend of climbing rates of malignancy."
"Breast and gynecological cancers continue to have the highest incidence in 30- to 39-year-olds, and this should prompt a close examination of the screening, best practices, guidelines and risk-reducing strategies for individuals within this age group — especially those with family history and other non-preventable risk factors," she said.
NEW AI TECH AIMS TO DETECT THE ORIGIN OF CANCERS FOR OPTIMAL TREATMENTS: 'AN IMPORTANT STEP'
The doctor also stressed the need to focus on mental health and diet, as well as social determinants of health that influence these risk factors. 
"The most important thing to do is to act, to move your body," she said. "COVID forced people of all ages to shelter at home, and most of us have adapted to an increased sedentary lifestyle as a result."
She added, "We need to make sure we prioritize an active lifestyle, and even a small action can make a big difference."
It is also important to adopt the principle of "food as medicine," Gary said. 
"Plant-forward diets high in antioxidants and cruciferous vegetables help to decrease cancer risk," she noted. 
"We also know, as highlighted in this study, that tobacco (in all forms, including vaping) and alcohol intake is a major factor, and it's important to be aware of our habits and how to manage them."
BMI MEASUREMENT DEEMED 'RACIST' IN NEW MEDICAL REPORT: 'THIS IS POLITICS, NOT MEDICINE'
"The beauty of wellness is that when we work to improve one area, the benefits extend to other areas as well," she said. 
"Cancer risk is an important and major consideration and risk factor, but we also must be mindful of the impact of other chronic illnesses on our overall well-being."
The study had limitations
As with any study, there were some limitations with this one, Gary noted. 
One is the study period itself; it was done between 2010 and 2019. 
"It does not paint the full picture of the impact of COVID-19 lockdowns on comorbidities and cancer risk factors," the doctor said. 
"Additionally, as the study notes, the utilization of body mass index (BMI) as a screening tool for chronic disease such as obesity, which is linked to cancer risk, has been called into question," she told Fox News Digital.
"It's an important consideration as we look to reevaluate the ways in which we measure these comorbidities for more accurate reporting," she added.
In the future, parallel studies that look at patterns of other chronic illnesses in young people, including the impact of sedentary lifestyles and diet, are needed, said Gary.
"While knowledge is power, we need to act on the data and on this knowledge so that 'wellness' is no longer just a buzzword or a mindset, and that the actions to achieve wellness are clearly defined, personalized, accessible and integrated into all that we do."
Fox News Digital reached out to the study authors for comment.