Mercedes-Benz, Lamborghini collide with Amazon truck on 101 Freeway
LOS ANGELES - Two luxury vehicles were involved in a crash with an Amazon truck on the northbound lanes of the 101 Freeway near downtown Los Angeles as rain struck Southland early Tuesday morning. 
California Highway Patrol began receiving calls of a major crash on the 101 Freeway just south of Alvarado Street around 2:30 a.m. 
The driver of the big rig reported that two vehicles, a Mercedes-Benz and Lamborghini, had crashed into his vehicle. Once the truck driver was able to exit his vehicle, the drivers of the other vehicles involved in the crash had fled the scene.
Authorities believe one of the drivers was injured due to blood that was found in and around the Mercedes. 
"It's quite possible that somebody is injured. We're going to be checking the hospitals to see if anybody comes in or if anybody reports activity that they were involved in a collision," CHP Sgt. Taka Hiura said. 
Investigators believe one of the drivers may have taken something from the trunk before taking off. Authorities also theorize the drivers of the Lamborghini and the Mercedes may have been racing in the rain.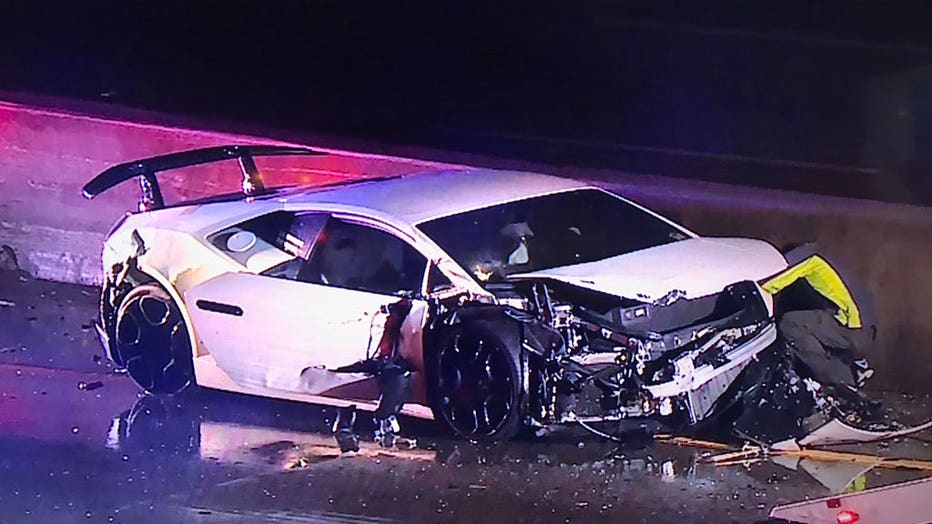 The lanes were temporarily closed as crews with Caltrans worked to remove the wreckage. The lanes were reopened by morning rush hour. 
Anyone with information is asked to contact CHP.