Maui wildfires: How to help residents in Hawaii from Southern California
LOS ANGELES - Devastating wildfires ravaged the historic town of Lahaina on the island of Maui, and officials say that recovery on the Hawaiian island could take several years.
Every dollar makes a difference, and we're helping round up a list for Southern California residents to donate or get involved to help with disaster relief.
National Organizations for Donations:
The American Red Cross
The American Red Cros is providing direct relief for residents and tourists in Maui by providing shelter and supplies. For more information or to donate, click here.
Maui Strong Fund 
The Maui Strong Fund was created to provide community resilience with resources for disaster preparedness, response and recovery. The fund is currently being used to support communities affected by the wildfires on Maui. For more information or to donate, click here.
Maui United Way 
Maui United Way, an organization committed to enriching and empowering the Maui Community, is accepting online donations for wildfire relief. For more information or to donate, click here.
Maui Humane Society  
Pet shelters are expecting an influx of animals who need help as wildfires have displaced thousands. The group is currently accepting online donations. For more information or to donate, click here.
The Maui Food Bank 
The Maui Food Bank said its staff is working diligently to supply relief to those in need. The bank is currently accepting online monetary donations, along with food, toiletries and diapers. For more information or to donate, click here.
Hawaii Wildfire Relief Fund 
The charity said the fund will initially help first responders meet survivors' immediate needs for food, fuel, clean water, medicine, and shelter. As needs emerge, donations will support longer-term recovery efforts run by local, vetted organizations in impacted areas, particularly those working with low-income, historically underserved communities. For more information or to donate, click here.
The Salvation Army 
The organization is on the ground right now, overseeing the entire emergency feeding operation for the thousands of evacuees and first responders. The Salvation Army said 100 percent of donations designated for this disaster go toward serving those impacted by the fires. For more information or to donate, click here.
Local Relief Efforts:
Los Angeles
L&L Hawaiian BBQ is donating $1 to the American Red Cross of Hawaii for each mobile app or online order at any one of their locations through the end of August.
Orange County
The Shop Forward is a local store dedicated to supporting causes and organizations that work to help others around the world. They are donating 100% of their proceeds on merchandise sold under their "Maui Fire Relief" tab to the individuals, families and groups who need it most on the ground on Maui. More information can be found here theshopforward.com/collections/maui-fire-relief.
Alhambra
Local Hawaiian restaurant Aloha Food Factory, located at 2990 W Valley Blvd., is donating 10% of sales through the end of the month to Maui relief efforts.
Santa Clarita
Through Thursday, Aug. 17, Honu Coffee, located at 22722 Lyons Ave, is donating $1 from sales of its Nutty Hawaiian drink to the Kokua Lahaina Fund.
Venice
On Sunday, Aug. 20 at 10 a.m., local residents are holding a "Paddle Out for Maui" event at the Venice Beach Pier to raise money for local Maui relief efforts.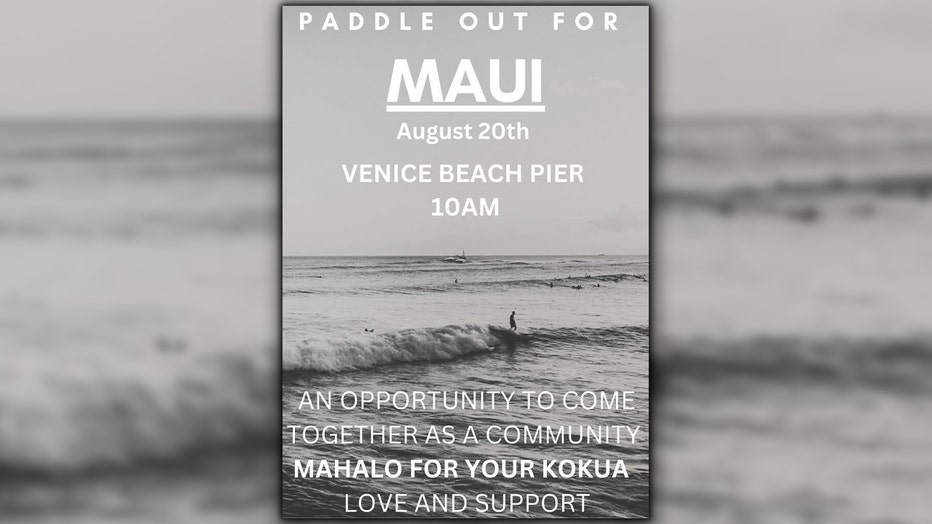 Sherman Oaks
On Tuesday, Aug. 15 beginning at 6 p.m., Anajak Thai Cuisine, located on Ventura Blvd in Sherman Oaks, is adding mochiko fried chicken, spicy poke and shoyu pokes to its Thai Taco Tuesday menu. The restaurant will be donating a portion of the profits from these menu items to various Maui relief funds. 
Archdiocese of LA
The Archdiocese of Los Angeles Monday asked parishes to add a special collection during the next two weekends to help those affected by the Maui wildfires. The donations will be managed by the Los Angeles office of the Society for the Propagation of the Faith, one of four Pontifical mission societies that supports worldwide underserved communities, according to the diocese. In a letter sent to all parishes in the Archdiocese of Los Angeles, the church asked that collections be taken during the weekends of Aug. 19-20 and 26-27.
People who want to make a donation through the church can visit the Donate Monday page of the Pontifical Mission Societies in Los Angeles -- https://missionsla.org/product/donate -- and specify Maui Wildfires in the memo box. The entire collection will go toward those affected by the situation in Maui. For more information, call the Archdiocese's Mission Office, at 213-637-7223, or email missionoffice@la-archdiocese.org.
Inland Empire
The LifeStream Blood Bank, which has centers in San Bernardino, Riverside, Ontario, Murrieta and Hemet, is sending pints of blood donations to the Blood Bank of Hawaii to help wildfire victims. For information on how to donate or make an appointment, visit http://lstream.org, or call 800-879-4484.
Nā Wahine Toa Foundation
World Champion MMA fighter Ilima-Lei Macfarlane has already raised more than $2M for Maui relief. For information on how to donate, click here.
FOX Weather and CNS contributed to this report.