Mark Zuckerberg denies calling Chael Sonnen to discuss Elon Musk cage fight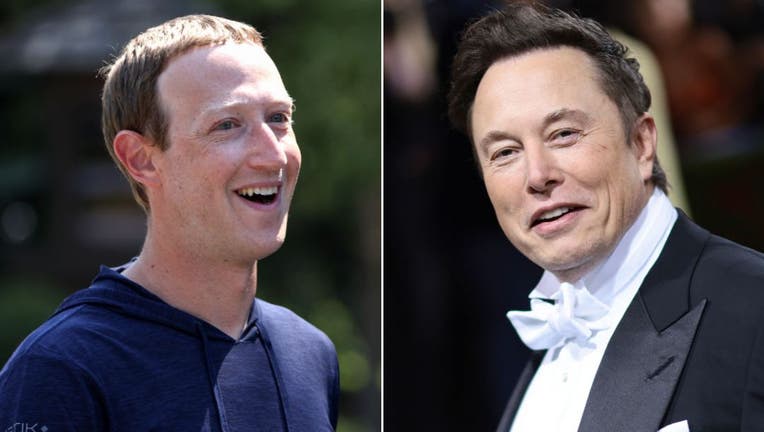 article
LOS ANGELES - Mark Zuckerberg is denying calling Chael Sonnen to talk about a possible cage fight with Elon Musk at UFC 300, TMZ Sports reports. 
Sonnen made the claim on "The MMA Hour" early Monday.
"Zuckerberg contacts me because he saw your tweet that I'm coming on," Sonnen said. "Zuckerberg has told me that he has agreed to fight Elon Musk at UFC 300 and it was a very big deal."
Sonnen said he was dead serious, adding, "That just happened. [My producer] Ethan is my witness, my son, Thero, my dog, Duke. This is a shoot."
PREVIOUS COVERAGE: Mark Zuckerberg says he'll fight Elon Musk in cage match: 'Send me location'
Sonnen's claim comes days after the two tech CEO billionaires seemingly agreed to a "cage match" face off.
It all started when Musk, who owns Twitter, responded to a tweet about Meta reportedly preparing to release a new Twitter rival called "Threads." He took a dig about the world becoming "exclusively under Zuck's thumb with no other options" — but then one Twitter user jokingly warned Musk of Zuckerberg's jiu jitsu training.
"I'm up for a cage match if he is lol," Musk wrote late Tuesday.
Zuckerberg, CEO of Facebook and Instagram parent company Meta Platforms, soon responded — and appeared to agree to Musk's proposal.
"Send me location," Zuckerberg wrote on a Wednesday night Instagram story, which showed a screenshot of Musk's tweet alongside another user's response urging the Twitter owner to "start training."
SUGGESTED:
Zuckerberg is actually trained in mixed martial arts. The Facebook founder posted about completing his first jiu jitsu tournament last month.
In response to Zuckerberg's location request on Wednesday, Musk proposed the Vegas Octagon. He then joked about his fighting skills and workout routine, suggesting that the fight may not be serious.
"I have this great move that I call 'The Walrus', where I just lie on top of my opponent & do nothing," Musk wrote.
Whether or not Musk and Zuckerberg actually make it to the ring has yet to be seen — especially as Musk often tweets about action prematurely or without following through. But, even if their cage match agreement is all a joke, the banter gained attention. An endless chain of memes and posts to "choose your fighter" have sprung up in response.
"The story speaks for itself," a Meta spokesperson said in a statement to The Associated Press. Zuckerberg has not commented further.
The Associated Press contributed to this report.