Madden Ohlwiler: Memorial held for OC boy killed days before 1st birthday by driver possibly on drugs
ORANGE COUNTY, Calif. - A memorial was held for 11-month-old Madden Ohlwiler on Friday, which would have been his 1st birthday.
Dozens of family members, friends and community members gathered outside the Church of Jesus Christ of the Latter-day Saints in Las Flores. The memorial included a tribute, a moment of silence, and a butterfly release to honor Madden. The family already planned a small birthday celebration for Madden and wanted to honor it, and remember his life.  
"It has been a tough day to be honest, but it's good that so many people came out from the community in support. It's overwhelming," said Darron Ohlwiler, Madden's uncle.  
Madden and his parents, Kyle and Hayley Ohlwiler were on a walk near the intersection of Antonio Parkway and Oak Tree Lane in Las Flores when a car hopped onto the sidewalk and struck the family. When crews got to the scene, they found the entire family injured, and a silver Hyundai with a shattered windshield stopped on the embankment on the side of the road.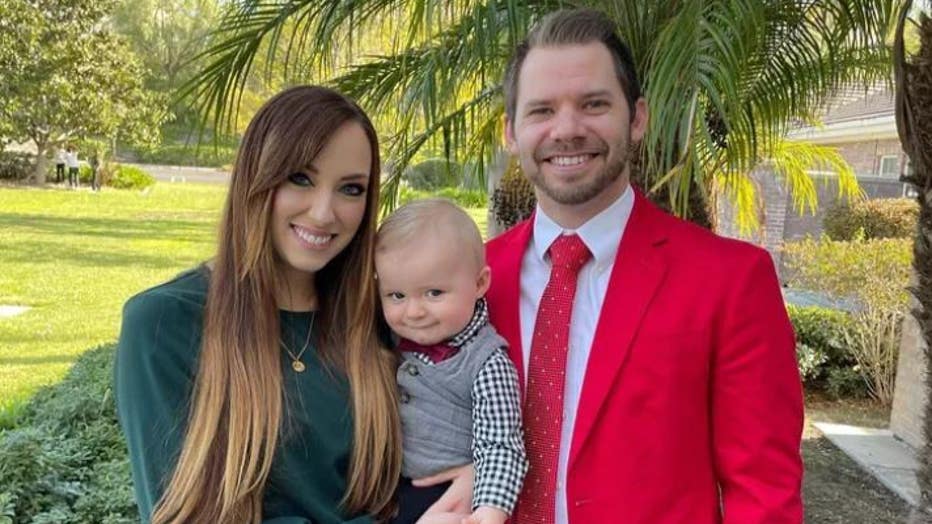 The infant who was killed in the crash has been identified as Madden Robert Ohlwiler. / GoFundMe
PREVIOUS COVERAGE: Driver accused of DUI in crash that killed OC 11-month-old released from jail
All three were taken to the hospital in serious condition, but Madden did not survive.
Kyle and Hayley Ohlwiler were released from the hospital Friday.
"I got the phone call that they were being released and your heart leaps for joy that they're getting out of the hospital but as I mentioned, the road to recovery isn't just physical, there's a lot of emotional recovery that needs to take place," said Darron Ohlwiler.
Darron said his nephew had the sweetest smile.
"He [Madden] just had that smile of he was just so happy to be with mom and dad and mom and dad were so happy to be with him too. They tried for some time to have children and Madden blessed their life a year ago and unfortunately was taken too quickly," said Darron.
Kyle's twin sister, Kimmy Ashworth, shared a tearful message from Kyle and Hayley at the memorial. The parents wanted to express their gratitude for the support from the community.
"You never think something like this would ever happen to you. We're just a little family and so many people want to help us. Our hearts hurt more than our bodies, but you all have made our burdens lighter," said Ashworth, reading the message from the grieving parents.
Ashworth said she is also grateful for the support.
"My heart is just so full. I am just overwhelmed with the love and support the community has given for Madden's birthday today and that's what this is, a celebration for his life and legacy. From the bottom of my heart, from  my family's heart, and like Kyle and Hayley have mentioned to me, thank you so much for everything that they've [community] been willing to donate and to get to them. It has meant everything to help with their grief from losing their child," said Ashworth.
The driver of the Hyundai, identified as Daniel Lenihan of San Clemente, was also brought to the hospital and later arrested for suspicion of driving under the influence of drugs, according to CHP.
District Attorney Todd Spitzer issued the following statement regarding the investigation:
"The investigation is continuing into the death of 11-month-old Madden Ohlwiler who was killed by a driver who drove onto a Rancho Santa Margarita sidewalk on Sunday. Madden's parents were injured in the crash. The Orange County District Attorney's Office, working closely with the California Highway Patrol and the Orange County Sheriff's Department, has asked for expedited toxicology reports.
Once the investigation is turned over to the District Attorney's Office, prosecutors from the Homicide Unit will review the totality of the evidence and make a determination on what crimes can be proven beyond a reasonable doubt. California law requires defendants be charged within 48 hours of his or her arrest.
As such, the suspect, in this case, was released from custody pending further investigation. These cases are some of the most horrific we deal with and we appreciate the outpouring of support from the community as we continue to pursue justice for the victims in this case"