Los Angeles airport businesses receive relaxed time frame to pay rent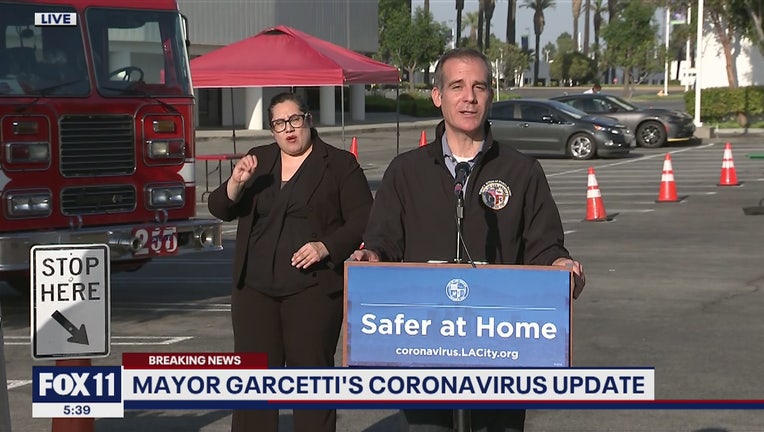 article
LOS ANGELES - Airlines, car rental companies and concession businesses will have a bit of leeway for paying rent at Los Angeles airports due to the coronavirus pandemic, it was announced Thursday.
The Los Angeles Board of Airport Commissioners approved a temporary rent adjustment deferral for the businesses, which will give them some time to recoup their projected losses due to the pandemic.
Heath Montgomery, a spokesman for Los Angeles World Airports, said airlines and concession businesses will pay a rent based on their current revenue, instead of their contracted minimum guarantee.
RELATED: CoronavirusNOW.com: FOX launches national hub for COVID-19 news and updates.
The board also provided relief to the taxicab industry and a restructured payment agreement, he said.
Lessees at the airports will have to pay back the rent they owed during the pandemic measures starting in July.
"While we're dealing with this health crisis, the cruelty of it is that it demands that we stay inside, that most of us aren't working, and half of households have either somebody who's been laid off or had reduced (work) hours," Mayor Eric Garcetti said Thursday.
Garcetti said after 9/11, airport traffic was down 55%, but the pandemic has decimated air traffic to a 95% decline compared to prior years.
"It gives you an idea of the scale and scope of how devastating this is," Garcetti said.
LAX is slated to receive $323 million dollars from the federal Coronavirus Aid, Relief, and Economic Security Act. Airlines and their contractors are also receiving funds, with the condition they retain almost all employees through Sept. 30.
RELATED: Learn how you can take action to help prevent the spread of COVID-19
Meanwhile, Garcetti said 445,000 applications were filed by Thursday's deadline for the Angeleno Card -- prepaid debit cards worth $700, $1,100 or $1,500 depending on household need. Garcetti said he's hoping for more donations to come into the Mayor's Fund of Los Angeles, which will be funding the cards.
Garcetti gave his daily coronavirus briefing at the Crenshaw Christian Center in South Los Angeles along with Los Angeles Fire Department Chief Ralph Terrazas, Dr. Cynthia Davis of Charles Drew University and actor Sean Penn, founder of Community Organized Relief Effort, or CORE, which has been relieving coronavirus-testing-site workers with its volunteers.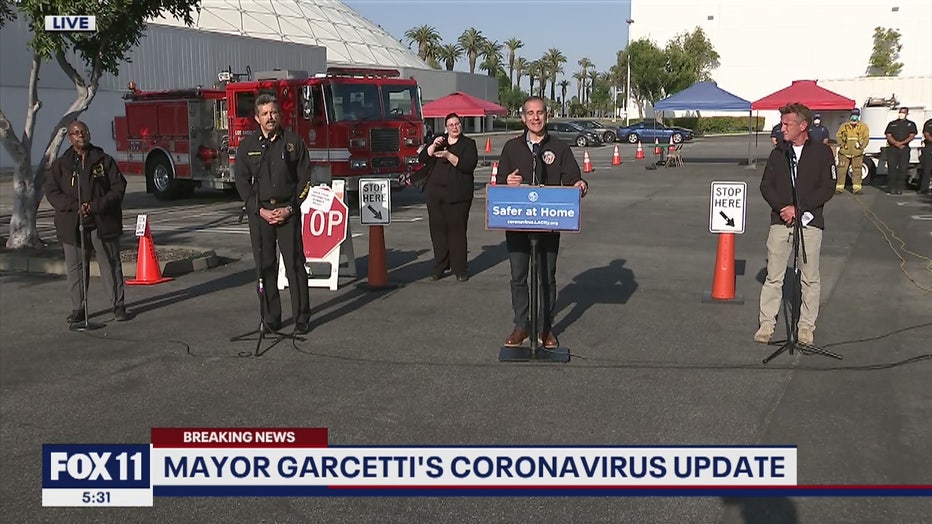 "This is a very unique situation for us,'' Penn said, whose organization has responded to disasters such as the earthquake in Haiti in 2010. "This is what I hope will be a model in terms of the governance and (non-government organizations) ... partnerships that can be replicated not only in the city of Los Angeles and California, but ultimately throughout the country."
Asked during the briefing about potential budget cuts in the coming fiscal year due to the coronavirus pandemic, Garcetti -- who is scheduled to release his budget proposal next week -- said "every department will be expected to make cuts," but the police and fire departments will be largely
exempt when it comes to personnel.
"My expectation of this chief (Terrazas) and of our police chief is even though their people have a little more immunity around them, because we need them so badly, they are not immune from managing their money, cut and make sure we don't have any fat," Garcetti said.
Get breaking news alerts in the FOX 11 News app. Download for iOS or Android.
Terrazas suggested that the fire department may have to eliminate some academy classes and "delay the hiring of new firefighters." But Garcetti quickly assured him, "I can guarantee you we'll have some classes next year. We need to continue to do some hiring."