Long Beach calls for National Guard amid widespread looting
LONG BEACH, Calif. - A peaceful protest of the death of Minneapolis resident George Floyd by thousands of people in Long Beach was marred by widespread looting on Sunday in the downtown area and other commercial areas around the city, prompting the mayor to request National Guard troops to help restore peace.
Several thousand people took part in the protest that started at 3 p.m. at Long Beach Police Headquarters and they marched along Ocean Boulevard and back to downtown, according to police and media accounts.
Looters began their assault around 5 p.m., hitting several businesses in The Pike Outlets including T-Mobile and Luxury Perfume. They also stole from the Jean Machine in the City Place Shopping Center, Mark Schneider Fine Jewelry in the Promenade, a Ross store and several businesses along Long Beach Boulevard including El Super and a CVS. They could be seen making multiple trips inside stores to carry out armfuls of merchandise which they loaded into awaiting vehicles, taking selfies, and smiling for television cameras.
During a Sunday evening news conference, Long Beach Mayor Robert Garcia said the National Guard will be arriving in the city soon to help restore order.
As reporter Susan Hirasuna was live in Long Beach a flashbang occurred during the looting and knocked down our FOX 11 photographer. Thankfully, they are both OK.
A line of Long Beach police officers in riot gear stood by a few blocks away as the crowd converged on the two vehicles earlier in the day.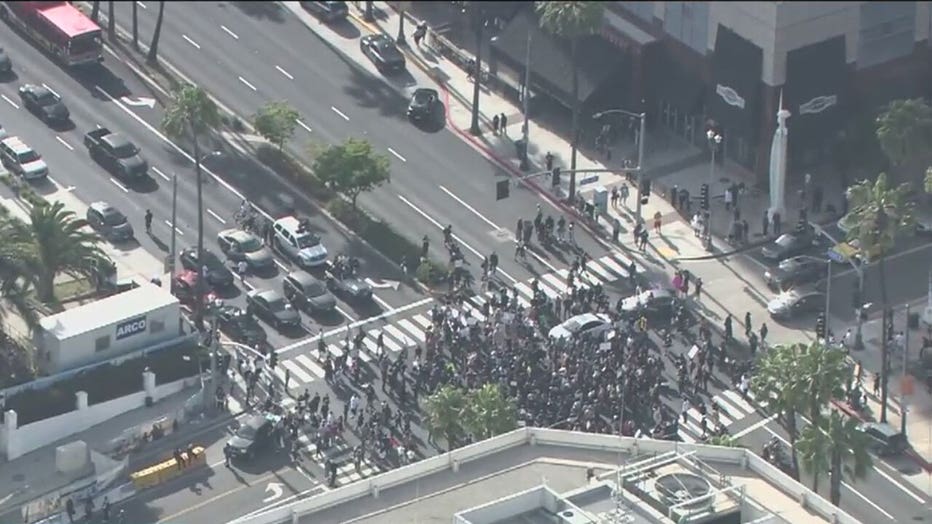 RELATED: Protesters try to stop looting at Third Street Promenade in Santa Monica
Many of the looters are believed to have come to Long Beach from other areas.
Get breaking news alerts in the FOX 11 News app. Download for iOS or Android.
Long Beach issued a curfew from 8 p.m. Sunday until 5 a.m. Monday, though that was superseded by a countywide curfew that went into effect at 6 p.m.
Protesters took to the streets demanding justice for George Floyd, who died Monday after being handcuffed and pinned to the ground by Minneapolis Police Department officer, Derek Chauvin, who pressed his knee on the 46-year-old man's neck for several minutes while three other officers looked on.
Video footage of the arrest, in which Floyd is heard saying "I can't breathe,'' spread widely online, and all four officers were fired.
Chauvin was charged with third-degree murder and second-degree manslaughter on Friday.
CNS contributed to this report.