Watch: 1,000-year-old canoe pulled from North Carolina lake
Nearly two years after a group of teenagers found an ancient canoe in a North Carolina lake, the nearly 1,000-year-old Native American boat has been brought to the surface.
The Waccamaw Siouan Tribe and the state's archeology office joined forces to excavate the massive 930-year-old boat on April 12. Video from the North Carolina American Indian Heritage Commission shows the moment the canoe was raised off of the lakebed.
According to local reports, a group of 13-year-old boys stumbled upon the 28-foot canoe while wading in Lake Waccamaw in the summer of 2021. The state's archeology office went to the lake to examine the canoe, and a month later it was moved under a dock to keep it safe until it could be pulled to the surface.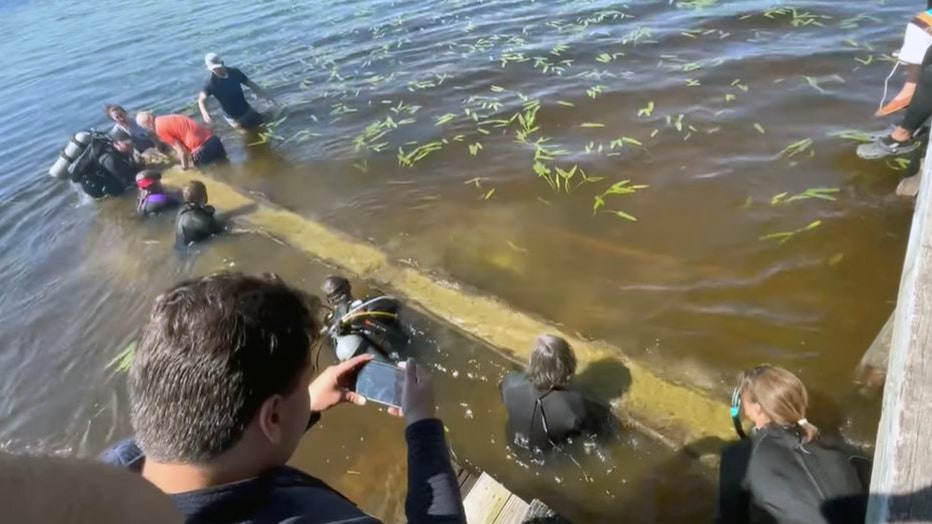 Crews pull ancient canoe from Lake Waccamaw in North Carolina (North Carolina American Indian Heritage Commission)
Once they brought the boat to shore last week, it was placed in a chamber, covered in damp towels and wrapped in plastic to keep it from deteriorating. The canoe will be taken to a lab and treated with chemicals to preserve it.
READ MORE: Research team sets out to find lost underwater WWII relics off coast of Guam
"For years and years we've always been questioned about our history and where we come from and who we are," Waccamaw Siouan Chief Michael Jacobs said at the excavation. "Now, we have physical history to back it up.
"We're looking forward to examining it, running some tests on it, really finding out and going back to our elders and getting the history of it to where we can teach the truth to our people and know that we've got concrete evidence to stand on," Jacobs continued.