LA County gyms now require masks and gloves to be worn at all times — even while working out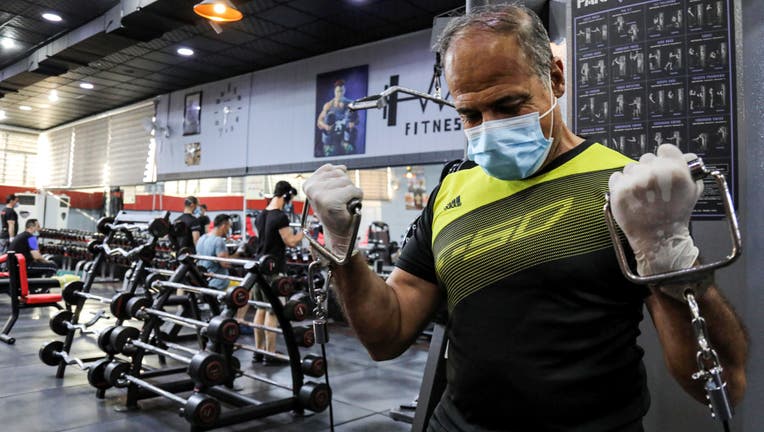 LOS ANGELES - Los Angeles County has issued new requirements for gym-goers in an attempt to help slow the spread of COVID-19 and ensure the healthcare system is not overwhelmed.
The county's revised health officer order issued Wednesday requires anyone working out at a fitness facility, as well as all employees of the facility, to wear a cloth face covering and gloves at all times while inside the facility, including while working out.
The previous health order did not require patrons at gyms to wear masks while exercising, although doing so was strongly encouraged.  
But are masks safe to wear while exercising?
Get breaking news alerts in the FOX 11 News app. Download for iOS or Android.
According to Immunology Specialist Dr. Andrew Pekosz with Johns Hopkins University, they are.
"Masks shouldn't interfere too much with exercising. You may need to get used to it having it on when you're doing it, but it's really the safest thing to do, particularly if you're exercising inside, said Pekosz. "Exercising sends out a lot of air and a lot of plumes that can have the virus in it so masks are essential for that."
RELATED: Johns Hopkins University immunology specialist debunks common face mask myths
"A good rule of thumb is anytime that you're going to be speaking, breathing heavily or in close contact with other people, it's essential that you wear a mask," he added.
The modified health officer order also issued the temporary closure of all beaches, beach parking lots, beach bike paths, beach facilities and beach accessways from 12:01 a.m. Friday, July 3, until 5 a.m. Monday, July 6 in an attempt to prevent gatherings this holiday weekend.
RELATED: LA County beaches will be closed on 4th of July weekend, officials announce
Additionally, in order to comply with new directives from the state, the county ordered a temporary closure of indoor operations at restaurants, wineries and tasting rooms, card rooms, zoos, aquariums and museums.
RELATED: Gov. Newsom calls for immediate closure of indoor operations at sectors in 19 California counties
As of July 1, the county has reported a total of 105,507 cases and a total of 3,402 deaths. The number of coronavirus patients hospitalized in Los Angeles County reached its highest point in months, nearing peak highs of about 1,900.