LA County can reopen restaurants for in-person dining, barbershops, hair salons, Newsom says
LOS ANGELES - Los Angeles County was given the green light by the state Friday to reopen restaurants for in-person dining and resume services at barbershops and hair salons, with restrictions, as the number of confirmed coronavirus cases in the county surpassed 50,000.
Los Angeles County Public Health Director Dr. Barbara Ferrer said that businesses can open as soon as they meet the safety and social distancing protocols outlined by the county, potentially as early as Friday night.
"This further brings our communities together and resumes a sense of normalcy, representing monumental progress for Los Angeles County on the path toward recovery," Board of Supervisors Chairwoman Kathryn Barger said.
News of the long-awaited restaurant and hair salon reopenings came on a day the county reported another 50 deaths due to the coronavirus, along with 1,824 new cases, raising the county's overall number of fatalities to 2,290 and the total number of cases to 51,562.
Los Angeles, which is home to roughly half of the state's coronavirus cases and deaths, had been one of only about a dozen California counties not to have received a "variance" from the state allowing more types of businesses to reopen.
RELATED: Gov. Newsom approves reopening of barbershops, hair salons in most California counties with modifications
The variances are granted based on a list of criteria, including infection rates, hospital capacity, testing availability and ability to trace contacts of infected residents.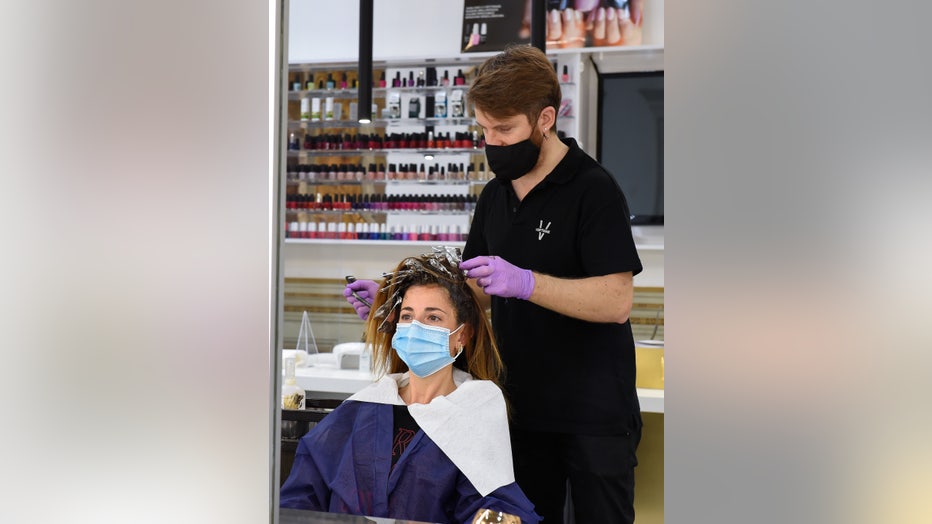 For restaurants, the guidelines include a restriction to 60% of capacity. Customers and employees will be screened for symptoms such as cough or fever, physical distancing measures will be enforced and customers will be required to wear face coverings when not eating. Customers are encouraged to make reservations, and they will be asked to wait for their table either in their cars or outside the restaurant. Bar areas of restaurants will remain closed.
Hair salons will also be required to enforce physical distancing, and employees and customers will also be screened for health symptoms. Customers and employees will be required to face coverings.
County health officials noted this week that while case numbers and deaths continue to rise, infection and hospitalization rates have been trending downward.
Get breaking news alerts in the FOX 11 News app. Download for iOS or Android.
Earlier this week, the county issued a new health order called "Safer at Work and in the Community" which allows for the reopening of houses of worship, office worksites, in-store shopping at retail establishments, including indoor malls and shopping centers, flea markets, swap meets and drive-in movie theaters. 
Houses of worship are allowed to operate at 25% capacity or with a maximum of 100 people, whichever is lower, and retail establishments can operate at 50% capacity.
Businesses must adhere to distancing and infection control protocols that provide safety for employees, customers and the county's most vulnerable residents before reopening. These protocol requirements are available online.
Two weeks ago, the county announced a new "Safer-at-Home" health officer order, which has no definitive end date but does allow some additional businesses and outdoor spaces to reopen, with restrictions.
"While the Safer at Home orders will remain in place over the next few months, restrictions will be gradually relaxed under our 5-stage Roadmap to Recovery, while making sure we are keeping our communities as safe as possible during this pandemic," said Ferrer.
The county also recently reopened its beaches for active-use, but residents are required to wear masks unless they are in the water. 
Under the new order, all county residents are required to wear a face-covering that securely covers both your nose and mouth when in contact with other people not in your household, including any time they enter an essential business or interact with employees for curbside pickup.
RELATED: CoronavirusNOW.com, FOX launches national hub for COVID-19 news and updates. 
CNS contributed to this report.