Kelsea Ballerini hit in the face with flying object, leaves concert stage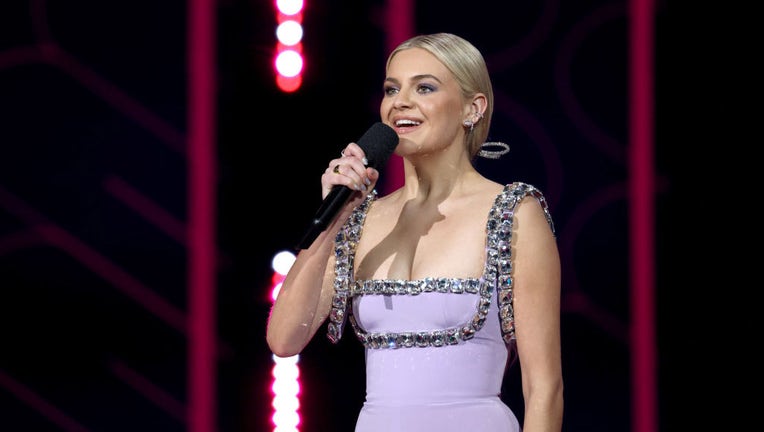 article
BOISE, Idaho - Country star Kelsea Ballerini is the latest headliner to be hit in the face by an object thrown by a fan, similar to Bebe Rexha.
Ballerini was performing in Boise, Idaho, on Wednesday when she was hit with a flying object.
In a fan-captured video, Ballerini, who was singing her song "If You Go Down," is seen jolting her head back and wincing in disbelief when the object strikes her eye. 
Turning her head and eventually her entire body away from the audience, Ballerini was quickly attended to by one of her band members.
BEBE REXHA HOSPITALIZED AFTER BEING STRUCK BY CELL PHONE DURING CONCERT, SUSPECT ARRESTED
After several moments, Ballerini eventually walked off-stage.
Upon returning, she implored fans to please say something if they do not feel safe among the crowd.
"If you ever don't feel safe, please let someone around you know. There's security everywhere tonight. If anyone's pushing too much or you just have that gut feeling or anything — always flag it. Don't throw things, you know?" she added.
"I always want shows of mine — every show for every artist — but I'm in control of this one, I just want it to be a safe place for everyone. We have little kids here. Will you help me do that tonight, please?" she asked her audience. 
The star took to her Instagram story on Thursday to elaborate on what happened, writing, "I'm fine. Someone threw a bracelet, it hit me in the eye, and it more so just scared me than hurt me. We all have triggers and layers of fears way deeper than what is shown, and that's why I walked offstage to calm down and make sure myself, band and crew, and the crowd all felt safe to continue. That's all I ever want, is for shows to feel like a safe place for us all."
Ballerini also clapped back at trolls in her comments section, saying, "Stiches is the bar. No stitches. No post," referencing an incident that happened with Rexha earlier this month.
Ballerini wrote along with a screenshot of the comments, "also just gonna leave this right here. a sad, scary world we live in."
While performing in New York City earlier this month, Rexha was hit in the face with a cellphone, resulting in the arrest of a man and the singer getting stitches. 
Meanwhile, performing in London at British Summer Time's Hyde Park Festival this past weekend, Pink was the recipient of a peculiar gift — a bag of human ashes.
In fan-recorded video, Pink is seen picking up a plastic bag, full of some substance, in the middle of her performance of "Just Like a Pill."
"Is this your mom?" the stunned singer asked, speaking directly to a member of the audience. "I don't know how to feel about this," she continued in bemusement, placing the bag down by a speaker before continuing on with her song.
Users online slammed the trend on social media while simultaneously voicing their concerns.
"What's this new thing of concert goers throwing hard/odd objects directly at performers in the middle of their sets? No home training. Please do better society, this isn't okay. #beberexha #kelseaballerini #pink," one user wrote.
"In the last few days i've seen clips of someone throwing their mom's ashes on stage at a Pink concert, someone throw a phone at Bebe Rexa (sp) and now a new Kelsea Ballerini one. what is happening? why is this trending? is this an algorithm fluke that is making this a thing like," another person asked.
A representative for Ballerini did not immediately return Fox News Digital's request for comment.