Hurricane Otis: Mexican officials say supplies are getting into Acapulco, people are getting out
ACAPULCO, Mexico - Officials said Friday that they are moving supplies into Acapulco and getting people out of the devastated city three days after Hurricane Otis pummeled Mexico's Pacific coast.
Defense Secretary Luis Cresencio Sandoval announced that the official number of 27 dead and four missing had not changed. Some in Mexico were skeptical of official tolls because the city remains largely cut off. Some local media have reported bodies in the city that have not yet been recovered. Hundreds of people continued looking Friday for loved ones who have not been heard from since the storm.
Military officials leading Mexico's response to the hurricane focused during President Andrés Manuel López Obrador's morning news briefing on the relief that would be arriving in Acapulco.
An "air bridge" between Acapulco and Mexico City was established, they said. Planes carrying medical personnel would be landing at Acapulco's commercial airport and leaving with tourists. The city's military air base would receive all material aid flights and also carrying evacuees back to the capital. Some 120 buses would also carry people out of the badly damaged city.
"Nature, the creator, protected us, even from the fury of the hurricane, it appears, López Obrador said. "We still have to wait to have all of the information about the missing people."
"But it appears, even though the death of any person is unfortunate, there weren't very many."
Large swaths of Acapulco remained without electricity and thus without potable water because the pumps were not running, officials said.
López Obrador called on people to stop taking advantage of the situation to take things from stores, something that has been widespread in recent days.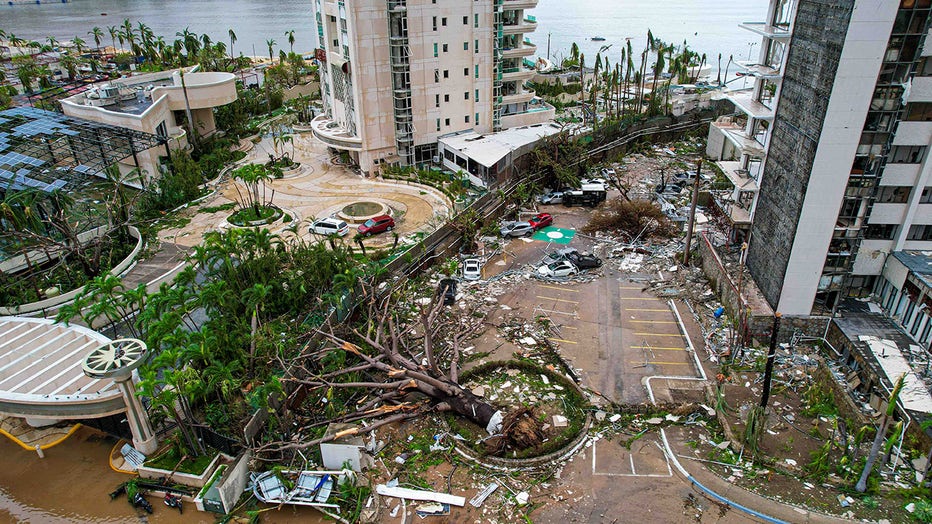 Aerial view of tree that fell by the wind in the tourist area of Acapulco, after hurricane Otis hit the area on October 25, 2023. (Credit: Luis Gutierrez/Norte Photo/Getty Images)
He promised that the government would provide what people needed to repair their homes and replace their ruined appliances. He said 1,000 government workers would begin a house-by-house census Friday to determine each family's needs.
Some 10,000 "packages" of appliances – refrigerators, stoves, mattresses -- had already been collected by the government and were ready to distribute to families who need them.
"Everyone will be supported, count on us," the president said.
Despite hopes of incoming aid by many in Acapulco, the coastal city of 1 million once known for its beachside glamour was still in a state of complete chaos by the end of Thursday.
RELATED: 'Acapulco has been destroyed': Hurricane Otis blamed for 27 deaths as survivors recover from historic storm
Entire walls of beachside high rises were ripped clean off. Hundreds of thousands of homes remained without electricity. People lacking even the most basic resources were emptying stores out of everything from food to toilet paper.
Miguel Angel Fong, president of the Mexican Hotel Association, told the AP that 80% of the city's hotels were damaged.
Dozens of desperate tourists, tired of waiting for buses out of the city, walked along the narrow sidewalks through the long car tunnel under the mountain dividing the port from the rest of the city. They pulled suitcases and some carried children.
The Pacific storm had strengthened with shocking swiftness before slamming into the coast early Wednesday, and the Mexican government deployed around 10,000 troops to deal with the aftermath. But equipment to move tons of mud and fallen trees from the streets was slow in arriving.
Flora Contreras Santos, a housewife from a poor neighborhood on the outskirts of the city, sought help in looking for a 3-year-old girl who was swept away from her mother in a mudslide. She went from soldier to soldier trying to interest any one of them in the tragedy that occurred on her street at the height of the storm.
"The mountain came down on them. The mud took her from the mother's arms," Contreras said. "We need help, the mother is in bad shape and we can't find the girl."
Even as army bulldozers began clearing knee-deep mud from Acapulco's main boulevards, Contreras' pleas did not appear to move any of the soldiers to action.
Acapulco's municipal water system was down and around half a million homes lost power. López Obrador said that restoring power was a top priority, but by Thursday evening there were still 250,000 homes and businesses with no electricity.
Brown floodwaters extended for miles in some areas. Many residents were taking basic items from stores to survive. Others left with pricier goods, in widespread rampages through the area's stores.
As cell phone signals began to return to some parts of the city, residents organized themselves with the help of friends and relatives living in other parts of Mexico and the United States. They joined together by neighborhood using online messaging platforms like WhatsApp. On Thursday there were some 1,000 people in 40 chats, which only continued to grow in number throughout the day.
They shared photos of flooded neighborhoods and tips for finding cell phone signals, while asking for information about loved ones that they had not heard from. Others share photos of papers full of names of survivors taking refuge in shelters, some with notes reading "Lupita, we are okay. I will call you when we have signal."
Juan Pablo López, 26, had been talking to his wife when their call was cut off early Wednesday as Otis made landfall. She had returned to Acapulco to be with her family and give birth to their son a month ago. Lopez was at home in Cancun.
"I'm very worried for my newborn son," he said.
With no information coming in Wednesday, he created an online chat with friends and family from Guerrero state, where Acapulco is the largest city. He also invited friends who had emigrated to the U.S. and asked them to add their local contacts.
"We started to cross-reference information, to share what we found, almost like a WhatsApp newspaper," Lopez said.
By Thursday afternoon, however, he still had not heard word about his wife and son.
Acapulco is at the foot of steep mountains. Luxury homes and slums alike cover the hillsides with views of the glistening Pacific Ocean. Once drawing Hollywood stars for its nightlife, sport fishing and cliff diving shows, the port has in recent years fallen victim to competing organized crime groups that have sunk the city into violence, driving away many international tourists.