Hundreds of demonstrators join 'Rescue America' rally in Beverly Hills
BEVERLY HILLS, Calif. - An estimated 400 demonstrators were in attendance for what organizers called a "Rescue America" rally in front of the iconic Beverly Hills sign on Saturday afternoon.
The rally at Beverly Gardens Park occurred after the group marched from West Hollywood, beginning at the intersection of Santa Monica and San Vicente boulevards.
Many were seen carrying American flags or "Trump 2020" signs, as well as wearing MAGA merchandise.
The rally was put together by an organization called #WalkAway.
Brandon Starka, Founder of #WalkAway said he started the organization in 2018.
"We're a movement of people who are walking away from the Democratic party. We're walking away from the ideology of liberalism, the liberal media…basically, we want to live in a country with peace and civility…truthfulness, kindness and again, we're not getting that from the political left so we're walking away from the Democrats," he said.
Starka said Saturday's event was their third outdoor event.
"We're doing these rallies because we wanted to show the radical left who's been smashing windows, committing acts of violence, committing acts of vandalism they do not own America's streets. We're going to fight for the heart and soul of America, so this is our third one. Next week we'll be in Milwaukee and we'll basically be doing 'Rescue America' rallies around the country for now through the end of the year," he explained.
Starka described the energy of Saturday's event as "electric."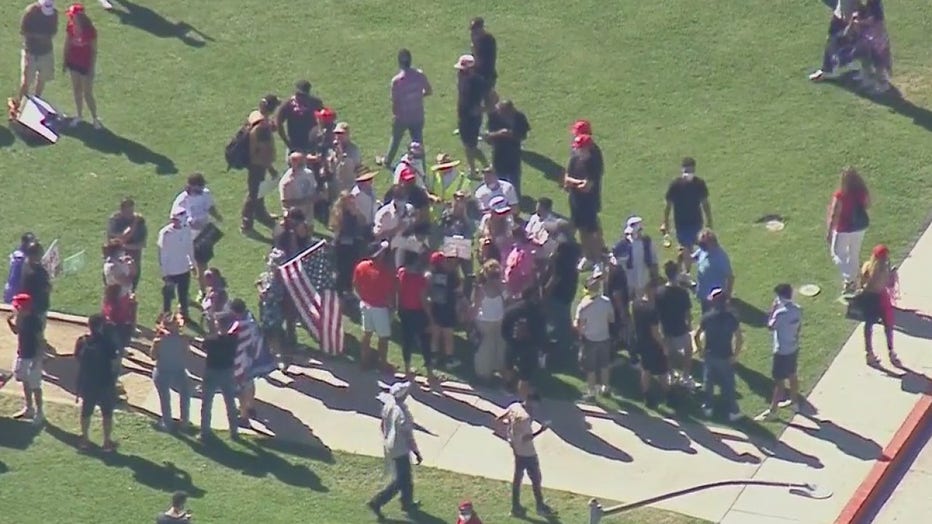 "I think that people for so long have been feeling like they're outnumbered or feeling demoralized. But today, they got to get together and got to be really loud and proud and show that the silent majority is unsilent from this point forward," he said.
The crowd was set to disperse by early Saturday evening.
The Beverly Hills Police Department said it was a peaceful protest and no arrests were made.  
Get breaking news alerts in the FOX 11 News app. Download for iOS or Android.