Hometown movie premiere for exonerated football player Brian Banks
LONG BEACH, Calif. - A red-carpet homecoming for Brian Banks. He's the former high school football standout who was exonerated after being imprisoned in 2002 for a rape he did not commit. It was a high-profile case tied to the California Innocence Project.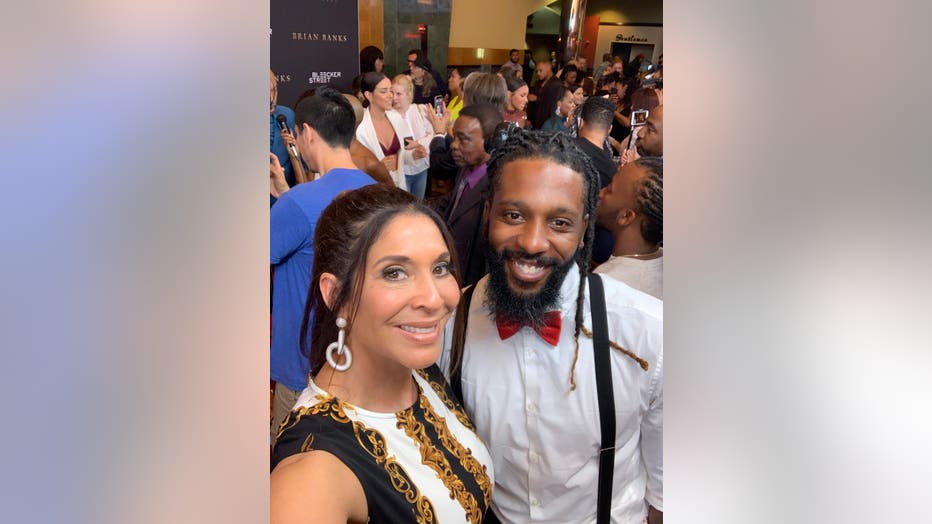 The movie "Brian Banks" screened at the Regal Edwards cinemas in Long Beach with almost the entire cast and longtime friends and family in attendance. Banks described his story as part of "the fabric of this city."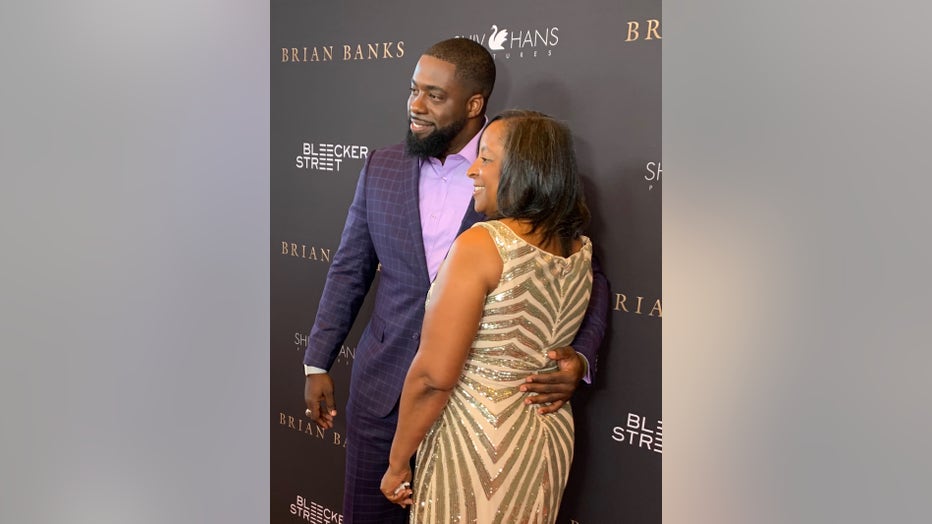 Banks spent five years in prison, had to register as a sex offender, and had his NFL career derailed. It took him ten years to clear his name, and only after his classmate accuser friended him on Facebook and was videotaped recanting her story.
Banks is played by actor Aldis Hodge (Straight Outta Compton, Hidden Figures, City on a Hill) and was on set daily during shooting.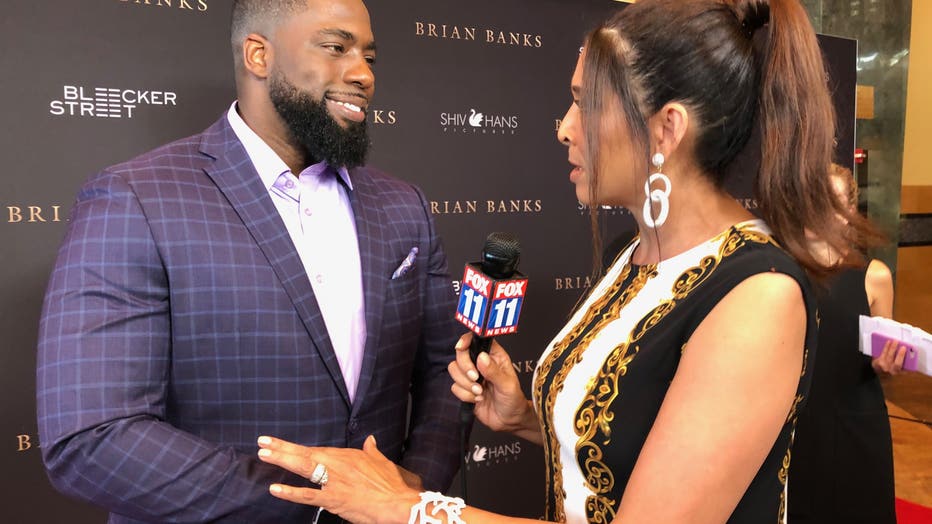 "Brian Banks" is the story of a high school football star on his way to USC when he was accused of raping a classmate. More importantly, it's the story of his perseverance in the ten-year fight to prove his innocence. Banks went on to get that shot at the NFL and played a pre-season with the Atlanta Falcons. Director Tom Shadyac(Ace Ventura: Pet Detective, The Nutty Professor, Liar Liar, Bruce Almighty) says he met Banks and knew he had to tell his story.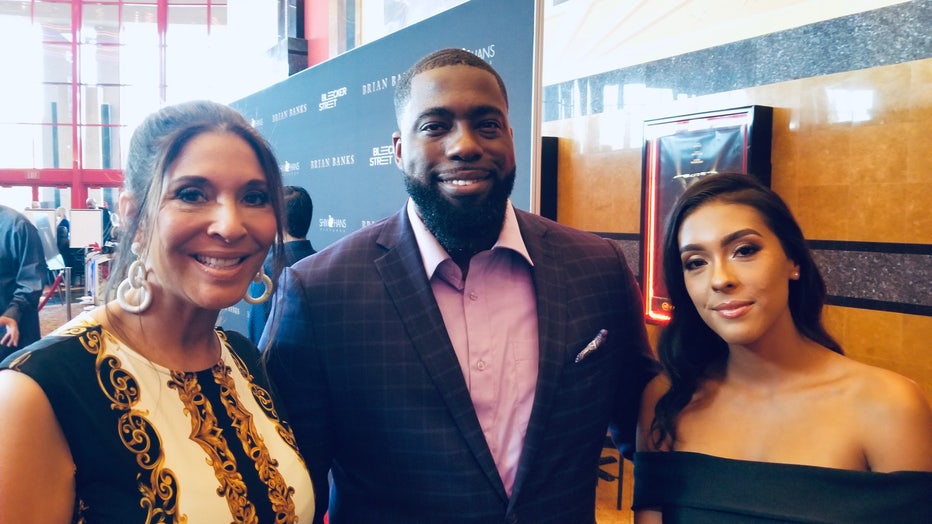 The movie is a portrait of how the system failed a black 16-year old in. It's also the story of Banks' own resilience thanks to the inspiration of a mentor, the strength of his mother, and the work of the over-worked California Innocence Project. CIP Attorney Justin Brooks is played by Greg Kinnear(You've Got Mail, Robots, Little Miss Sunshine). Sherri Shepherd(ABC sitcom Less than Perfect, The View, Dancing with the Stars) plays Banks' mother.
In 2013, Fox 11 News spent a day with Banks at his mother's home. It had been one year since his name had been cleared and Banks was dressed in his navy XONR8 sweatshirt. At this red carpet reunion Banks beamed in a sharp colored suit and his mother Leomia glowed in a sequined dress. Banks calls the movie yet another new beginning. He says they tried to make it as authentic as possible.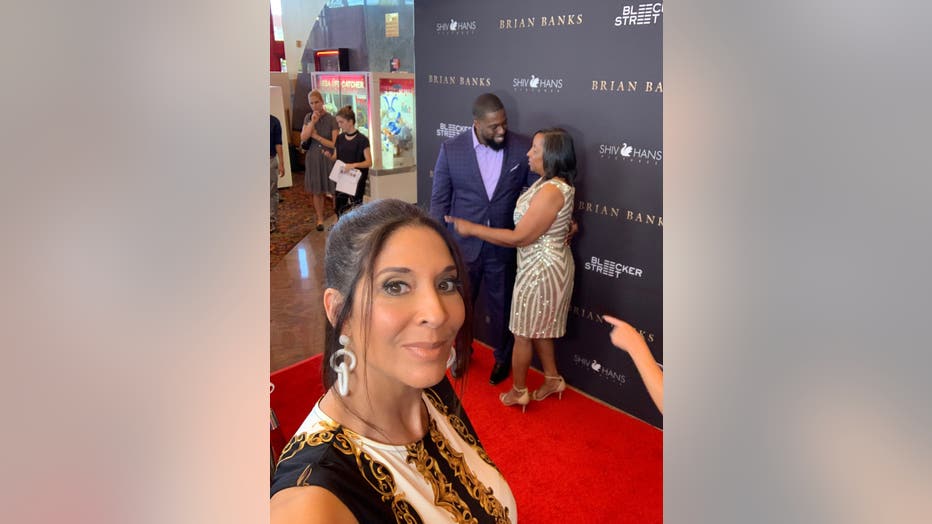 Banks continues to work with the California Innocence Project as is evident in the movie. Another man who was exonerated as well attended the screening as did a host of friends from high school. Wide release of the movie is August ninth.