Health officials address protocol at nursing homes, long-term facilities amid coronavirus outbreak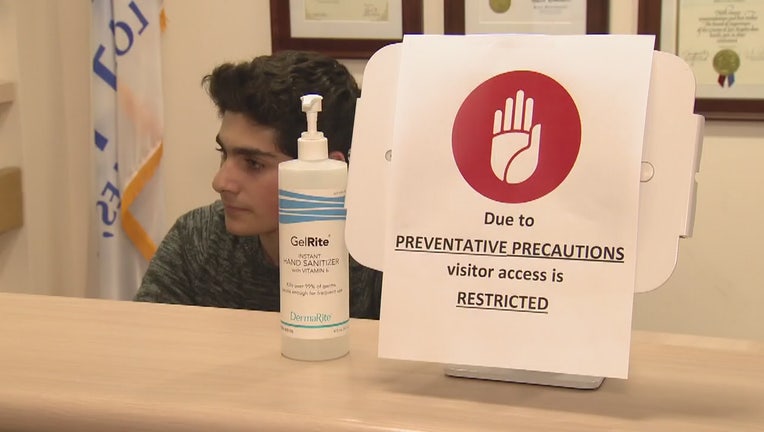 article
LOS ANGELES - Los Angeles County Health officials announced a plan Tuesday to visit every nursing home and long-care facility in the county to ensure they are enacting preventative measures to prevent the novel coronavirus from spreading.
The Ararat Home of Los Angeles in Mission Hills implemented new rules Saturday to help ensure the virus does not enter the facility. As part of the new rules, the facility is not allowing any visitors to the home. 
"Making the decision to tell family members that you cannot see your loved one in person for the time being until we are more certain and we understand more about this disease was a very, very difficult decision," said Margarita Kechichian, the Executive Director for Ararat Home of Los Angeles. 
The nursing home set up a screening clinic at the entrance, has provided hand sanitizer, and a special machine to disinfect the air. 
"When the employees enter the facility, we test their temperatures and log their temperatures, and we make sure that anybody that has been traveling to any of the countries that are currently at risk or anyone with symptoms of a cold or flu does not enter into the facility," said Kechichian. 
Visitors, physicians, employees, vendors, and delivery personnel are all subject to screenings. 
"I think all nursing home administrations are realizing that the most fragile population and population with the potential to get the virus is elderly people," said Susanna Yeranyan, the Director for Clinical Services at the facility. 
If a resident is preparing to pass, the facility will make specific arrangements for families. 
"We will go through all of our screening and allow them to see their loved one," said Kechichian. 
Currently, nurses and administrators have been sending videos or using Facetime to show family members how their loved ones are doing. 
"Even though I miss my mom, I'm 100% happy they did this," said Azniv Andrikian. 
Andrikian has a 94-year-old mother at the facility and grew accustomed to visiting her often. 
"We are here almost every day. We used to be here before the virus that came up," said Andrikian. 
Now, Andrikian must undergo the screening before she comes to pick up her mother's clothes to wash them.
"They're doing us a favor. Less people coming in, less visitations, and less chance of getting the virus," said Andrikian. 
The changes at Ararat will likely be replicated across the county as health officials will begin visiting every facility starting Wednesday.