Hawaii officials block off popular Waikiki beach to protect newly born endangered seal pup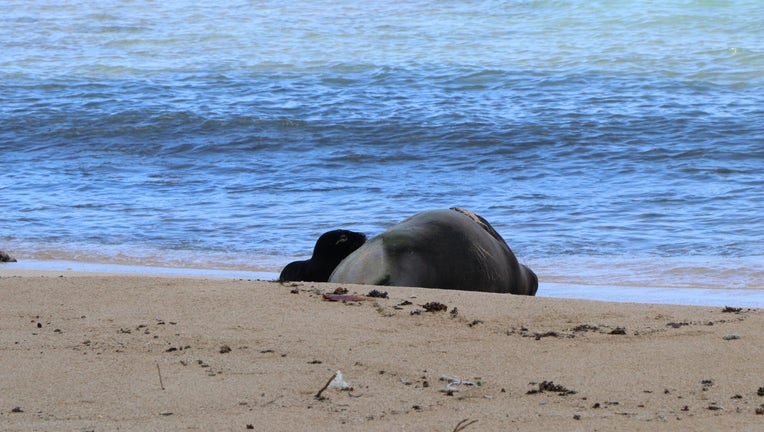 article
Officials have closed off a popular beach in Hawaii after an endangered seal recently gave birth to her newborn pup.
The Hawaiian monk seal is one of the most endangered species in the world, according to NOAA, and the Department of Land and Natural Resources (DLNR) is doing everything to ensure that the mother and her days-old pup are kept safe.
A temporary fence was put up on Kaimana Beach in Waikiki to guard off people from approaching the pair.
UNDERGROUND SECRETS OF HAWAII'S MOST NOTORIOUS VOLCANOES ARE BELIEVED TO BE CONNECTED
Officials warned that those that come within the seal and her newborn could be in danger of being bitten.
"It's better for you at this point to find another beach to recreate at while we let these seals do their natural-born thing and are able to stay here without human interaction," DLNR spokesperson Jason Redulla said in a press conference.
SEA LION WHO WAS FOUND ROAMING A CALIFORNIA FREEWAY RELEASED BACK INTO WILD
Officials say the seal will nurse her pup for five to seven weeks. During that time, officials advised the public that swimming within the area would be unsafe.
"People are encouraged to use other areas for beach and ocean recreation," the DLNR said in a post. "Mother seals can be very protective of their pups and have bitten and seriously injured swimmers in the past. They can be difficult to spot in the water and can move very fast in their natural habitat."
According to NOAA, Hawaiian monk seals are protected under the Endangered Species Act, the Marine Mammal Protection Act and Hawaii state law. They are said to be native and exist nowhere else on Earth.
Read more of this story from FOX Weather.