At least 80 injured as golf-ball-sized hail pelts crowd at Colorado's Red Rocks Amphitheatre
MORRISON, Colo. - At least 80 people were injured Wednesday evening during an outdoor Louis Tomlinson concert in Colorado when a storm carrying golf-ball-sized hail moved over the stadium and relentlessly pelted the crowd.
Medics raced to the Red Rocks Amphitheater just after 9 p.m. to find 80 to 90 people injured – mostly cuts but some victims with broken bones, according to West Metro Fire. Seven people were taken to a local hospital for treatment.
Videos from the crowd show a chaotic scene as people were struck by the hail, with victims showing off multiple welts and bruises as hail piled up on the ground and torrential rains instantly turned parts of the stadium into raging rivers.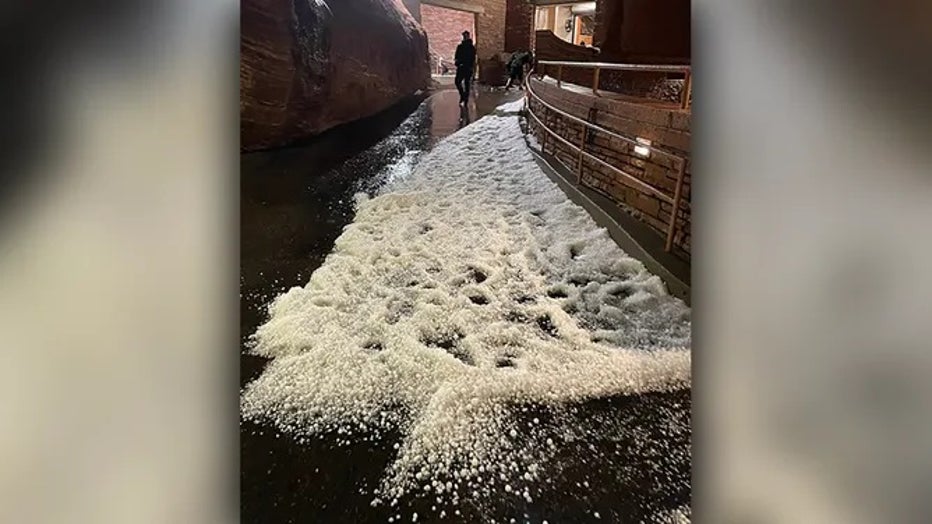 Large hail accumulates in Morrison, Colorado on June 21, 2023 (West Metro Fire Rescue / FOX Weather)
"In a matter of minutes we had to run under a tree," a woman at the concert told KDVR-TV. "And we just got welted and got hit really hard and covered our heads and closed in to people as close as we could."
The Red Rocks Amphitheatre had tweeted out a first delay for approaching storms just after 8 p.m. MDT, urging concertgoers to seek shelter in their vehicle and await an all-clear, which was given at 8:35 p.m.
A second weather delay was announced just after 9 p.m., again urging those there to seek shelter. The massive hailstorm struck soon after.
HOW TO WATCH FOX WEATHER ON TV 
"We are cold, tired and covered in bruises," tweeted Catalina M in response to the Red Rocks Amphitheater tweet announcing the second severe weather delay.
Hail stones reaching at least 2 inches in diameter can fall at least as fast as 44 mph, according to the National Weather Service.
The show was postponed just before 10:30 p.m.