Gov. Newsom shares state's response to mitigating COVID-19 in California's hard-hit Central Valley
SACRAMENTO, Calif. - Gov. Gavin Newsom announced Monday the state will implement a similar approach in California's hard-hit Central Valley that was used in Imperial County to "fight the rapid rise of infections" amid the ongoing coronavirus pandemic.
RELATED: Stay up to date on all coronavirus-related information
Not too long ago, the positivity rate in Imperial County peaked at more than 30%. 
With such an alarming rate, the state closed certain sectors in early June. The state also put out better messages and transferred patients to hospitals in other parts of the state, Newsom said. 
According to Newsom, the strategy worked. 
Now, the positivity rate is 11.2%, which is "still high," said Newsom, but is down significantly and is now a strategy he referred to as the "Imperial approach." 
And that approach, Newsom said Monday during his regular briefing, is to use that same approach in the Central Valley.
He said that the state has already earmarked $52 million to expand disease investigation, contract tracing and quarantine efforts, plus there is an additional $6.5 million from philanthropy to ensure food, rent and utilities for more vulnerable families. 
Santa Clara County was added to the state's monitoring list, which means 38 of 58 of California's counties must now operate with additional restrictions.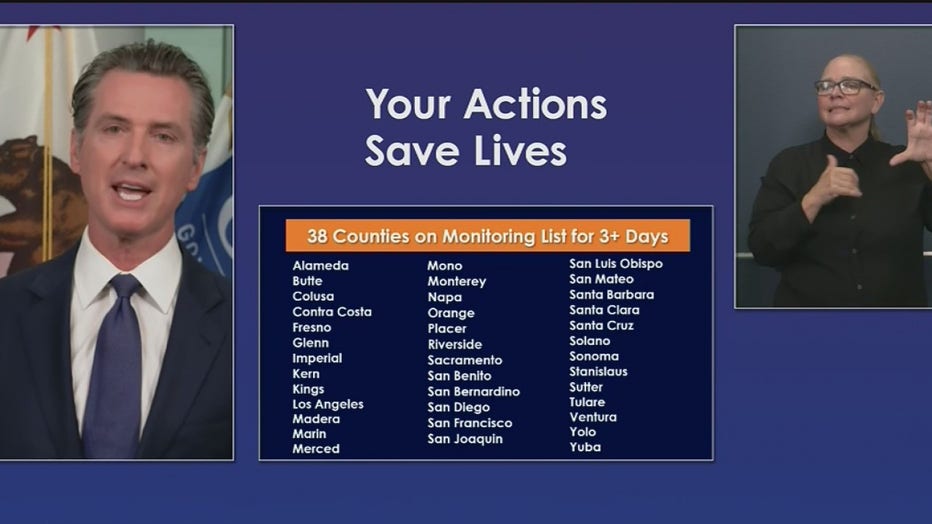 Overall, the state's numbers have also improved. 
The 14-day positivity rate has been dropping and is now hovering at about 7%.
Newsom said there were 5,739 confirmed COVID-19 cases statewide Sunday, which is a 21.2% decline from the 7-day daily average of 7,764 cases. 
Hospitalizations are also going down modestly as there has been a 10% decrease over two weeks. 
Newsom said this data is "encouraging," but no one should feel complacent about letting up on coronavirus rules and protocols. 
FOX 11's Kelli Johnson contributed to this report.