Gov. Newsom secures Fire Management Assistance Grant from FEMA to help battle Saddleridge fire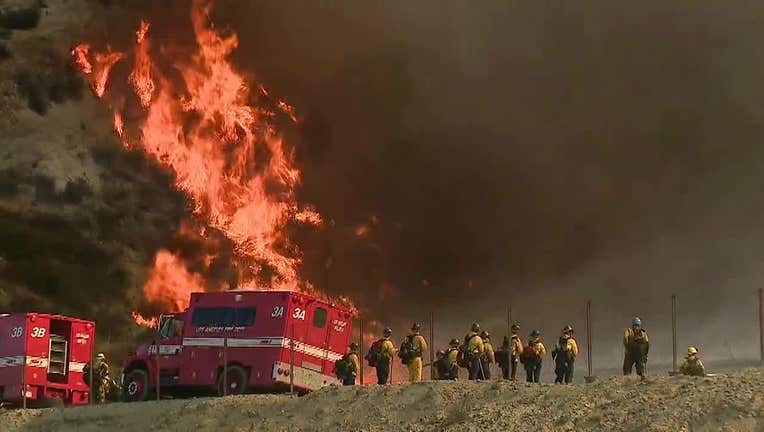 LOS ANGELES (FOX 11) - California Governor Gavin Newsom has secured a Fire Management Assistance Grant (FMAG) from the Federal Emergency Management Agency (FEMA) in order to help local and state agencies battling the Saddleridge Fire burning in the northern San Fernando Valley. 
FMAG allows local, state and tribal agencies to recover 75% of eligible costs. The federal Fire Management Assistance Grant is provided through the President's Disaster Relief Fund.
Around 5 p.m. Newsom declared a State of Emergency in Los Angeles and Riverside counties due to the several fires burning in the region.
 
Related: 1 confirmed fatality as Saddleridge fire tears path of destruction across the northern San Fernando Valley
Several freeways shutdown as 'Saddleridge Fire' continues to spread through San Fernando Valley
"Governor stepped up and called the white house and they stepped up. There should be no politics in a fire, it doesn't matter if you're a republican or democrat," State Senator Henry Stern told FOX11. "It's a little bit of good news in a dark time," he added. 
Stern represents District 27.
"We want to thank the federal government for their swift response to this dynamic incident," said Mark Ghilarducci, Director of the Governor's Office of Emergency Services in a statement online. "California is committed to ensuring all resources are available to suppress this fire and to support the local communities to respond and recover as quickly as possible." 
The Saddleridge Fire has burned over 5,800 acres, left one person dead and caused thousands of residents in the valley to evacuate.