Gov. Newsom: 23 California counties now on state's watchlist with tighter restrictions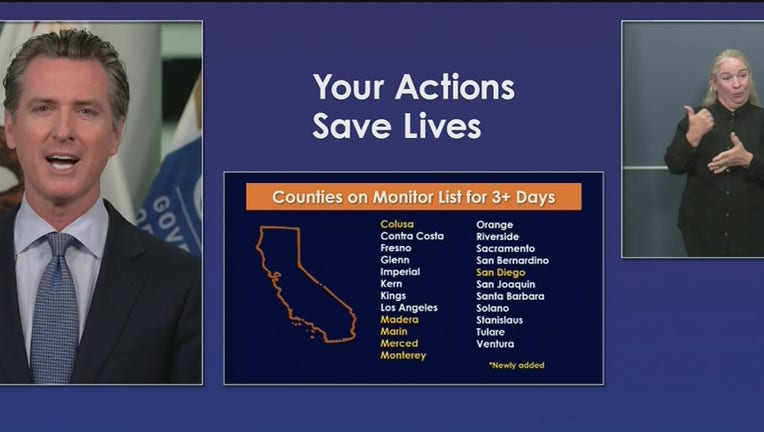 SACRAMENTO, Calif. - Gov. Gavin Newsom on Monday said that 23 of the state's 58 counties are now on the state's watchlist with more restrictions. This is up from the 19 counties that were listed last week. 
San Diego along with three Bay Area counties were amongst those added to the list. 
On Sunday, the state reported 5,699 new coronavirus cases.
In addition, ICU admissions were up statewide and hospitalization rates were up 50% in a 14-day period. 
Newsom also reported that eighteen California residents died on Saturday and six died on Sunday. 
Over a 14-day period, the state's COVID-19 positivity rate has increased from 4.9% on June 22 to 6.8% on July 5.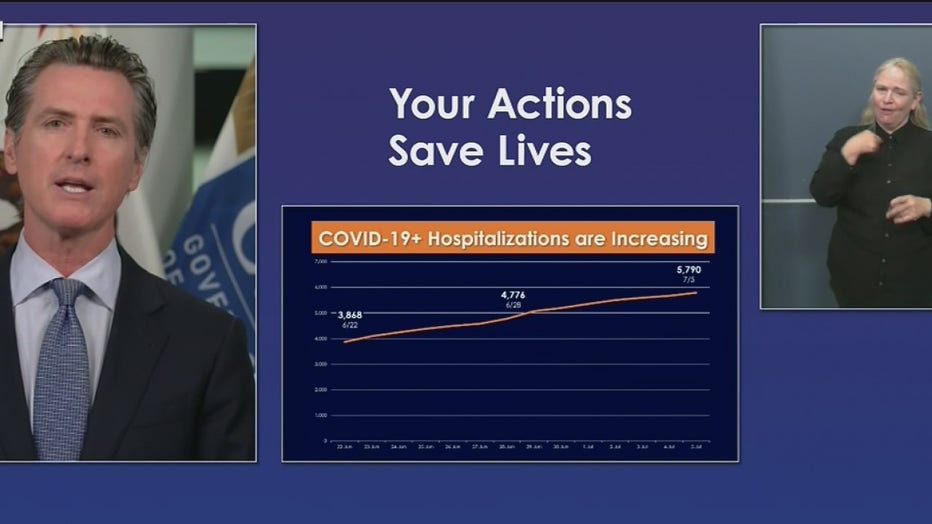 Thirteen of the state's 58 counties have issued additional local orders including Los Angeles, Ventura, and Orange counties.
RELATED: Southern California beaches reopen after holiday weekend closures as coronavirus cases surge
Riverside and San Bernardino counties were two of three counties under state-issued orders.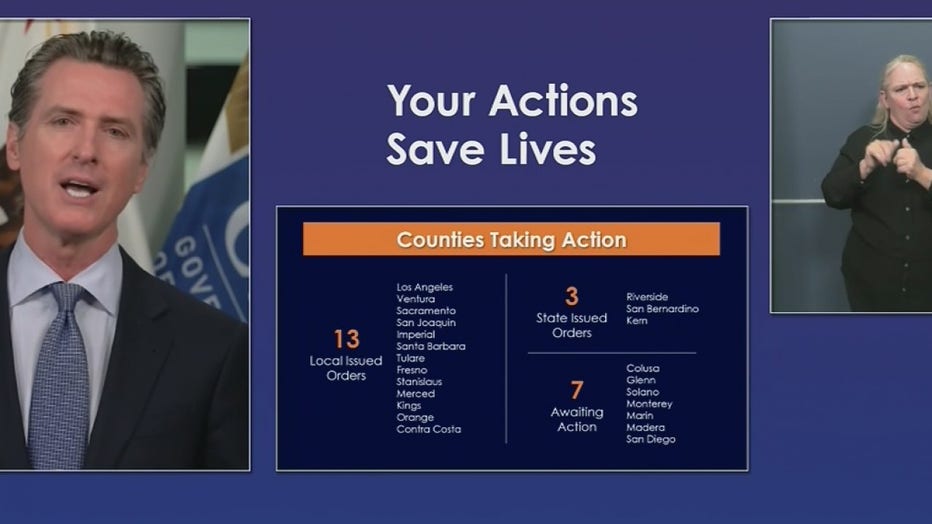 Despite local officials issuing beach closures and Newsom reclosing indoor dining for at least the next three weeks,  Los Angeles County reported a surge in cases over the Fourth of July holiday weekend.
RELATED: Gov. Newsom calls for immediate closure of indoor operations at sectors in 19 California counties
Newsom warned elected officials last week they risk state sanctions if they don't enforce health orders as the coronavirus pandemic worsens. Over the Fourth of July weekend, 200 state inspectors fanned out to look for violators, according to the Associated Press. 
"Our enforcement has been prioritized on parts of the state where we have known violaters; where we have high-risk workplaces; where we have industries that should be operating at a scale, think restaurants and bars, in an appropriate and safe manner," Newsom said during his daily COVID-19 press briefing on Monday. 
Over the three-day holiday weekend, Alcoholic Beverage and Control officers visited close to 6,000 bars and restaurants that were said to be violating state guidelines, including an establishment in Morgan Hill that was ordered to close. 
The California Board of Barbering and Cosmetology also contacted 341 licensees after receiving complaints and concerns, some from county officials, regarding operations during the COVID-19 pandemic.
According to the latest data from the Centers for Disease Control and Prevention, California was listed as one of the nation's COVID-19 hot spot states, along with Arizona, Florida, Illinois, Texas, Georgia, New York, Massachusetts and New Jersey.
All California businesses are required to follow the California Public Health safety guidelines listed below:
• Masks worn by staff and patrons
• Physical distancing measures in place
• Signage on masks and physical distancing
• Occupancy limits posted
• Restaurants in impacted counties: No dining or drinking indoors, no alcoholic beverages without a meal.
RELATED: Stay up to date on all coronavirus-related information
The California Governor repeatedly asked residents to continue wearing face coverings, washing their hands, and to physically distance to help slow the spread of the coronavirus. 
KTVU and the Associated Press contributed to this report.