Gov. Gavin Newsom announces plan to move thousands of state's homeless to hotel rooms amid COVID-19 pandemic
SACRAMENTO, Calif. - Governor Gavin Newsom Friday addressed how the state will protect its homeless population amid the coronavirus crisis after pledging $150 million in homeless aid. 
Since the beginning of an international pandemic, experts have known the homeless population is particularly vulnerable to contracting and spreading the coronavirus.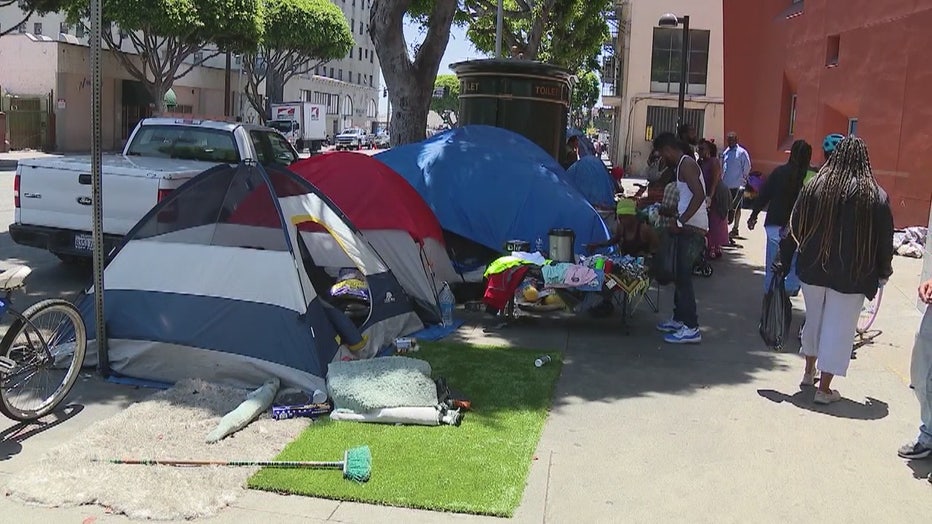 In Friday's press conference, Newsom announced there were 10,710 positive COVID-19 cases in California. Of those, 2,188 were hospitalized and 901 patients were in ICU, marking a 10.4% increase from Thursday.
While most states anticipate a peak of coronavirus cases this month, Newsom said he expects California to reach its peak in May.
In a partnership with FEMA, the state launched "Project Room Key," which opens 7,000 beds at hotels across the state to house homeless individuals considered high-risk, such as homeless seniors, and those who test positive for COVID-19. His goal is to eventually secure 15,000 rooms. However, he does not want to reach capacity too early.
Newsom hopes with a real process and protocol in place, they will be able to triage homeless individuals in an orderly way.
By Friday afternoon, Newsom said 869 individuals experiencing homelessness had moved into hotel rooms as part of the state initiative. 
Officials have vowed repeatedly to get them indoors, but testing shortages and bureaucratic wrangling are making it difficult and relatively few of California's 150,000 homeless have been moved into individual quarters. It's unclear how many even have the highly contagious virus.
RELATED: CoronavirusNOW.com, FOX launches national hub for COVID-19 news and updates. 
Earlier this week, Los Angeles County Public Health Director Dr. Barbara Ferrer announced that COVID-19 had struck LA's homeless population. She said two homeless individuals in the county tested positive for COVID-19, as well as one staff member working at an interim homeless housing shelter.
RELATED: Coronavirus hits LA County's homeless population, prompting concerns of mass spreading
On March 18, Los Angeles Mayor Eric Garcetti said the city was planning to put 6,000 beds in place at 42 recreation centers across the city so that individuals experiencing homelessness could self-isolate. 
RELATED: Garcetti plans to bring 6,000 beds in weeks for homeless amid coronavirus
Newsom also revealed a website where Californians can sign up to volunteer in their communities.
Volunteers have a variety of options to choose from including:
• Delivering meals
• Wellness checks
• Creating hygiene hits
• Donating blood
• Volunteering at food banks
The Associated Press reported the shutdown of public libraries and other facilities has made it difficult for homeless people to get clean water and food or use the bathroom.
The Trump administration announced $3 billion Thursday for homelessness pandemic efforts. California Gov. Gavin Newsom pledged $150 million in homeless aid, including money for hotel rooms, and was expected to announce more steps Friday.
Mary Kate Bacalao, policy director at Compass Family Services in San Francisco, called the situation "absolutely terrifying."
"The urgency of this, and the urgency to get people inside, now more than ever cannot be overstated," she said. "We're moving way too slowly."
Get breaking news alerts in the FOX 11 News app. Download for iOS or Android.
The Associated Press contributed to this report.