Glendale extends fines for not wearing face masks
GLENDALE, Calif. - Glendale has one of the stiffest penalties for not wearing a face mask… but are they enforcing it?
In April the cities of Glendale and Beverly Hills approved laws requiring people wear masks in public due to the ongoing coronavirus pandemic. 
On Tuesday the Glendale City Council extended the mask mandate for another month. 
There are some exclusions to the law concerning people's health. So in Glendale you might see some people wearing masks and some not. 
Interestingly… the city of Glendale says not a single citation has been issued since April. They say their main goal is to educate people rather than issuing citations. Meanwhile in Beverly Hills, 42 citations have been issued just this week. 
RELATED: Stay up to date on all coronavirus-related information
The fines for a 1st offense in Beverly Hills is $100, second offense is $200, and the 3rd offense is $500. 
In Glendale it's much more. The first offense is $400, second offense is $1,000 and 3rd is $2,000.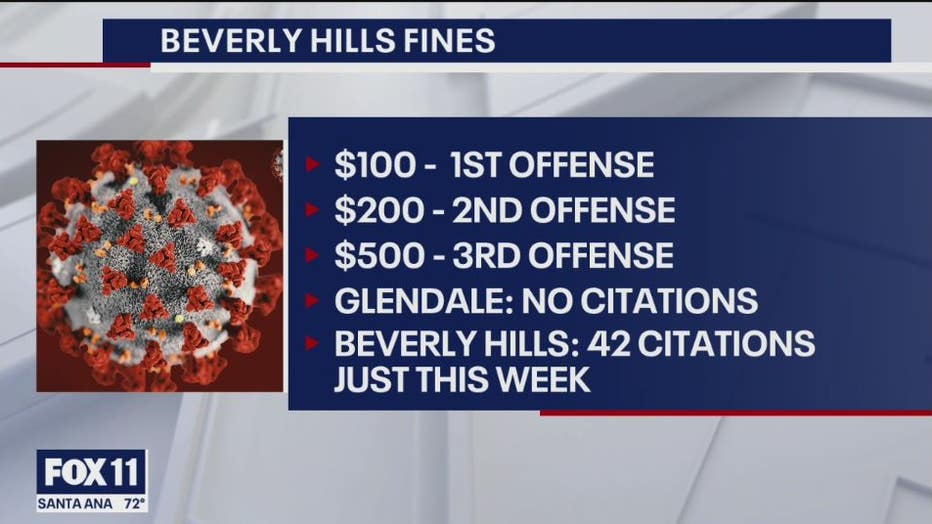 "We've generally been successful with counseling by our Glendale Police Department and code enforcement staff. And so we  haven't had to issue citations because we do try to educate the public or businesses that we receive calls about and our experience has been that they comply as soon as we inform them of the requirement," said Glendale city spokeswoman Eliza Papazian. 
"Again it goes back to the same thing our goal is to educate and gain compliance voluntarily."
Get breaking news alerts in the FOX 11 News app. Download for iOS or Android.