Giant cross named after Junipero Serra vandalized in Riverside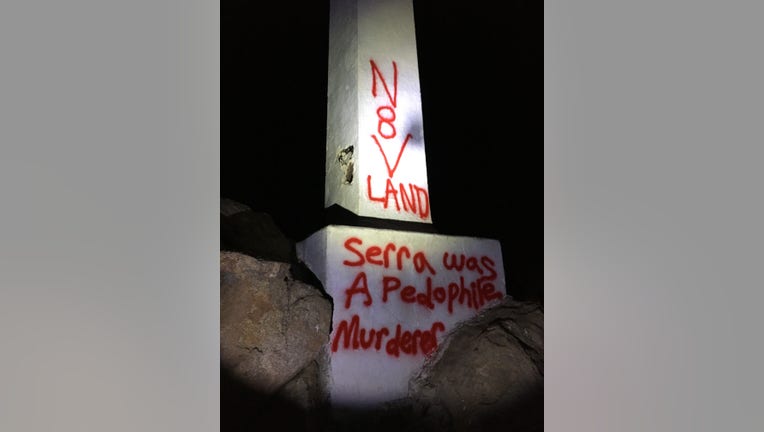 article
RIVERSIDE, Calif. - A giant cross atop Mount Rubidoux in Riverside was vandalized overnight, the latest monument dedicated to Junipero Serra to be targeted by activists across the state amid debate over the missionary's legacy, police said.
The defacement of the 35-foot tall cement-and-steel structure was "only cosmetic,'' consisting of graffiti and some damage to the outer shell of the base, according to the Riverside City Police Department.
One message scrawled in red paint read, "Serra was a pedophile murderer.''
Police received reports at about 9 p.m. Friday that suspects described as "Native Americans'' in their 20s were using an axe and spray paint to
vandalize the monument.
A police helicopter was dispatched but by the time it arrived at the location, police said the suspects had fled down the opposite side of the mountain and got away in a light colored sedan.
Credited with founding the state's 21 missions, Serra has long been celebrated as a California pioneer, but historians say the legacy of the 18th century friar also includes slavery and the genocide of indigenous people.
Nonetheless, Serra was canonized by Pope Francis in 2015. Last week, activists toppled statues of Sera at Placita Olvera in downtown Los Angeles and at Golden Gate Park in San Francisco.
At Mission Basilica San Juan Capistrano, two statues of the friar were removed from public view for protection, according to the church.