How you doin? Iconic candy hearts get 'Friends'-themed makeover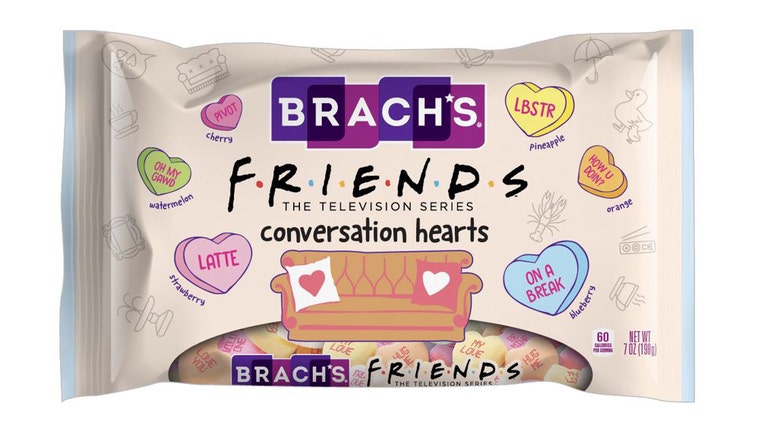 article
An iconic candy brand is creating something new for Valentine's Day inspired by one of the most popular television shows. 
Brach's is infusing a little pop culture this year with the release of "Friends"-themed candy packs. These new treats feature new flavors of watermelon, strawberry, blueberry, pineapple, cherry, and orange.
The limited-edition treats feature memorable quotes from "Friends" characters played by Jennifer Aniston, Courteney Cox, Lisa Kudrow, David Schwimmer, Matthew Perry, and Matt LeBlanc.
These candies have 26 different references from the sitcom, including "how you doin," "ur my lbstr," "moo point," and "on a break."
RELATED: Brach's launches 'turkey dinner' flavored candy corn
The launch of the new candy is part of a collaboration between Brach's and Warner Bros. Discovery Global Consumer Products. 
"BRACH'S Conversation Hearts and FRIENDS are both cultural symbols that have been beloved for generations, so this collaboration felt like a natural fit," Chad Womack, director of Brach's seasonal marketing at Ferrara Candy Company, said in a release. 
Womack shared in the release that the company is "excited to bring people together by offering this twist on our classic hearts inspired by one of the most iconic pop culture representations of friendships – FRIENDS."
The "Friends" candy pack is available now in stores nationwide, and Brach's classic conversation hearts are also on store shelves for another year, according to a release.
"Friends," which aired on NBC from 1994-2004, followed the personal and professional lives of six 20-30-year-old friends living in the Manhattan borough of New York. The beloved sitcom won six Primetime Emmys, according to imdb.com. 
This story was reported from Washington, D.C.