Real estate broker conducts sting operation to catch imposter who was pickpocketing victims
BUENA PARK, Calif. (FOX 11) - FOX 11 is tracking down and confronting a real estate impostor accused of using fake documents and pocketing victim's security deposits, then disappearing, while pretending to be the assistant of a Los Angeles realtor.
The investigation began when FOX 11 was contacted by Art Avaness, a licensed realtor in Los Angeles.
"All week I've been getting phone calls from random people that they've seen my ad on Craigslist," Avaness said.
Avaness aid the ad was a fraudulent listing. It advertised a 3 bedroom 2 bathroom home for rent in Buena Park. The ad instructed anyone interested to contact Avaness at a phone number that isn't his.
"I knew this was a fake," Aveness said.
Avaness told FOX 11 he began getting phone calls from angry victims who claimed the imposter took their security deposits and disappeared, including one call from a woman who was about to hand the imposter thousands of dollars in cash.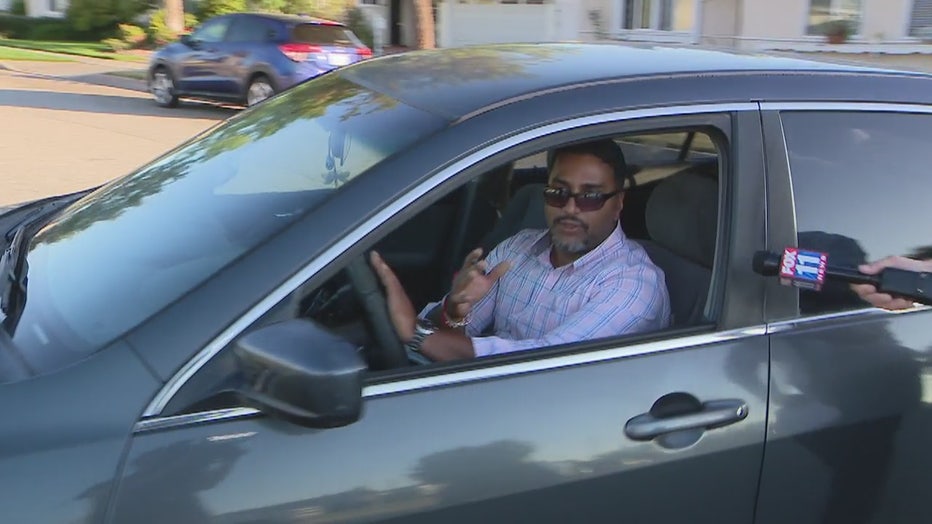 "She really wanted the property, and I had to tell her this is not me," Avaness said. "I'm the real Art Avaness, but I don't have a listing here!".
That woman was Christy Tuiotimarimer.
"I ended up hitting the scam jackpot," she said.
She planned to move into the house and had been shown the property twice by Vinender Kanda, aka "Vinny", who was claiming to be Avaness' assistant. Christy said Vinny already had her social security number after he had her fill out a fraudulent rental application with Avaness' name on it, andhe was pushing for her $5,700 deposit.
"He wanted it all in cash, but I know cashier's check is the way to go to have a paper trail, so right then and there it was a red flag," she said.
Once she spoke to the real Art Avaness, her fears were confirmed, "Vinny" wasn't working with Avaness at All.
Using Vinny's legal name, Vinender Kanda, FOX 11 obtained records showing his real estate license has been suspended since 2004.
Christy set up a meet at the house, under the guise of handing over the cash to Vinny.
Avaness called Buena Park police, and invited FOX 11 to come along.
When Vinny was confronted by Avaness and FOX 11, he pretended not to know anything, and drove away from the scene, leaving the key to the house with Christy, who never handed over the cash.
"Basically I was supposed to get the key, which I did, and move in today and sign the lease, but obviously he freaked out and left," Christy said.
"He's a textbook scam artist," Avaness said.
Avaness looked at the fake documents Vinny was allegedly using.
"It has my name on it, it has my broker license number on it, a completely different phone number though, that's not my phone number, and that's not my email either," he said.
And when Avaness called the number on the documents, a man picked up and identified himself as Art Avaness. He hung up after he was confronted.
Buena Park police eventually arrived on scene and took statements from Christy and Avaness.
The front door of the house was left wide open after Vinny handed over the key and took off.
When FOX 11 contacted the legitimate owners of the home, they said the house is vacant because it's in escrow to be sold, and it's been targeted by Craigslist scams before.
After seeing video of the confrontation, they said they have no idea who Vinny is, they don't know how he got a key to their house, and they feel violated.
As a result, they plan to pursue trespassing charges against him, and they've changed the locks.
When FOX 11 contacted the phone number on the fraudulent documents Vinny was using, a call and text were never returned.
Avaness said he now has to contact the California Department of Real estate to get his reputation cleared.
"We don't know how long this has been going on, that's the frustrating part," he said.
"It's horrible, like really?" Christy said. "You're gonna try to scam broke people like me, we work our butts off, it's bad, it's horrible."
Police told FOX 11 this incident falls into a grey area between a civil and criminal matter because Christy never handed over the cash, even though she was almost scammed.