Florida girl, 11, arrested for fake 911 text that her friend was kidnapped: deputies
PORT ORANGE, Fla. - An 11-year-old girl from Florida was arrested Wednesday for a fake 911 text that said her friend was kidnapped, according to the Volusia Sheriff's Office.  
The girl, who said she thought the prank text "would be funny," was arrested and charged with making a false police report concerning the use of a firearm in a violent manner – a felony – and misuse of 911 – a misdemeanor – according to deputies. 
RELATED: Carlee Russell reportedly fabricated the whole kidnapping story, according to her attorney 
TIMELINE: Girl alleged her friend was kidnapped by an armed man
The Port Orange girl told authorities her friend was kidnapped by an armed male driving a white van on South Interstate-95 in Oak Hill. Volusia Sheriff's Office deputies responded, and so did officers from Edgewater, New Smyrna Beach and Port Orange. No van was found, though. 
It all started at 9:45 a.m. Wednesday when a dispatcher at the Sheriff's Communications Center received word about a "suspicious incident reported by text message." The girl told authorities her 14-year-old friend was abducted and she was following in a blue Jeep, according to deputies. 
The girl went on to text updates to the dispatcher for an hour and a half. Some of those updates included a description of the alleged kidnapper and that he had a gun. 
Deputies were directed to a home in Port Orange after tracking the cell phone used to contact 911, according to a press release. At 10:23 a.m., deputies arrived at the home and made contact with the girl's father. 
When deputies approached the girl, she was holding her cell phone, which was ringing as she made her way to meet the deputies, according to the report. Volusia Sheriff's dispatch was on the line and deputies verified they were on the scene. 
'You're gonna enjoy those cuffs'
Bodycam video of the arrest from the Volusia Sheriff's Office shows a conversation between the girl and deputies. 
"Stay calm. You can talk to your parents. We can open the window and let you talk to them," one deputy said. "Nothing's gonna happen to you, do you understand that?" 
Another deputy told the girl she should use this as a lesson. 
"If you do something stupid in the future, you're gonna enjoy those cuffs," the deputy is heard saying. 
The girl replied, "I'm not gonna do this again." 
Another deputy chimed in. 
"You know, this is gonna be an opportunity for you to turn this into a learning experience," the deputy said. "This is not something you're gonna carry with you for the rest of your life."
Girl was inspired by YouTube challenge, deputies say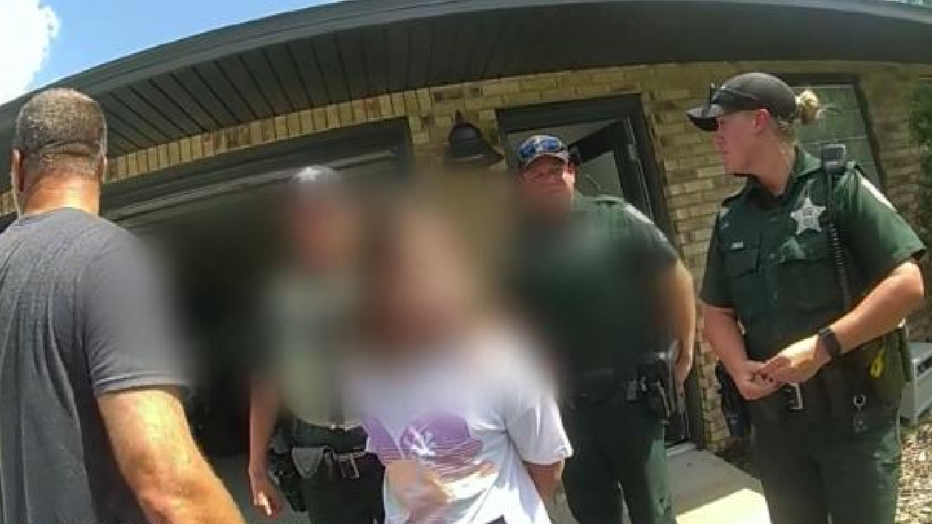 Photo: Volusia Sheriff's Office
The girl told deputies she got the idea for the prank call from a YouTube challenge and thought it "would be funny," according to officials. 
"This kind of prank activity is dangerous – we're going to investigate every incident but today it wasted valuable resources that might have helped someone else who legitimately needed our help," Volusia Sheriff Mike Chitwood said in a press release. 
The girl was transported to the Family Resource Center for processing, then transferred to the Volusia Regional Juvenile Detention Center. 
Can you text 911?
Yes, you can send a text message to 911. 
All but four counties in Florida – Holmes, Washington, Hendry, and Miami-Dade – have implemented the ability to text 911 in emergencies, according to the Florida Department of Management Services website. However, the four remaining counties are in the progress of implementing that technology, the website said.
Orange County said on its website that during life-threatening emergencies, calling 911 is the "best and fastest way" to relay information and get police, firefighters, or an ambulance to you. Text messages may take longer.
When texting 911, people should provide an exact location and nature of the emergency, silence their phone if in a dangerous situation, avoid slang, abbreviations, or social media jargon, and do not send photos, emojis, or videos. People should also not include 911 in a group text.
Sheriff hosting community forums
Volusia County Sheriff Mike Chitwood said law enforcement from several police departments and the sheriff's office were kept busy looking for the vehicle in question for about 30 minutes. He said this waste of resources likely cost thousands of dollars.
"You're diverting folks from Port Orange, New Smyrna, Edgewater, and [VSO] … are leaving their areas of responsibility to get up on 95 to surveil for this car," he said.
Because of the nature of the 911 call, Chitwood said the 11-year-old girl was expected to spend Wednesday night in the juvenile detention center until she can see a judge Thursday.
"She's gotta learn a valuable lesson here that you just don't do stuff like that. Hopefully, her little friends and other parents will be like, 'Oh my God. This isn't funny,'" he said.
The sheriff is warning parents how important it is to closely monitor kids' use of social media. The sheriff's office is hosting several community forums, beginning Monday, to help parents protect their kids from Internet dangers. The meeting schedule is below. Each event runs from 6 to 7:30 p.m.:
Monday, July 31, at the First NSB Church, 200 Faulkner St., New Smyrna Beach
Monday, Aug. 7, at the Tomoka Christian Church, 1101 E. Plymouth Ave., DeLand
Wednesday, Aug. 9, at the Deltona City Hall, 2345 Providence Blvd., Deltona
Monday, Aug. 28, at the DeBary City Hall, 16 Colomba Road, DeBary
Tuesday, Aug. 29, at Mission San Jose of Saint Peter, 165 Emporia Road, Pierson