First lady Jill Biden campaigns in LA for husband's re-election bid
LOS ANGELES - First lady Jill Biden is scheduled to be in Los Angeles Wednesday to attend a fundraiser on behalf of her husband's re-election campaign.
"Optimism, that's what drives my husband, and nothing can slow him down," Jill Biden told about 80 people gathered for a fundraiser at the home of attorneys Lisa and Andrew Gilford.
"Joe is ready, as he likes to say, to finish the job," she said. "So as we get ready to jump back into a campaign, I cannot even believe I'm already saying this, think about how far we've come in the last three years."
She never mentioned former President -- and current Republican presidential hopeful -- Donald Trump during her remarks, nor did she reference his indictment for alleged mishandling of classified documents. But she told the crowd, "We know what's in store if these MAGA Republicans win because we've all lived through this."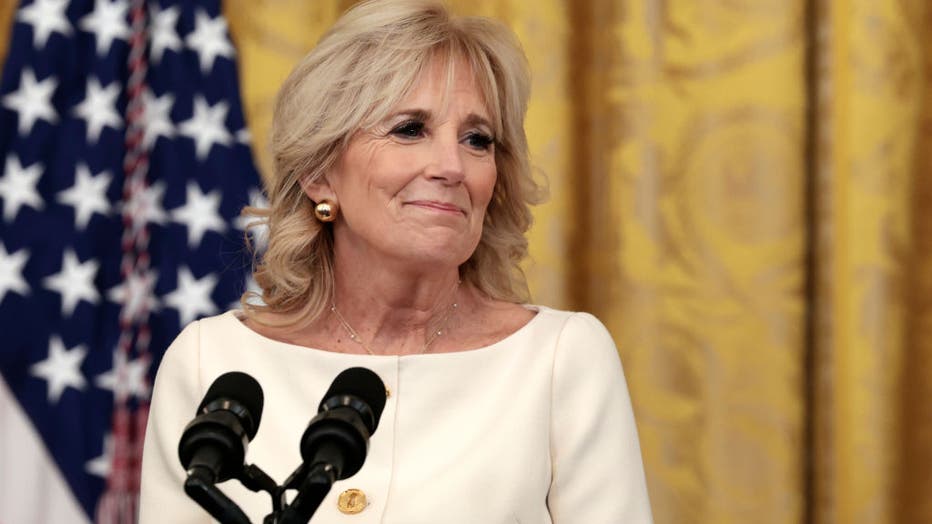 "Take yourself back in your mind. You remember how U.S. policy was dictated in those late-night tweets," she said, referencing Trump's fondness for using social media as his primary communications tool. "Or how the constant assault on our most sacred institutions, our democracy and our freedoms, and it's only going to get worse.
"So that's the choice right now -- chaos and corruption, hatred and division. On the one hand, you can choose that, or you can choose strong, steady leadership," she said. "We cannot go back to those dark days and we won't without your help."
The fundraiser was hosted by the Democratic Party and the Women's Leadership Forum. According to an invitation for the event posted online, tickets for the event ranged from $1,000 to $47,900, with the higher amount including a photo op with the first lady.
Proceeds benefited the Biden Victory Fund.
Jill Biden spoke at Biden Victory Fund events Tuesday in Marin County and San Francisco, after headlining a fundraiser in New York on Monday. She also spoke at an event Tuesday for the Giffords Law Center to Prevent Gun Violence in San Francisco.
President Joe Biden is expected to spend three days in the Bay Area next week.