Fighting a pandemic and wildfires; the differences firefighters and evacuees are now experiencing
RIVERSIDE, Calif. - The COVID-19 pandemic brought along several challenges to people around the world, both medically and financially. 
As fire season is now in full swing in Southern California firefighters and evacuees are facing their own new challenges.
Could the COVID-19 precautions be here to stay?
As the Apple Fire continues to spread near Cherry Valley, firefighters throughout Southern California and even as far as Arizona traveled to Riverside Valley to help.
RELATED: Evacuations remain in place as Apple Fire in Cherry Valley continues to spread
At the command post firefighters can be seen wearing face coverings, utilizing the hand sanitizing stations and trying to physically distance themselves from others – even though at time while fighting fires that may seem impossible.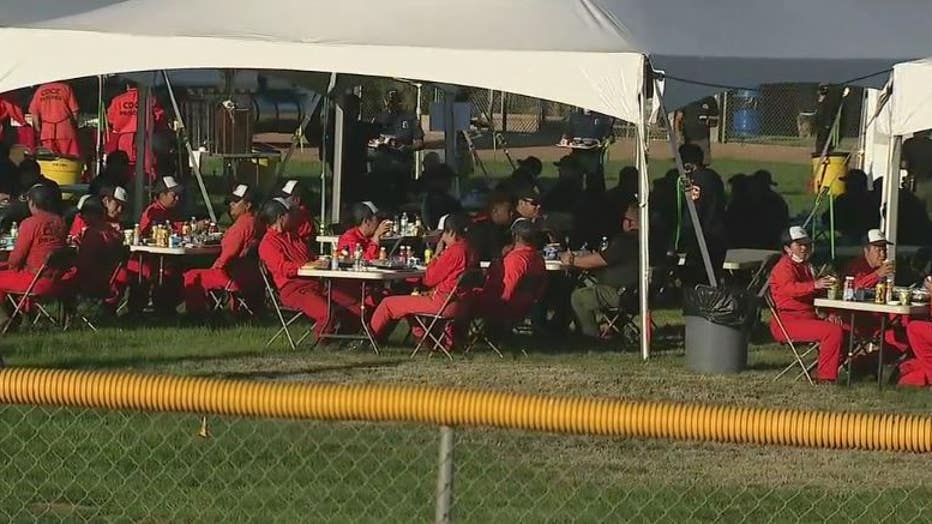 Inmate firefighters seen eating
Evacuees might be experiencing some of the biggest differences this year. 
Normally the Red Cross sets up shelter for evacuated residents at local schools or community centers. There people will be able to get food, water, and a place to sleep. But things are a bit different this time.  While an evacuation center was created at Beaumont High School evacuees are no longer allowed to spend the night.  The shelter is still providing fresh water and food and everyone entering the shelter will be screened for COVID-19. 
Due to the pandemic, this year the state is providing hotel rooms to evacuated residents. 
RELATED: Gov. Newsom looks at Project Roomkey as potential long-term fix on homelessness
Hotel rooms will be provided on a day-to-day basis. Since the beginning of the pandemic the state created a program known as 'Project Roomkey' which provides hotel rooms to homeless people in California. The state also provided hotel rooms to healthcare works on the frontlines of the COVID-19 battle. 
Riverside County residents impacted by the Apple Fire are encouraged to visit the website www.rivcoready.org/ActiveEvents for an interactive map, where they can enter their address and see if they are in an evacuation area. 
The COVID-19 pandemic has certainly added another layer of difficulty for all.
For information on wildfire protocols and guidelines during the pandemic visit the Office of Wildland Fire website by clicking here.